The Dem mayors who don't even bother hiding their 2020 ambitions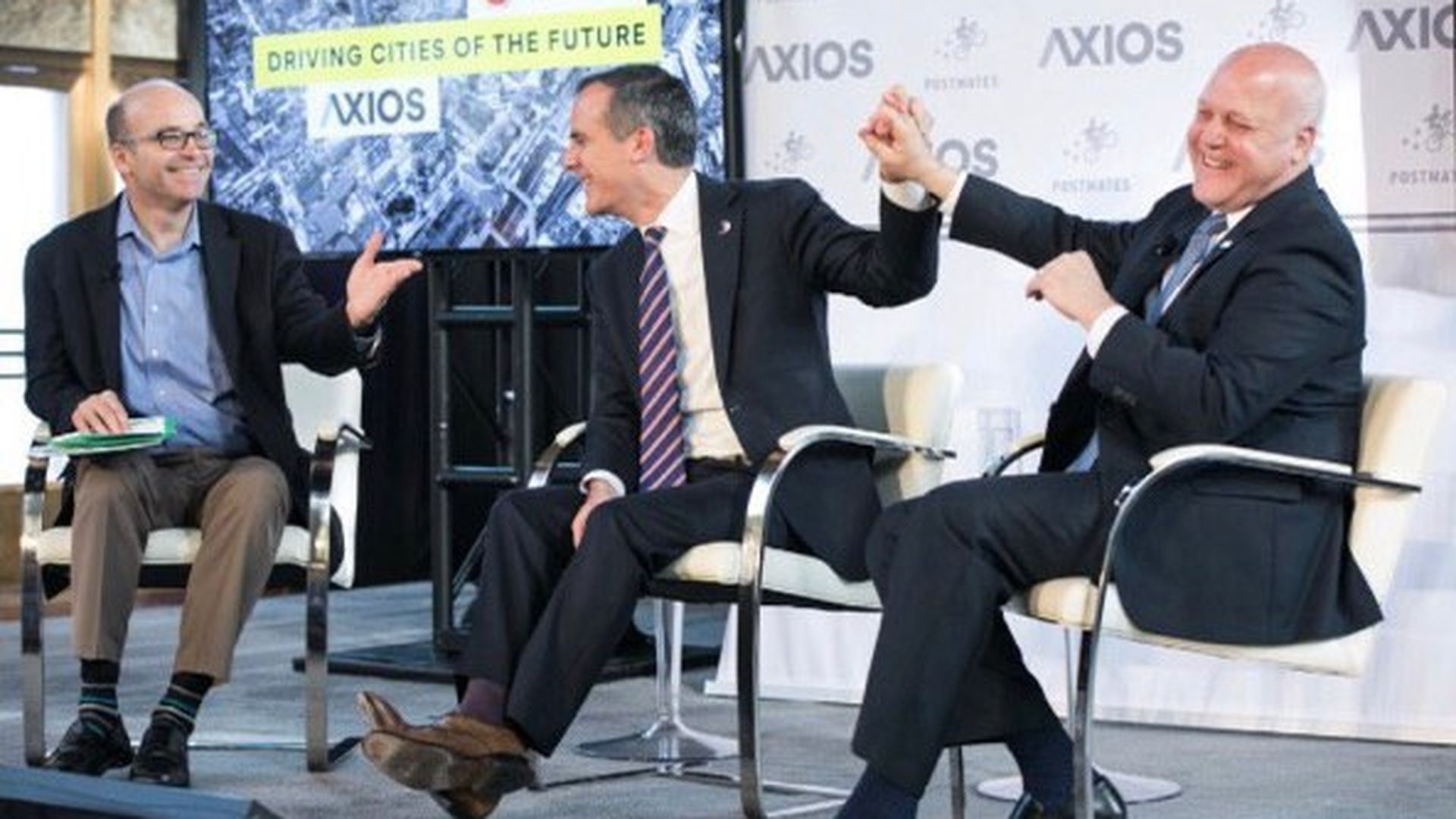 Here's something unusual and refreshing: There are two highly ambitious Democrats who don't even bother hiding their strong desire to run in 2020 — and to reshape the party: Los Angeles Mayor Eric Garcetti and New Orleans Mayor Mitch Landrieu, president of the U.S. Conference of Mayors.
Be smart: When I asked top Dem donors and operatives about candidates like these, the consistent answer was that for the first time in our lifetimes, D.C. experience may be a vulnerability rather than an asset when running for president.
Both joined me Friday for an Axios event on the vast ticket concourse of L.A.'s historic Union Station:
They're ready to go: Garcetti, 46, doesn't even bother with the ritual denials about running. Landrieu, 57, seems clearly interested, despite saying he'll take time off after leaving office in May, following 30 years in public life.
The two have done their buddy act together before: The photo above captures the moment when I asked the chances they'd face each other in a primary. Garcetti instantly quipped: "I was hoping you'd say 'ticket.'"
Garcetti jokingly calls himself "your average Mexican-American, Jewish, Italian guy — if you can't get elected with that, good luck."
They each have intriguing backstories: Landrieu, who has remade his city post-Katrina, gave a speech in May about the removal of Confederate monuments (titled "Truth") that was memorably attuned to the times.
But it was listening to the mayors that convinced me that Dems may be led back from the wilderness by someone surprising:
Garcetti: "We're too busy talking to ourselves, and about ourselves. ... People don't care about our inner workings, or even our inner leadership battles. ... [W]e've got to get back to speaking plain English. We are so inside baseball right now. ... Are you a Bernie person? Are you a Hillary person?"
Riffing spontaneously about panelists who had preceded him, Garcetti said: "It's exciting to hear about [a] hyperloop. But of course if you're the truck driver, you're going: 'Hmm, do I have a job?' It's exciting to hear about the flying ambulance. If you're a firefighter, you're wondering: Will I have a pension?"
Landrieu, on the bipartisan work of the Conference of Mayors: "The one thing we never do in any of our meetings is think about what the Democratic caucus or the Republican caucus in Washington, D.C., is doing. It never enters our mind. ... People in America are feeling unbalanced right now."
One of my favorite Democratic sounding boards emails: "Mayors are fantastic. They actually do things, and that really energizes them. They don't talk like D.C. types or cautious governors who have to wrangle with state legislatures. They tend to love their jobs and people really like them. It's the one level of government in which Dems have a huge advantage and a deep well of talent."
Go deeper