The Comey presidency: fired FBI head consumes Trump White House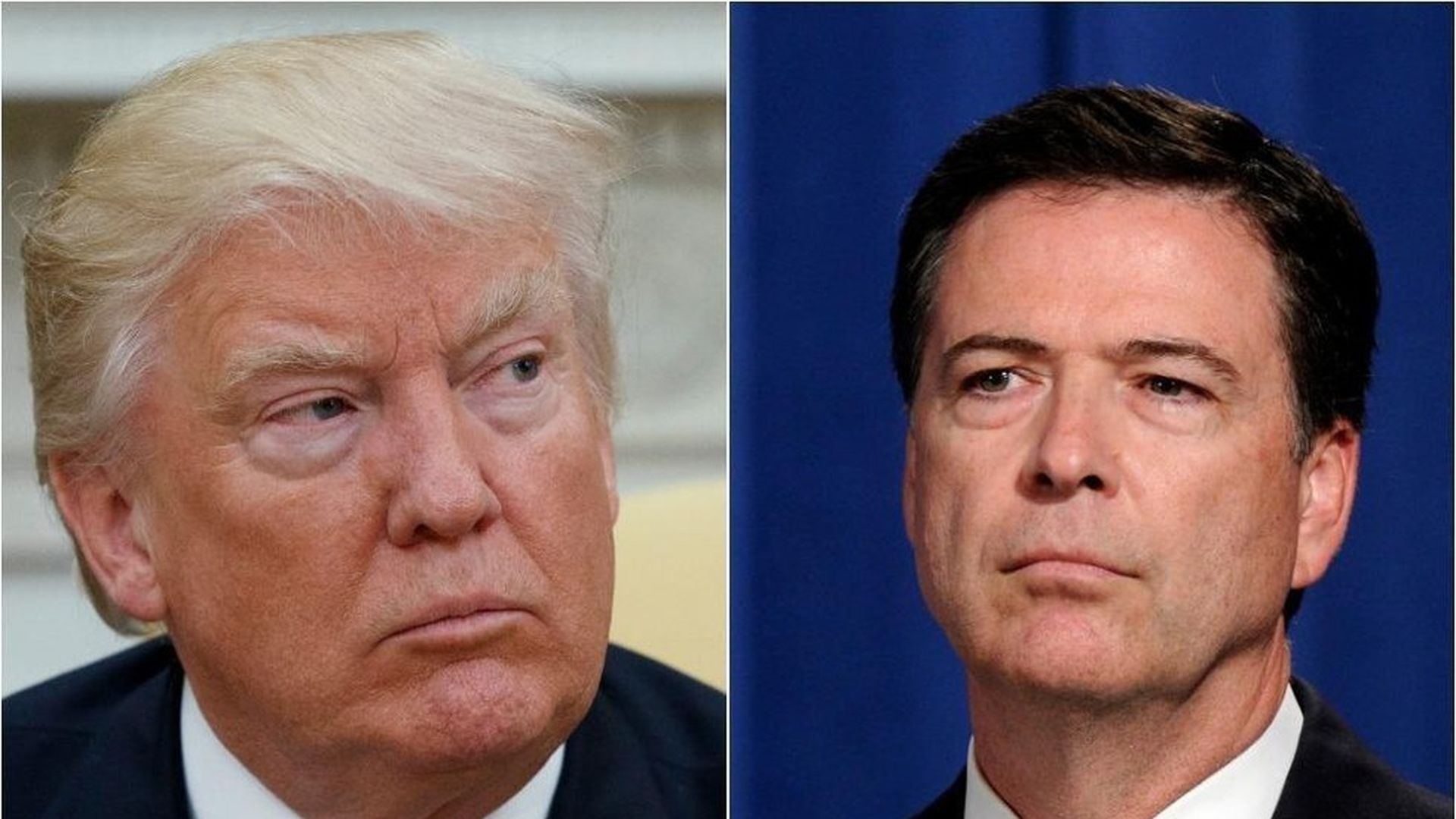 Jim Comey, who at 6 foot 8 has at least five inches on Donald Trump, has loomed over his campaign and presidency for months — first through his bombshell statements about Hillary's email, then by doggedly pursuing the Russia investigation and eventually getting fired for his zeal.
Next week, Comey comes out of the shadows, with Senate Intelligence Committee testimony scheduled for 10 a.m. Thursday that promises to be the most gripping television to come off of Capitol Hill since the Clinton impeachment hearings or Watergate.
Leaks about Comey's conclusion that Trump was pressuring him, and his real-time documentation in potentially devastating memos, has the White House and its allies worried that this could be their worst week since taking office. The signs of worry:
The White House floated a trial balloon about invoking executive privilege to block Comey's testimony, but quickly popped it — two officials tell the N.Y. Times' Michael Schmidt that Trump doesn't plan to go that route. White House officials realized the optics were terrible: It'd look like they had something to hide. Plus Trump aides realize executive privilege isn't absolute — so it wasn't a slam dunk, anyway. And even if the claim stopped Comey's testimony, it couldn't stop a free, fired man from just walking out and giving an interview or a press conference.
Fight Club: Trump is scrambling to set up an outside war camp — possibly run by former campaign operatives David Bossie and Corey Lewandowski — to battle Comey's charges. A top official tells me it's hard to bring these guys inside because of their reputations and styles. So one option, reported last night by Fox's Ed Henry, is an outside group set up as a 501(c)4 nonprofit. A Trump aide told me it'd be a way to get the campaign band back together in time of need.
The Comey chaos is making staff changes extremely difficult, even though Trump continues to ruminate to friends about his lineup. Top official, beginning with Chief of Staff Reince Priebus, are ensnarled as possible witnesses. Plus, Trump needs more, not less, internal help. On the flip side, officials are having a difficult time finding people who are willing to pay for — or can afford — the hundreds of thousands in legal bills they are likely to incur from joining a White House under investigation.
Quote of the week, from Jeremy Bash to Nicolle Wallace on MSNBC: "Pro tip: If you want to exert executive privilege, don't fire the guy."
Go deeper