The Air Force is speeding up cyber ops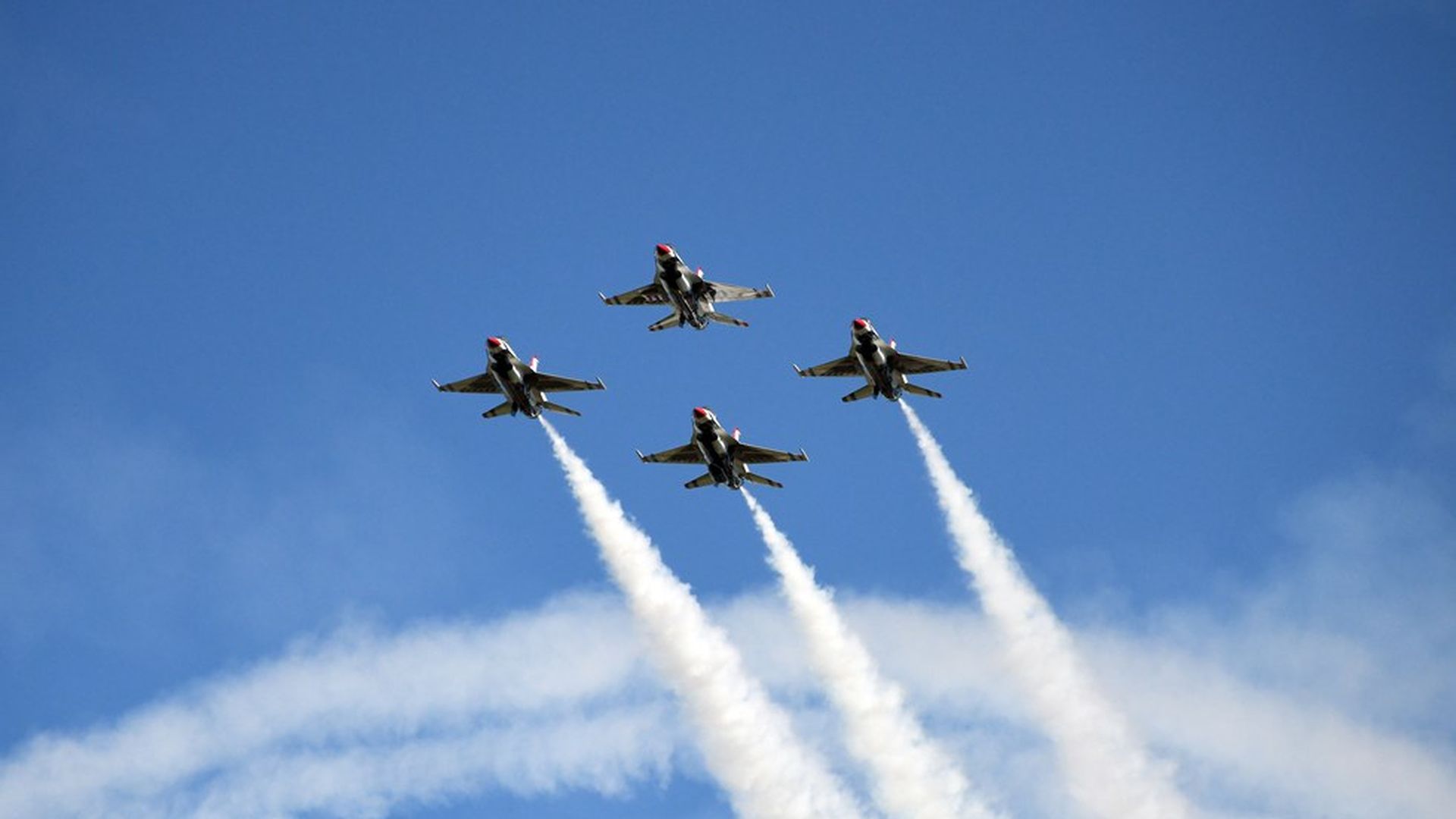 The Air Force is about to wrap up its 16-month-long study on coordinating cyber, air and space operations, providing a potential playbook for how the Air Force will edge out adversaries in the future, per C4ISRNET, a publication that tracks military information technology.
Why it matters: The effort is based on the idea that the speed at which information travels — and therefore the speed of war — will dramatically increase by 2030. The Air Force needs to be able to respond more quickly to increasingly complex cyber threats, so it is trying to ramp up its ability to combine different operational systems' data in order to make decisions in real time.
Why it's needed: "If you can get to that data at speed faster than the other guy, you have an edge on the battlefield," Todd Probert, vice president of Mission Support and Modernization at Raytheon, tells Axios. "Systems have grown up in silos," Probert said, and that just won't cut it anymore.
Multi-domain warfare: The Air Force has been "wargaming" by coordinating military cyber capabilities and operations to accelerate military air campaigns.
Lockheed Martin and Raytheon have been involved in the wargaming preparations. Raytheon built a wargame modeling scenario to merge missiles and other kinetic systems with cyber and electronic warfare effects into one simulation, "and we can use that to run literally thousands of different scenarios," Probert told Axios.
Machine learning could help identify targets on a radar map that would normally take a well-trained operator minutes to find, freeing them up for other duties, a capability LockHeed Martin is developing.
The Air Force is working to build out multi-domain command and control (MDC2) to get Air Command and Staff College and the Air War College personnel to work out kinks. The force is also establishing a DevOps center to keep up with all the latest in software and technology acquisition.
Eventually the Air Force hopes to build out a workforce of officers to solidify this level of knowledge of coordinated C2 at a career level.
"The pace in change is literally faster than anything I've seen in my career," Probert said.
Moving forward: Multi-domain operations will need to decide which command takes charge in certain operations, so that air, cyber, and space officers won't slow each other down. It's likely going to take several years for the transition to take place.
What's next: The Air Force will present its findings to senior leaders on Monday, according to Brig. Gen. Chance Saltzman, who is leading the project.
Go deeper