The ACA's individual mandate at death's door, again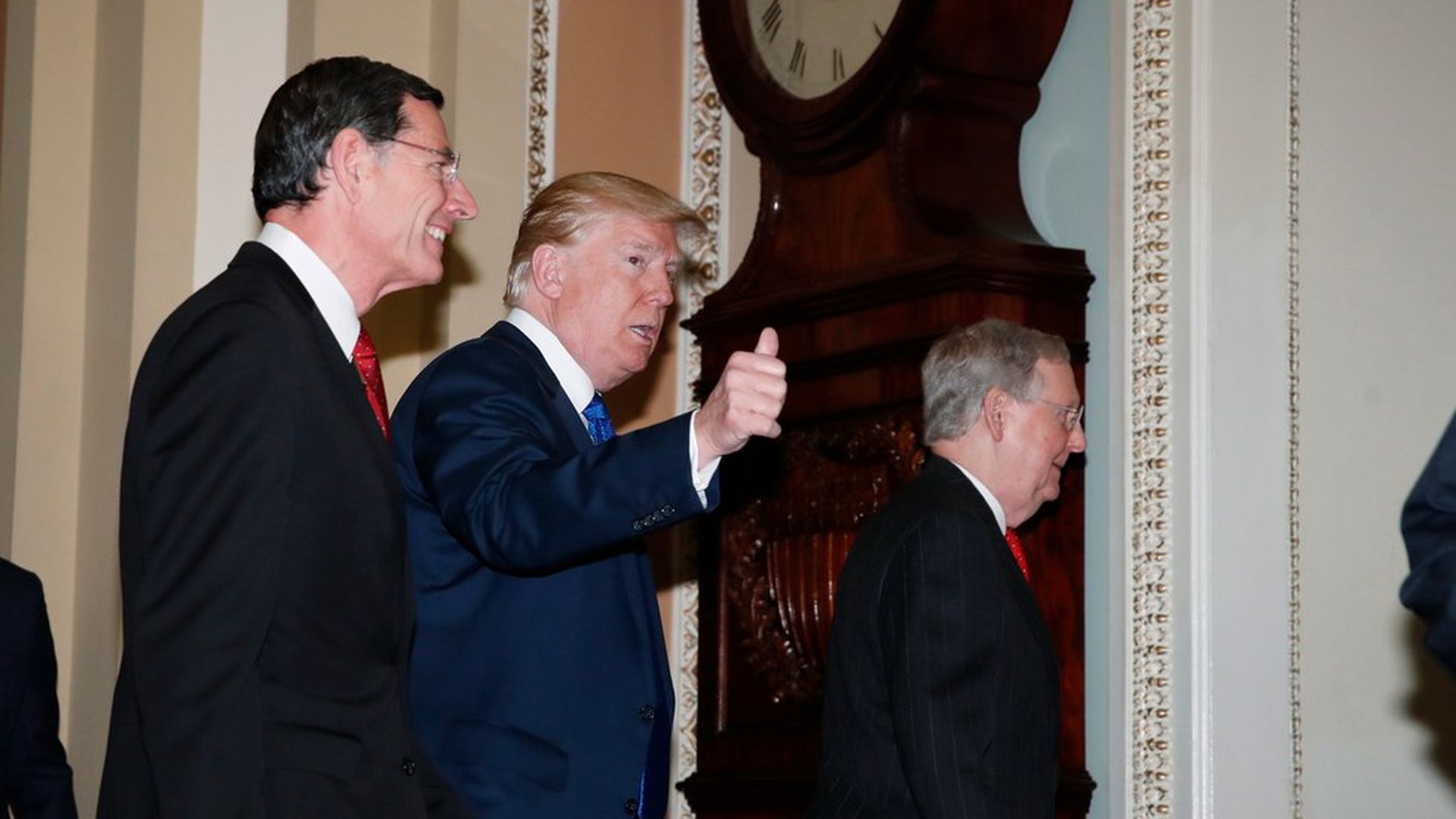 It's not over yet, but Republicans' tax plan had a good day yesterday — and that means the Affordable Care Act's individual mandate is, yet again, in serious jeopardy.
The latest: All 12 Republicans on the Senate Budget Committee voted for the tax overhaul, including once-wavering budget hawks Bob Corker and Ron Johnson.
Senators coming out of their lunch meeting with Trump yesterday said he endorsed the ACA stabilization bill from Sens. Lamar Alexander and Patty Murray, as well as a new reinsurance program championed by Sen. Susan Collins. Passing those two measures would go a long way toward getting Collins on board.
Ways and Means chairman Kevin Brady said repealing the individual mandate wouldn't be a problem for the House.
Yes, but: Trump endorsing a new reinsurance program — which would cost roughly $5 billion over two years — does not necessarily mean House Republicans would be on board.
Be smart: The two measures Republicans are eyeing as ways to soften the blow from the individual mandate are probably inadequate.
Alexander-Murray would, primarily, restore cost-sharing payments to insurance companies. That has little bearing on the premium increases that would stem from repealing the individual mandate.
Reinsurance — directly paying insurers for their most expensive enrollees — can make a big difference. It's one of the most efficient options the federal government has, Avalere's Caroline Pearson says. For every dollar the government spends on reinsurance, it gets about 60 cents back through lower premiums and thus lower premium subsidies.
But Congress would probably need to provide about $10 billion per year to offset the costs of losing the individual mandate, Pearson says — a far cry from the roughly $2.5 billion per year in Collins' proposal.
Reinsurance isn't structural; it's truly just giving insurance companies money so that they won't go collect that money through premiums. When the program ends, premiums go back up. (This happened last year, when the ACA's temporary reinsurance program ended.)
So, even under Collins' proposal, premiums would spike again in two years — shortly before the 2020 election, as a matter of fact
Go deeper