Tech is ready — but waiting — for net neutrality fight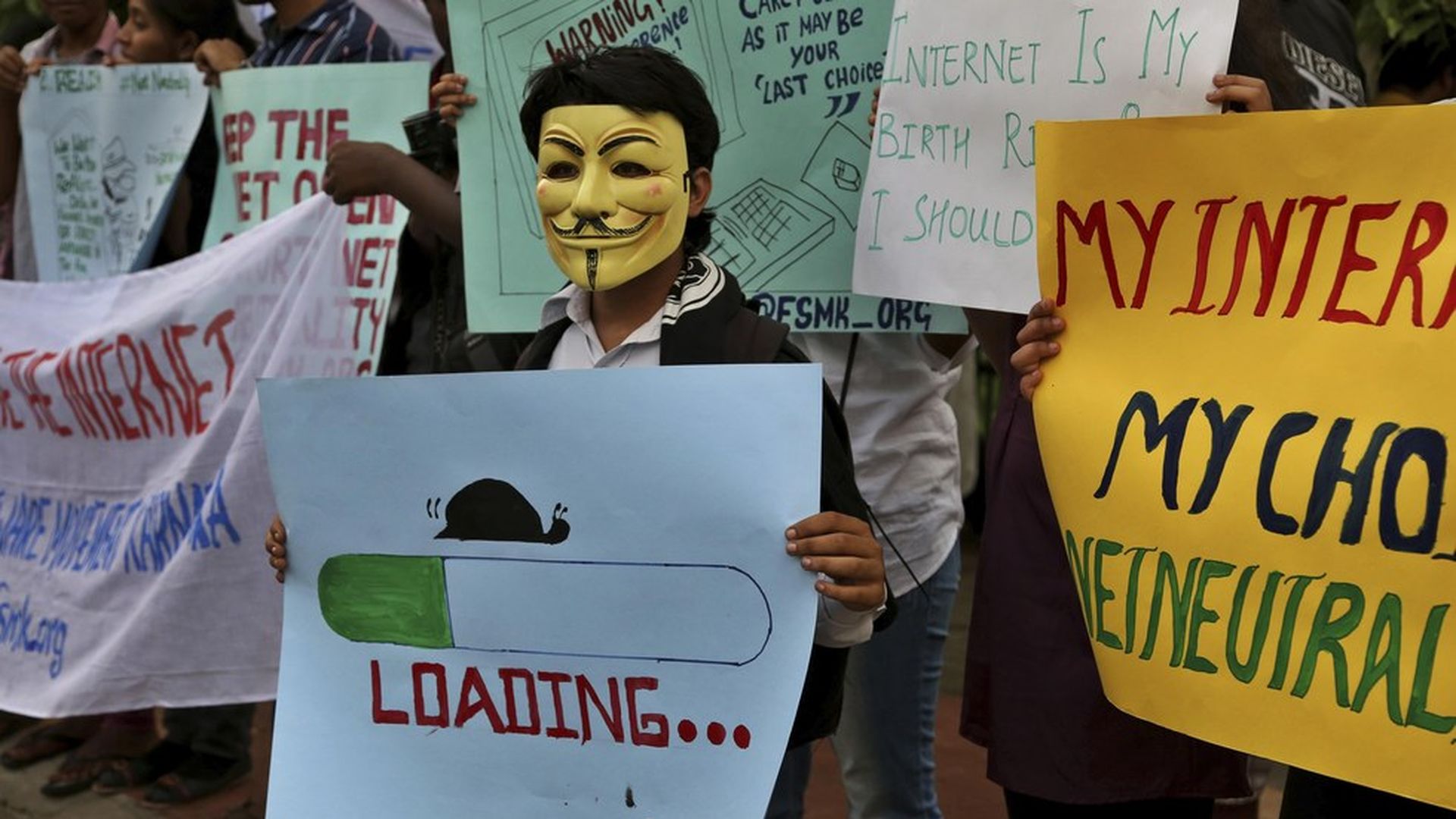 The never-ending debate over net neutrality has long had pretty predictable fault lines. Internet providers like AT&T and Comcast say overly strict rules are bad for business, while tech companies like Google and Netflix argue rules are needed to keep an even playing field for web content.
As the internet industry has matured, the companies that used to be tiny start-ups at the mercy of the networks are now heavyweights. While that doesn't mean tech giants will stay on the sidelines — an influential trade group has already strongly defended the rules — startups are expected to help lead the charge against efforts to roll back existing rules.
Why it matters: Pushback from both big and small Silicon Valley players would complicate FCC Chairman Ajit Pai's expected efforts to dismantle the agency's 2015 net neutrality rules. Tech employee outrage could also add juice to activist opposition.
The tech giants: The Internet Association, a trade association that represents Google, Facebook and Netflix in addition to newer companies like Snap, strongly supported current net neutrality rules in a meeting with Pai this month. Spokesman Noah Theran said that ISPs "must not be allowed to advantage their own content over the content of others, and the internet industry will continue our fight to maintain strong net neutrality rules in every forum."
Many individual companies have not yet weighed in on the reported substance of Pai's plan, including Netflix, a major player in the last net neutrality fight.
Here's why big tech companies are being cautious:
The details: Companies are wary of sticking their necks out before more details about Pai's plan come to light. One tech industry source said consumers are now more aware of activities that raise questions about open internet policy, such as some zero-rating services like AT&T's DirecTV Now, putting less of the onus on tech companies to educate the public. Netflix CEO Reed Hastings has hinted at this, as well. "We don't see a big risk actualizing, because consumers know they're entitled to getting all of the web services," he told reporters recently.
Their employees: Executives know liberal-leaning tech workers care strongly about net neutrality and may push for companies to speak up, as the response to Trump's travel ban showed. Look for public interest groups to try to rally Silicon Valley employees to get involved.
The politics: Trump doesn't have the same affection for Silicon Valley as his predecessor, so tech firms know that they have to pick their battles, said one tech lobbyist. And there are a lot of battles ahead, including tax reform, infrastructure and trade.
The scrappy startups: Smaller companies have more to gain from rules preventing larger competitors from getting preferential treatment and less to lose by getting into a political brawl.
Y Combinator and Techstars, two well-known incubators, are already soliciting signatures for a letter with advocacy group Engine telling Pai to keep the current rules in place. Others are eyeing the issue:
Snap said in an IPO document that changes to net neutrality rules are a risk to its business, and it recently hired another D.C. lobbyist.The company declined to comment.
Roku recently worked with Republican lobbyists on the issue. A spokeswoman said the company "has a long record of engagement in the regulatory and policy discussions regarding net neutrality and we continue to share our views with members of Congress as well as the FCC."
Etsy was vocal in the last round of debate over net neutrality. Earlier this month, Etsy users came to D.C. and discussed the issue with policymakers. Senior Director of Global Policy Althea Erickson said in a statement that the company "remains committed to protecting a free and open Internet" and that it would "continue to advocate with our community to protect not only their interests, but the interests of microbusinesses everywhere."
What's next: Pai is said to be weighing his options and could circulate details to his fellow commissioners as early as this month.
Go deeper