Takeaways from Trump's meeting with tech execs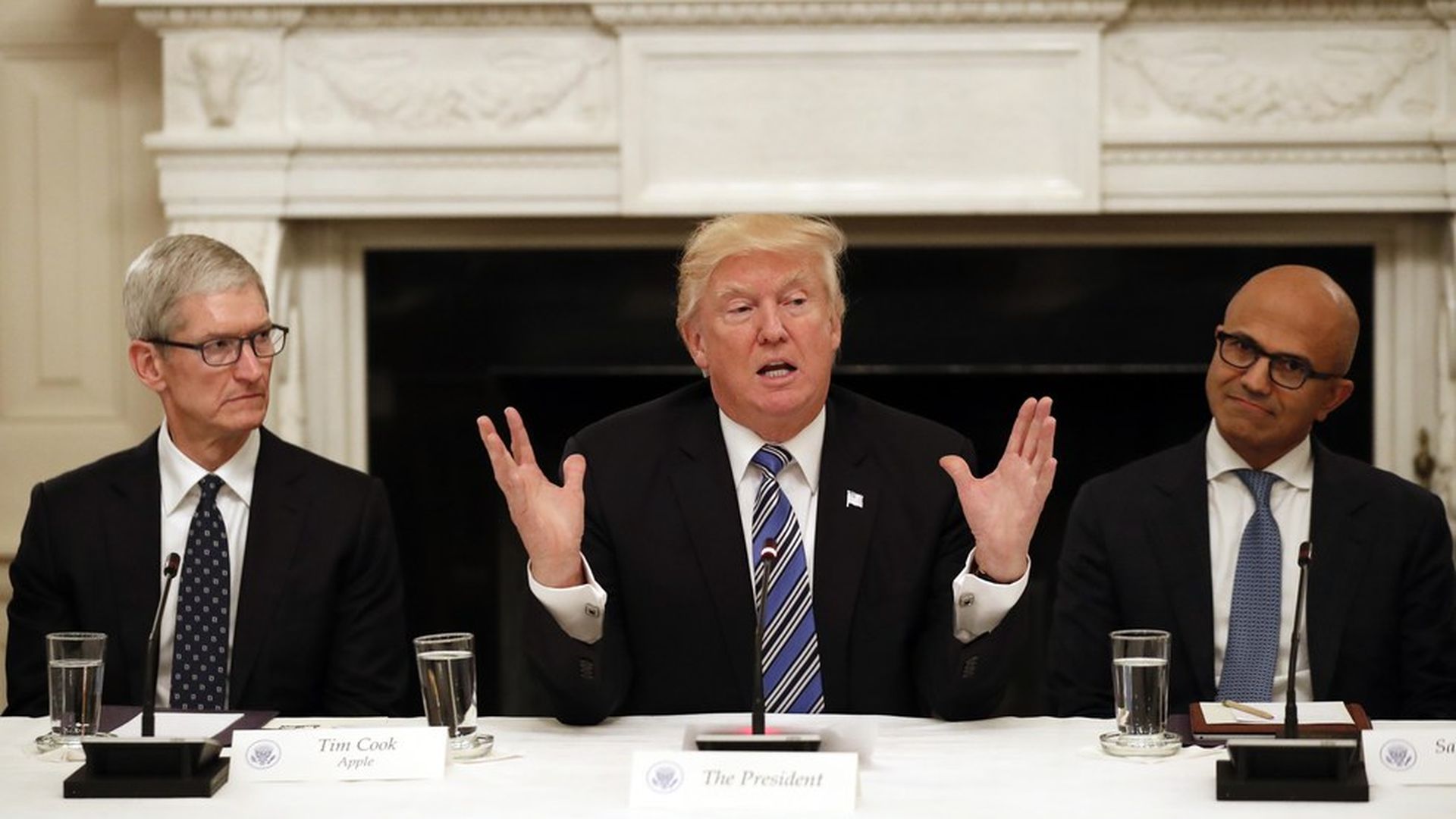 There was a lot of happy talk after the White House kicked off its self-styled "Tech Week" on Monday with a meeting of big name tech CEOs. Here's what to make of the meeting, which featured Amazon's Jeff Bezos, Apple's Tim Cook and Microsoft's Satya Nadella, among others:
Tech companies still want a seat at Trump's table. Even after policy disagreements, nobody wants to risk being left out of discussions about everything from taxes to federal IT. At least on the issue of high-skilled immigration, it seems Trump has moved over to tech's side.
"Tech Week" isn't the same as an actual tech policy push. In the past such listening sessions were accompanied by announcements of new private-sector commitments or administration programs. That wasn't the case Monday, though the week is just beginning.
Less backlash. Remember how Uber's (otherwise embattled) chief executive ended up leaving Trump's councils because of user backlash? That doesn't seem to be happening in this case, maybe because so many prominent CEOs were there — and this isn't a formal advisory council.
But execs are well aware of the sensitivities of their employees, so they're treading carefully. (A group called Tech Solidarity did urge employees to pressure their executives into not going, but that didn't seem to break through.)
Trump brought some of his standard-issue braggadocio. From Recode's Tony Romm, one of the few reporters in the room: "At one point, he calculated the companies in attendance totaled '$3.5 trillion dollars of market value in this room,' which he said amounted to 'almost the exact number we have created since my election.'"
The White House got some of the headlines it wanted:
And some it probably didn't:
BuzzFeed News reporter Ryan Mac on the looks coming from Bezos, Cook and Nedella while Trump spoke:
Go deeper