SurveyMonkey's online polls nailed the recent UK election
Though best known for helping companies and individuals set up simple online surveys, SurveyMonkey has quietly gotten into the serious political polling game. And it has gotten quite good at it.
In the recent 2017 UK election, delivering the single-most accurate prediction with Conservatives at +3.6% (the final tally was +2.4% ahead of Labour). More importantly, the data told the most accurate storyline: Theresa May's declining ratings, the emergence (and insignificance) of terrorism issues, the Tory strength in Scotland, and perhaps most importantly, the huge role that voters' age —particularly millennials — was to play in the outcome. And while the 2016 election had its hits and misses for SurveyMonkey, the company did quite well in the Rust Belt in states where other polls were way off.
Why it matters: Accurate online tools are badly needed as telephone polling has become both more costly and less accurate. Luckily, they are getting better. "The best of online polling is as good as the best phone polling has ever been," said Jon Cohen, the veteran pollster who joined SurveyMonkey in 2014 as head of research.
How it works: SurveyMonkey asks a random selection of the over 3 million people who take surveys on its platform each day if they are willing to take an additional survey. The company then tries to adjust for demographic factors like age, race, gender and education level.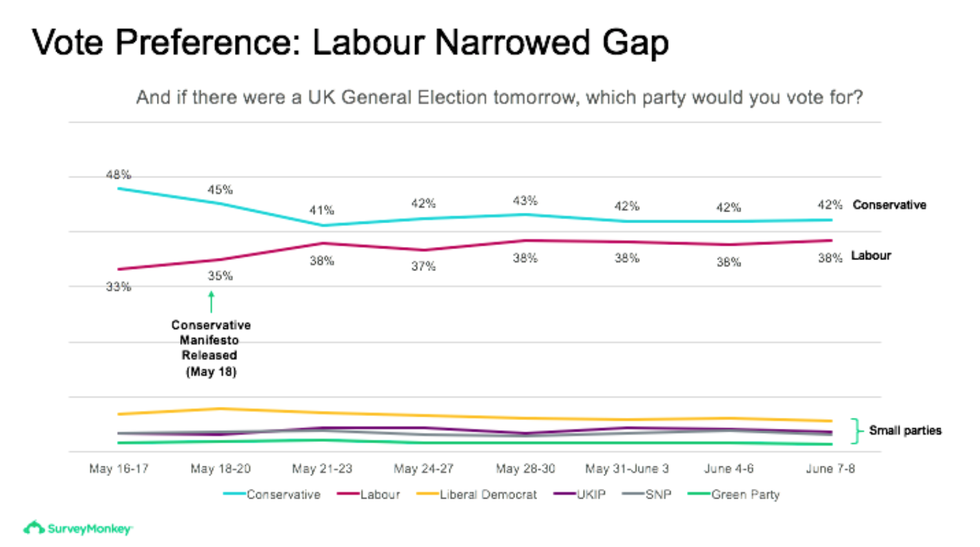 What about 2016: Survey Monkey had its highs and lows, like other polls that tried to predict the last U.S. presidential race. SurveyMonkey did better than most phone polls at predicting the Rust Belt, but like others didn't see Trump winning.
It also published a rather unique look at the 2016 presidential race, showing how the election would have shaped up if only Mac people voted, or only PC, or only iPhone or only Android. Check out Axios' maps of that data here.
Go deeper