Strange and Moore advance to Alabama runoff election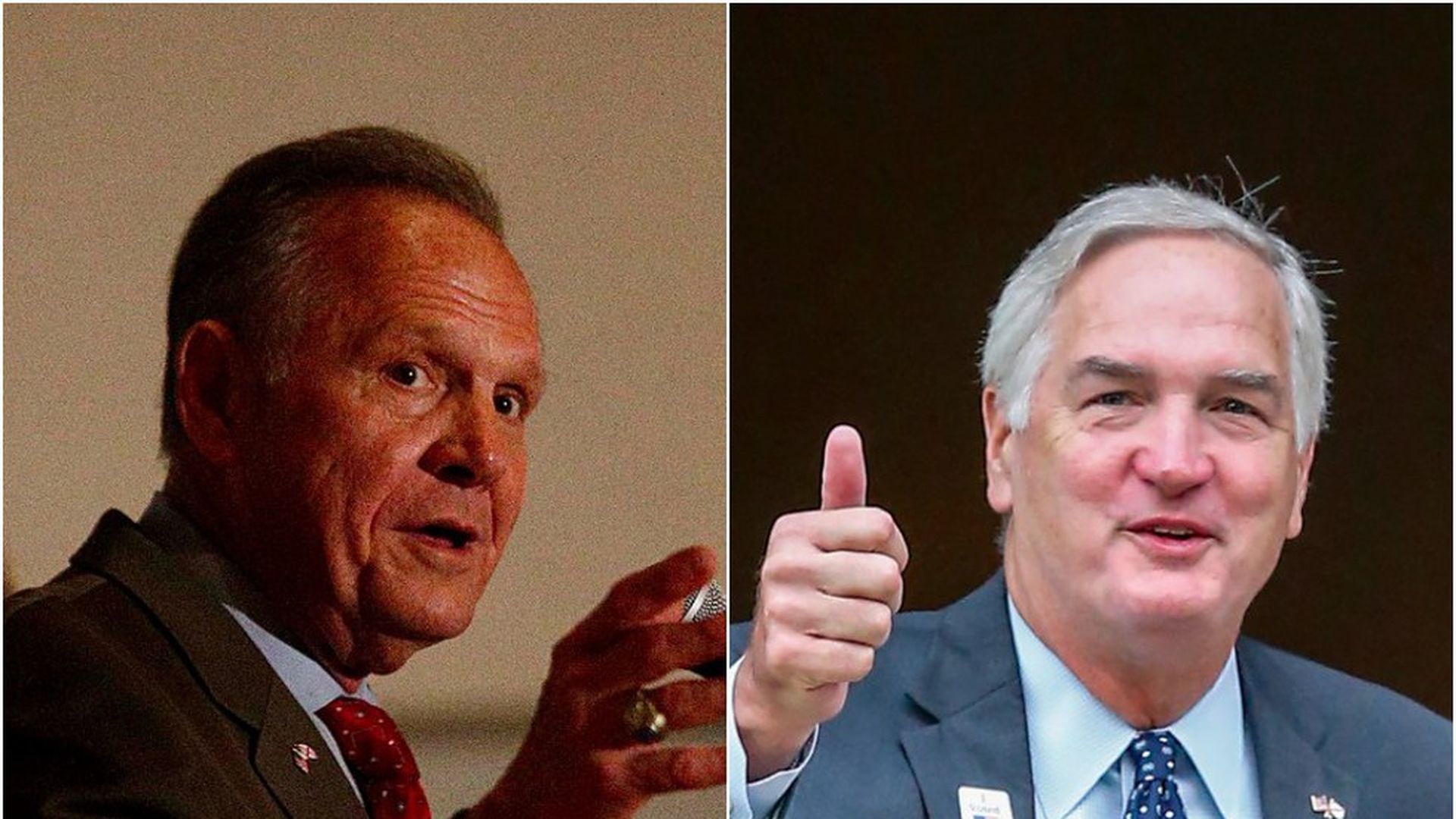 Republican Sen. Luther Strange and conservative Roy Moore will advance to a runoff election on Sept. 26 after the Alabama Republican Senate primary tonight, per NYT. Moore had consistently polled ahead of Strange leading up to this special election, and the results show a clear divide among Alabama voters who have an affinity for Trump but hate the Washington elite — something Strange largely represents to Alabama Republicans.
Moore led Strange throughout the night, leading to a runoff election in September between the two men and Democratic contender Doug Jones.
Why it matters, from The Atlantic's Molly Ball: "In Alabama, the feud is playing out as a test of conservative voters' loyalties in the Trump era—one of the first referendums on Trump's ability to command his own partisans, and by extension to shape the GOP that he leads."
Moore, from The Atlantic: "Moore, a former chief justice of the Alabama Supreme Court, was twice removed from his post for defying federal court orders—once when he refused to remove a giant monument of the Ten Commandments from the courthouse building, and again (after voters returned him to the position) when he refused to implement the Supreme Court's decision legalizing same-sex marriage. Folksy and genial, the 70-year-old Moore has the lacquered look of an aging televangelist."
Strange: "Strange has been a senator for just six months, having been appointed to the position when his predecessor, Jeff Sessions, became Trump's attorney general. Before that, Strange was the attorney general of Alabama, overseeing the ethics investigation of the governor who, after appointing him, would resign to avoid impeachment. Before that, he was a Washington lobbyist."
The Strange scandal:
"The governor, Robert Bentley, was a dermatologist and Baptist deacon who was fairly well-liked until, halfway through his second term, he was publicly accused of carrying on an extramarital affair with an aide and using state resources to try and cover it up."
"Explicit audio recordings and text messages soon surfaced, and the state House of Representatives began impeachment proceedings."
"But Strange, the state attorney general, asked the lawmakers to put their investigation on hold so that his office could examine the matter."
"A few months later, Bentley appointed Strange to the Senate. Strange denied there was any conflict of interest or quid pro quo."
"Two months after that, Bentley resigned, making a deal with state prosecutors that involved pleading guilty to two misdemeanors and avoiding jail time."
Bottom line: Despite Trump's emphatic endorsement, Strange represents a so-called "swamp creature" among Republicans and conservatives in Alabama — the very type of establishment politician POTUS has vowed to drain from the swamp. "The other candidates have criticized Strange, calling him corrupt and unethical," Ball writes in The Atlantic. This proved troublesome for him in tonight's special election, and it could follow him to the runoff election on Sept. 26, ultimately revealing a seismic shift in the GOP in Trump county.
Go deeper