Startup claims Apple Watch + AI can detect heart conditions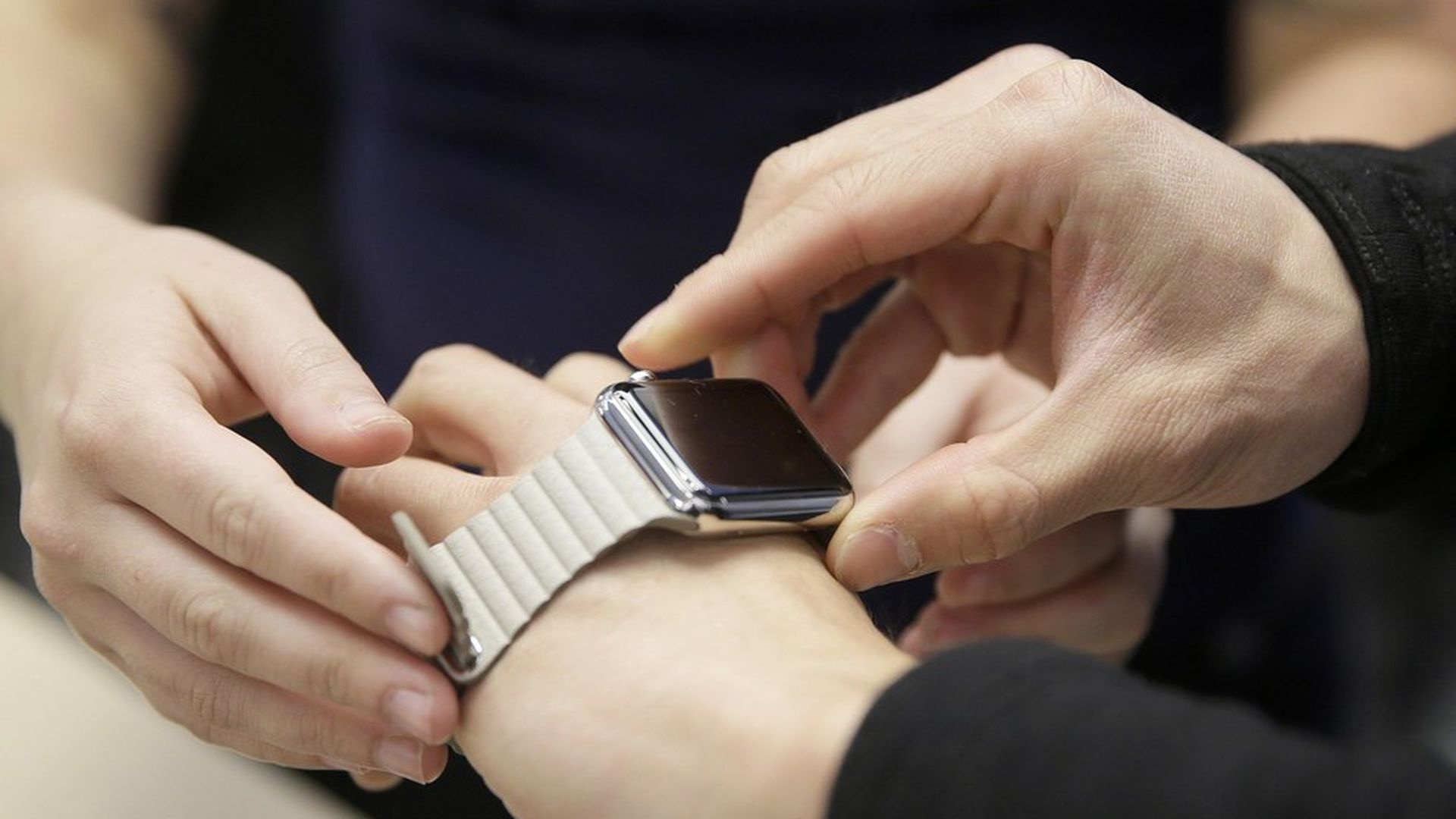 Using the Apple Watch and artificial intelligence, health startup Cardiogram reports they could detect a type of abnormal heart rhythm with 97% accuracy by analyzing data from the watch's heart sensor.
Why it matters: Atrial fibrillation affects an estimated 2.7 million people in the U.S. and is a predictor of heart attack, stroke and dementia. The abnormal rhythms are the cause of 1 in 4 strokes. In many cases, there are no symptoms and though people are monitored for weeks to try to catch the abnormalities, months can pass before they occur, so they are missed. The researchers hope by continuously monitoring for abnormalities they can lower the number of undiagnosed cases.
Methodology: The researchers collected heart rate and EKG measurements from 6,158 Apple Watch users who are part of the UCSF Health eHeart study. 166 of them had been diagnosed with atrial fibrillation. Their measurements were used to train a neural network to tell the difference between normal and abnormal heart rhythms. They then tested the AI in 51 patients who were in the hospital for a procedure to reset their heart rate and found it could detect atrial fibrillation with 97% accuracy compared to an electrocardiogram.
Bigger picture: The study is the latest demonstration of how AI might find its way into medicine. Stanford researchers recently reported an AI could analyze images to detect skin cancer and Google has taken a similar approach to screen for diabetic retinopathy.
What's needed: More testing with more people. Cardiogram also plans to hone the algorithm and test it against "gold standard" EKG measurements. The researchers reported 90% specificity meaning roughly 1 in 10 detections was a false positive. "The real challenge isn't the tech, but framing the implementation of these new tools in a way that maximizes benefit for health care while minimizing risk of over treatment due to false positives," says Mintu Turakhia from the Stanford Center for Digital Health, who adds "this is promising work."
Go deeper