Solar tariff advocates, foes prep for next battle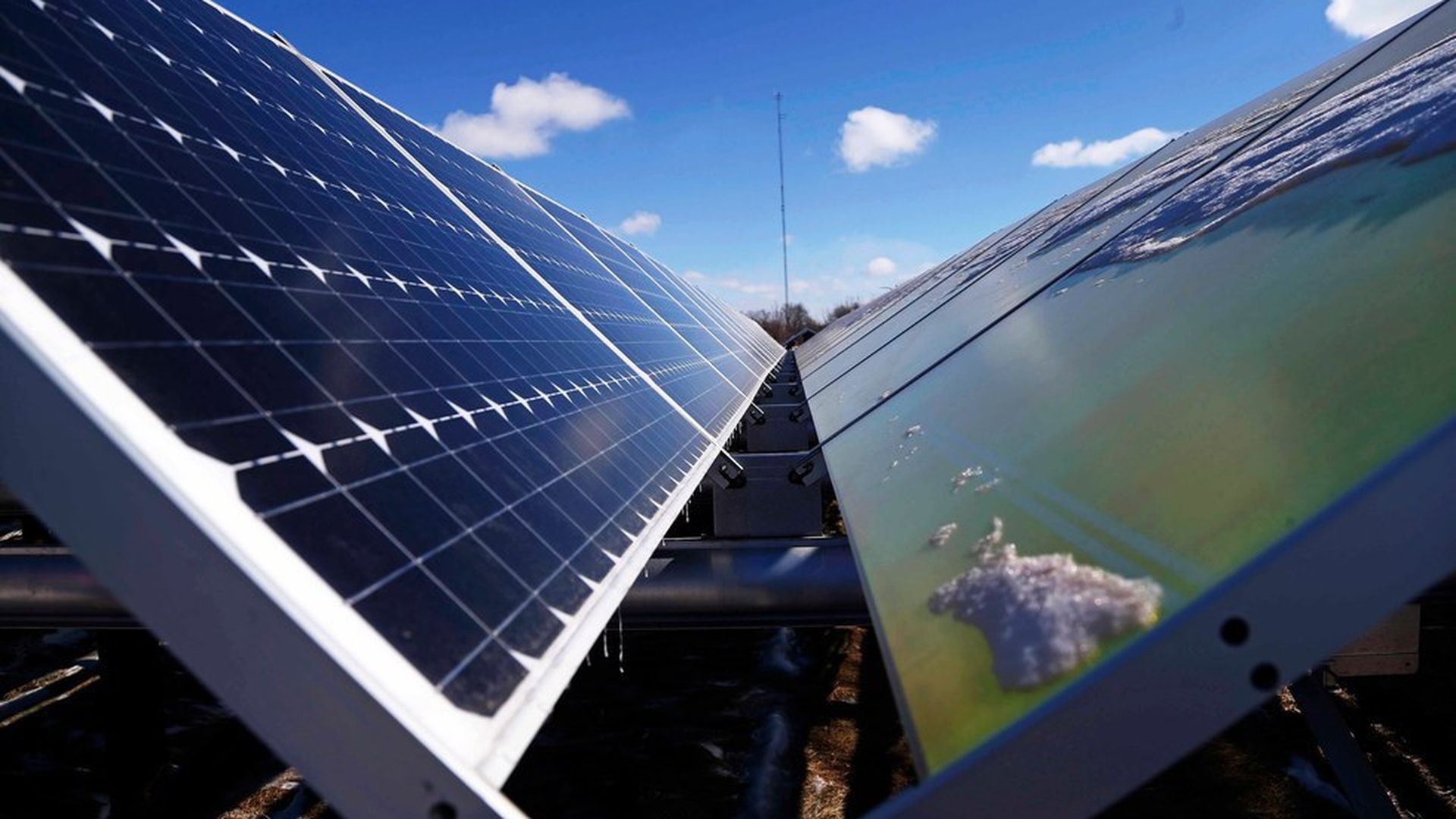 Advocates and opponents of new penalties on imported solar panels are girding for the next phase of the battle now that the U.S. International Trade Commission (ITC) has found that imports are a substantial cause of harm to the domestic manufacturing sector.
Why it matters: The wider solar industry and its allies strongly opposes the tariffs that two financially distressed panel manufacturers—Suniva and SolarWorld Americas—are seeking. Solar energy developers and their allies say the tariffs will cause panel prices to shoot up so much that many future energy projects will become uneconomic, industry growth will slow and jobs will be lost.
Parties on both sides have been flooding the ITC with briefs on proposed policies in recent days ahead of a public hearing Oct. 3, which will be followed by ITC recommendations to the White House in mid-November.
One big question: Whether the remainder of the ITC process will affect what President Trump ultimately decides, because the White House, under U.S. trade law, has lots of leeway to decide how to address the commission's injury finding.
While a number of detailed submissions have arrived at the ITC in recent days, tariff opponents have already begun shifting their focus to making the case to the White House directly:
"Several of the briefs publicly posted to date rely on past Section 201 trade cases as barometers of what the U.S. ITC can recommend, and what President Trump can implement. However ... tradition seems unlikely to unduly constrain Trump's policy decisions," says Timothy Fox, an analyst with ClearView Energy Partners, in an email to Axios.
"Despite what the U.S. ITC recommendations, his decision may largely be a political one, and input from the White House officials may outweigh the considerations offered by the Commission," he said.
Big picture: While the White House has not tipped its hand, the case gives Trump a near-term chance to act on his hawkish trade stance. Asia is a major source of low-cost panel exports to the U.S., including products from Chinese-owned companies that operate outside of China itself, which is already subject to prior trade restrictions.
Pro-tariff: "The crisis caused by foreign market overcapacity now facing the U.S. CSPV cell and module industry is so extreme, the financial losses so great, that, to be effective, any remedy that is recommended to the President by the Commission must be bold, extensive, and multifaceted," states Suniva's new brief.
That brief lays out their recommended tariffs on imported cells and modules (albeit somewhat lower than they initially sought), as well as other proposals, like an executive order requiring government agencies to use U.S.-made equipment.
SolarWorld Americas, which has a German parent company, delivered a brief as well recommending a combined system of tariffs and quotas, calling on the ITC to address domestic panel industry's losses "that have already caused numerous solar producers to shut down and that threaten many others."
Industry ask: A summary of the newly filed brief from the umbrella Solar Energy Industries Association — which is fighting the Suniva-SolarWorld petition — shows they're asking the ITC to recommend policies to help U.S. manufacturers in lieu of tariffs, including:
Up to $10 million annually in Commerce Department-led technical assistance, with help from Energy Department experts.
Trade adjustment assistance via the Labor Department, such as training, job-hunting assistance and financial aid to "adversely affected" workers.
SEIA also says that if the ITC does recommend tariffs, they should be far lower than what the two manufacturers are seeking. They warn that the tariffs Suniva and SolarWorld want could lead to over 62,000 job losses next year and more thereafter.
The world is watching: The ITC case file is packed with submissions opposing tariffs from governments, companies and trade associations in Asia, including Chinese companies, the government of Korea, and others.
However, the opposition is broader. For instance, in a newly filed pre-hearing brief, the Mexican government argues that imposition of new safeguards for domestic producers would run afoul of the World Trade Organization and NAFTA principles.
Go deeper