Snapchat founder admits struggles, defends company strategy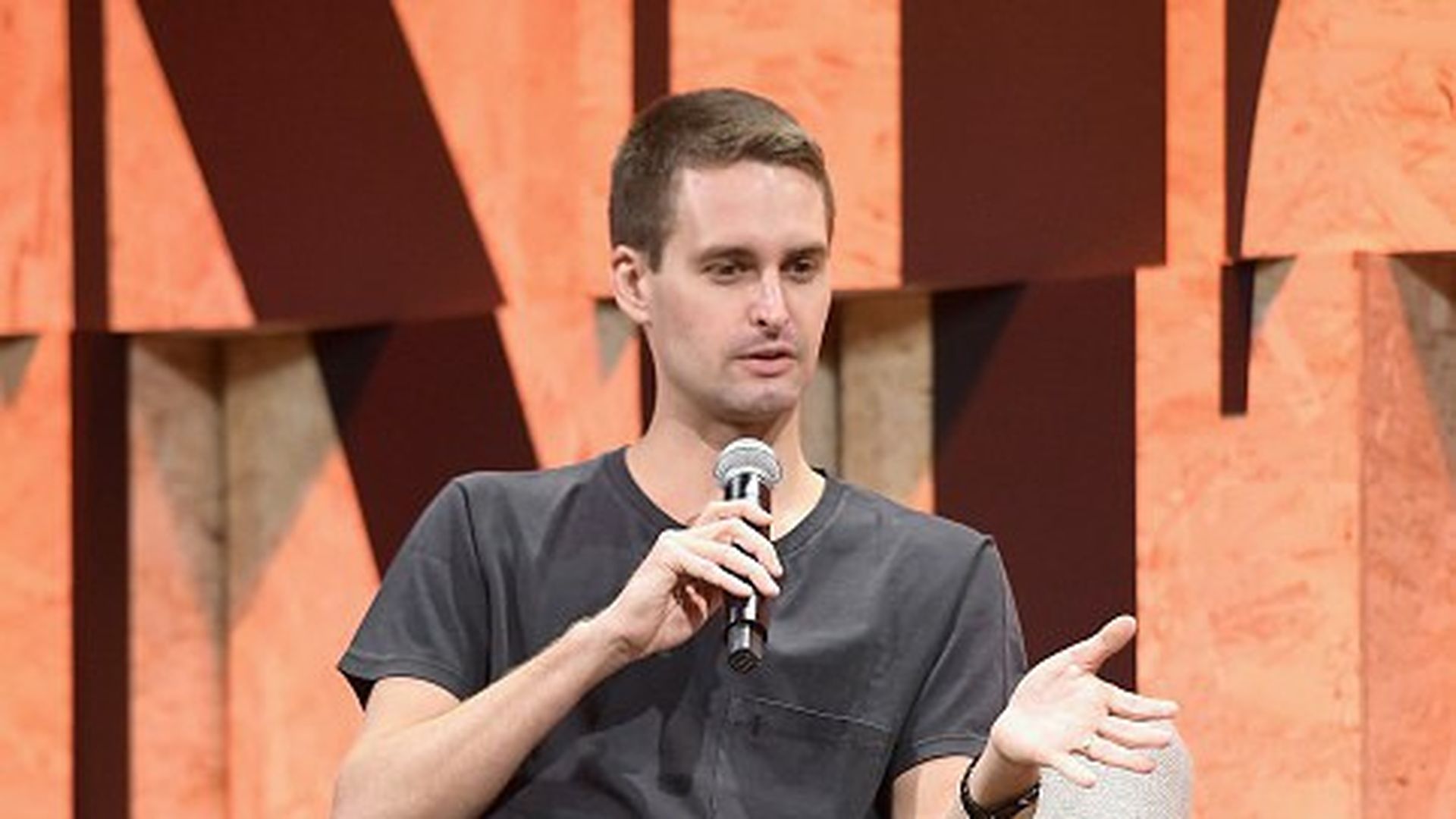 It's been a bumpy 2017 for Snap Inc. and 27-year-old CEO/founder Evan Spiegel, who made a rare public appearance at Vanity Fair's New Establishment Summit in Beverly Hills yesterday.
His IPO has missed market expectations, closing yesterday at $15 after opening March at $24. Spiegel has struggled mightily to tell the Snap story to Wall Street, bumbling the stock's narrative and investor expectations, and leaving even his advisers frustrated with comms skills. Meanwhile, Facebook/Instagram has ruthlessly copied his hottest product innovations and poached chunks of his ideas — and audience.
On stage yesterday, Spiegel admitted the market debut was harder than he thought, but insisted that he's got a great story to tell and will put a lot more effort into telling it:
"[I]nvestors are fearful ... we can never be profitable, or they're fearful that ... competition will kill us," he told interviewer Walter Isaacson. "But I think those are kind of normal fears, really, for any startup. ... [T]he really successful companies just grow through that."
That's why investors who know him best remain very high on him as a CEO and Snap as an authentic, long-term Facebook threat:
He confessed his comms skills — internally and externally — need work. One of his advisers told me it took months to get him to this realization and admission.
He filled in his pitch as Snap as both tech and hardware company — with the camera, not the phone, as the central communications and creativity device.
But his offerings still lack the simplicity and drama of a Steve Jobs product.
It's becoming clear that Snap alone (with its closed publishing system) didn't get played by the Russians like Facebook/Google/Twitter did. Publishers are flocking to Spiegel's platform, and his team is racing to make the monetization opportunities more appealing.
Be smart: Evan is six years younger than Zuck; has 166 million daily users — with half of the new ones under 25 — most of them hyper-addicted to his product. Imagine if he could figure out the hardware part, perhaps a camera with a keyboard and phone attached, instead of the other way around.
Be smarter: Spiegel's biggest threat is Facebook and its Instagram Stories, which in April passed Snapchat in daily active users, now at 250 million. He needs a fierce response and strategy to combat Facebook's ability to leverage billions of user and billions of dollars to steal his best innovations.
Go deeper