Senate split over pre-existing conditions protections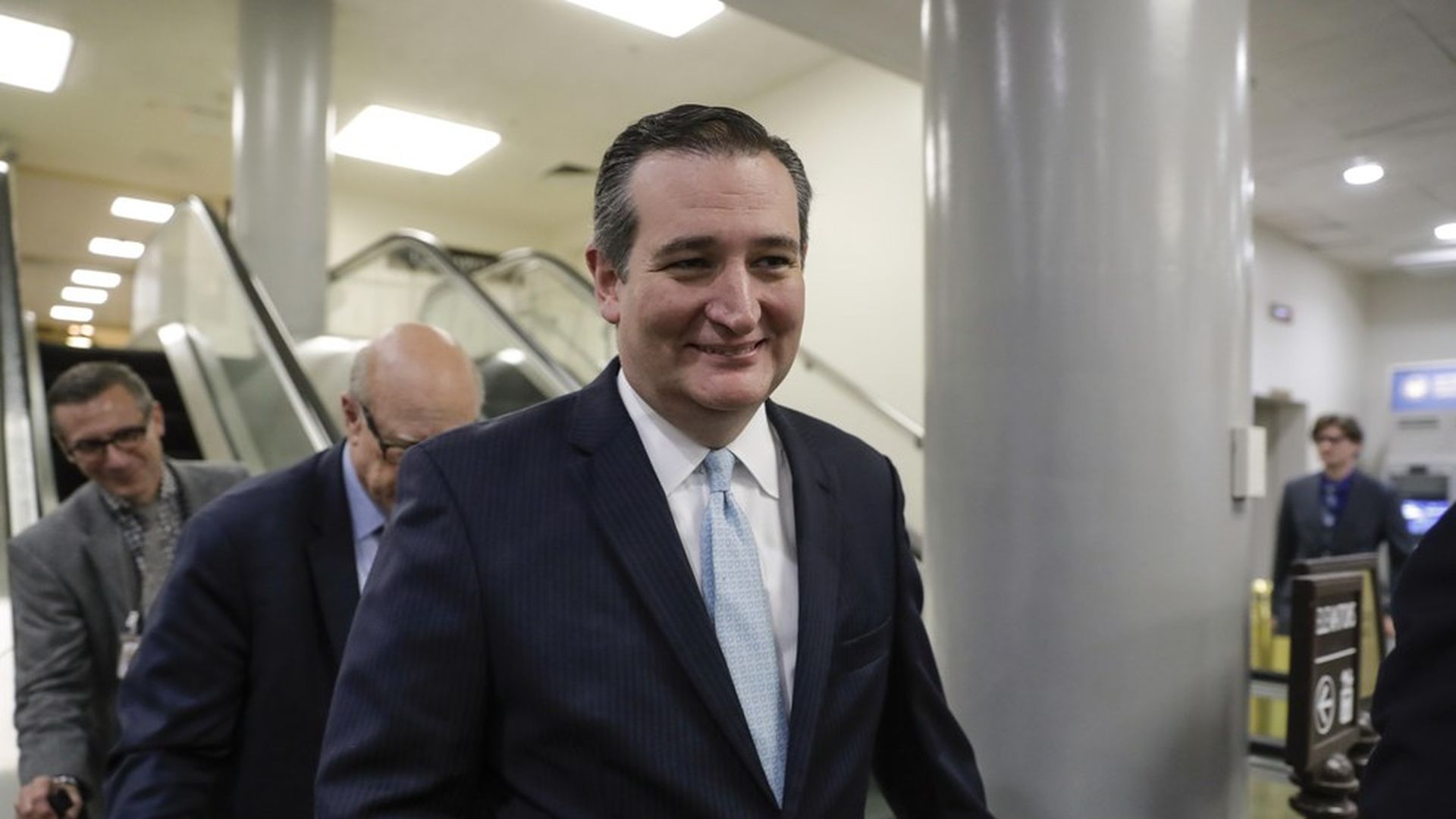 Sen. Ted Cruz's proposal to allow plans that don't meet Affordable Care Act requirements is re-opening debate in the Senate about whether to fully preserve protections for people with pre-existing conditions. While Republican leaders made clear a few weeks ago that these protections wouldn't be touched, the Cruz idea is bringing the subject back up.
"We're looking at that and seeing if it's workable," Sen. John Thune, a member of GOP leadership, told reporters.
The problem: As it's been explained, the provision would sink the bill. "If Cruz succeeds in putting it in the bill, the bill dies. Period. End of sentence end of paragraph end of story," a senior GOP aide told me, adding that "there are 20-30 Republicans that will oppose any bill that does that."
What the Cruz proposal does: It would allow any insurer selling a plan that complies with the ACA regulations to also offer non-compliant plans. Those plans would be exempt from the insurance regulations — including the ACA's protections for people with pre-existing conditions.
Two senior GOP aides have told me several members weren't aware the Cruz proposal would touch pre-existing conditions until Wednesday's lunch, when it was discussed. When asked whether members weren't aware of this prior to then, Sen. Roy Blunt told me, "probably not." (A Cruz spokesman insists it was never a secret.)
Here's how Cruz told reporters it would work yesterday: "You would likely see some market segmentation. But the exchanges have very significant federal subsidies, whether under tax credits or under the state stabilization."
"The exchange would quickly turn into a high-risk pool as non-compliant plans cherry pick the healthy people," said Larry Levitt, vice president of the nonpartisan Kaiser Family Foundation. While premium subsidies would help people afford coverage, the cost of those subsidies would drastically raise with the price of premiums.
People earning too much to qualify for subsidies "would be completely out of luck. The non-compliant plans wouldn't take them, and the exchange plans would be way too expensive."
Supporters of the Cruz amendment:
Sen. Jim Risch: "What could be more American than having a willing buyer and a willing seller agree to enter into a transaction? It escapes me why people are, why there is any pushback."
Sen. Ron Johnson: The Cruz proposal needs to be paired with an "invisible high risk pool" — where sick people are subsidized directly — "so you really can fund the people who remain in that pool ...That's what I've been trying to promote the entire time. Let's separate the pre-existing conditions and the high-cost."
Sen Lindsey Graham: "I'm looking at it but it seems to be" a good idea.
Those worried about pre-existing conditions:
Sen. Rob Portman: "It's unclear what [the Cruz proposal] is. I believe if you have pre-existing conditions, you should be able to get coverage."
Sen. Bob Corker: "I think people understand that's got to be protected, and people understand what happened when the House dealt with it and opened it up, and it's just not something that senators are wishing to do."
The senior GOP aide said at least four members spoke out against the Cruz proposal at lunch, including Majority Whip John Cornyn and Sen. Lamar Alexander, chairman of the Health, Education, Labor and Pensions Committee.
A Cornyn aide disputed that he argued against the proposal at the lunch, but noted that Cornyn told reporters it might not be allowed under Senate budget rules.
Go deeper