Scoop: Top GOP senators urge Trump to exit Paris climate deal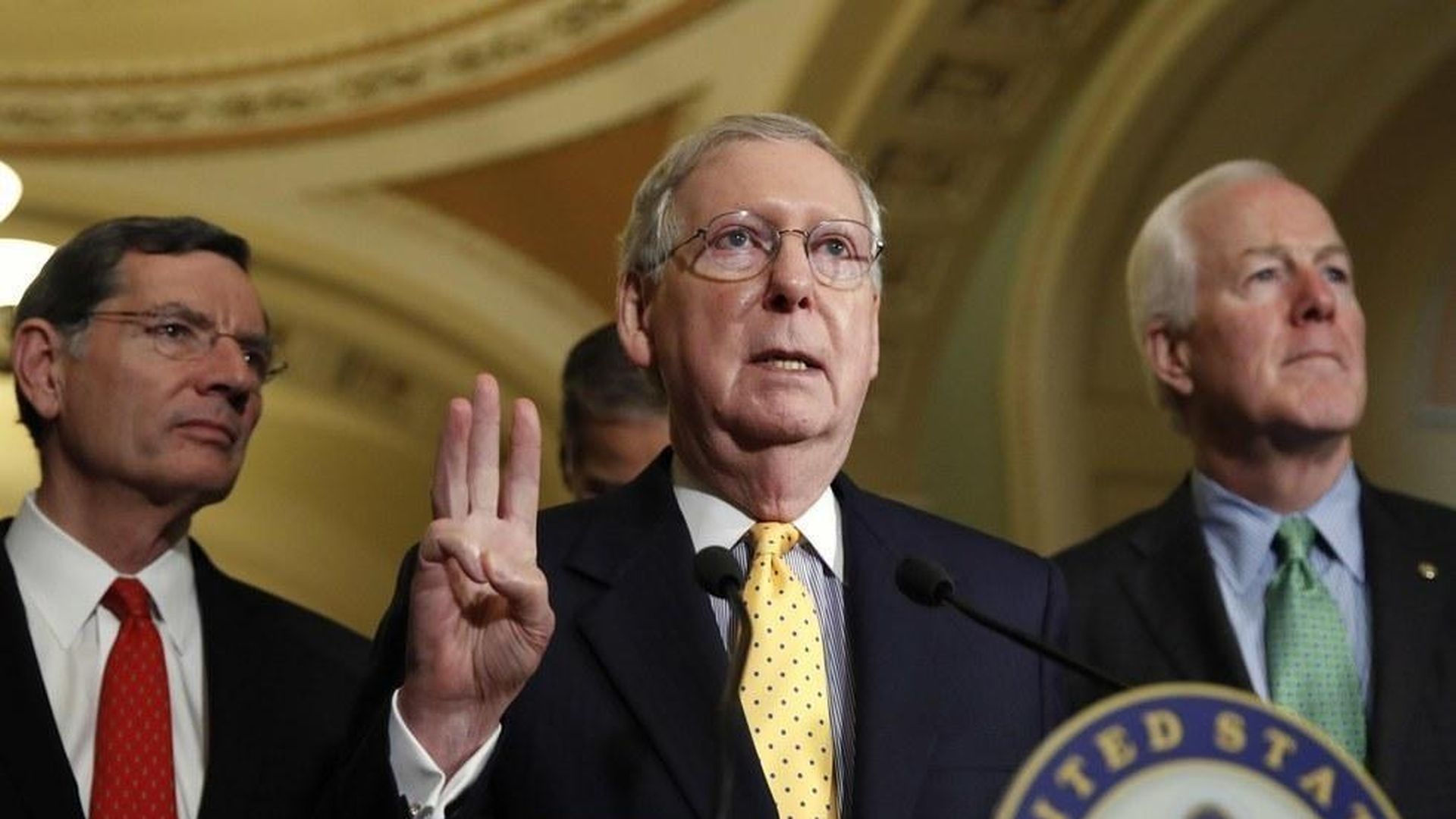 A group of 22 heavyweight Republican senators, including Majority Leader Mitch McConnell, are sending a letter to President Trump today urging him to make a clean exit from the Paris Agreement to combat climate change. The letter applauds Trump for beginning the process of unwinding Obama's Clean Power Plan regulations, but says that goal is imperiled if he decides to remain in the Paris climate change deal.
Why this matters: Trump promised on the campaign trail to quit the Paris deal, but he's currently reconsidering the decision and his staff is divided.
Urging the president to remain: Ivanka Trump — to preserve a seat at the table for the U.S. — and Jared Kushner and Secretary of State Rex Tillerson have been supportive of that approach.
Urging the president to leave: EPA administrator Scott Pruitt, chief strategist Steve Bannon and White House counsel Don McGahn.
Key section from the Senators' letter to Trump:
"Because of existing provisions within the Clean Air Act and others embedded in the Paris Agreement, remaining in it would subject the United States to significant litigation risk that could upend your Administration's ability to fulfill its goal of rescinding the Clean Power Plan. Accordingly, we strongly encourage you to make a clean break from the Paris Agreement."
Senators who signed the letter include:
John Barrasso, chair of the Senate Committee on Environment and Public Works
Jim Inhofe, former chair of the Senate Committee on Environment and Public Works
Mitch McConnell, Senate Majority Leader
John Cornyn, Senate Majority Whip
Roy Blunt, Vice Chairman of the Senate Republican Conference
Orrin Hatch, Senate Finance chair
High-profile conservative senators: Ted Cruz, Rand Paul, and Mike Lee
Go deeper