Scoop: Fannie Mae exec to be nominated Treasury Deputy Secretary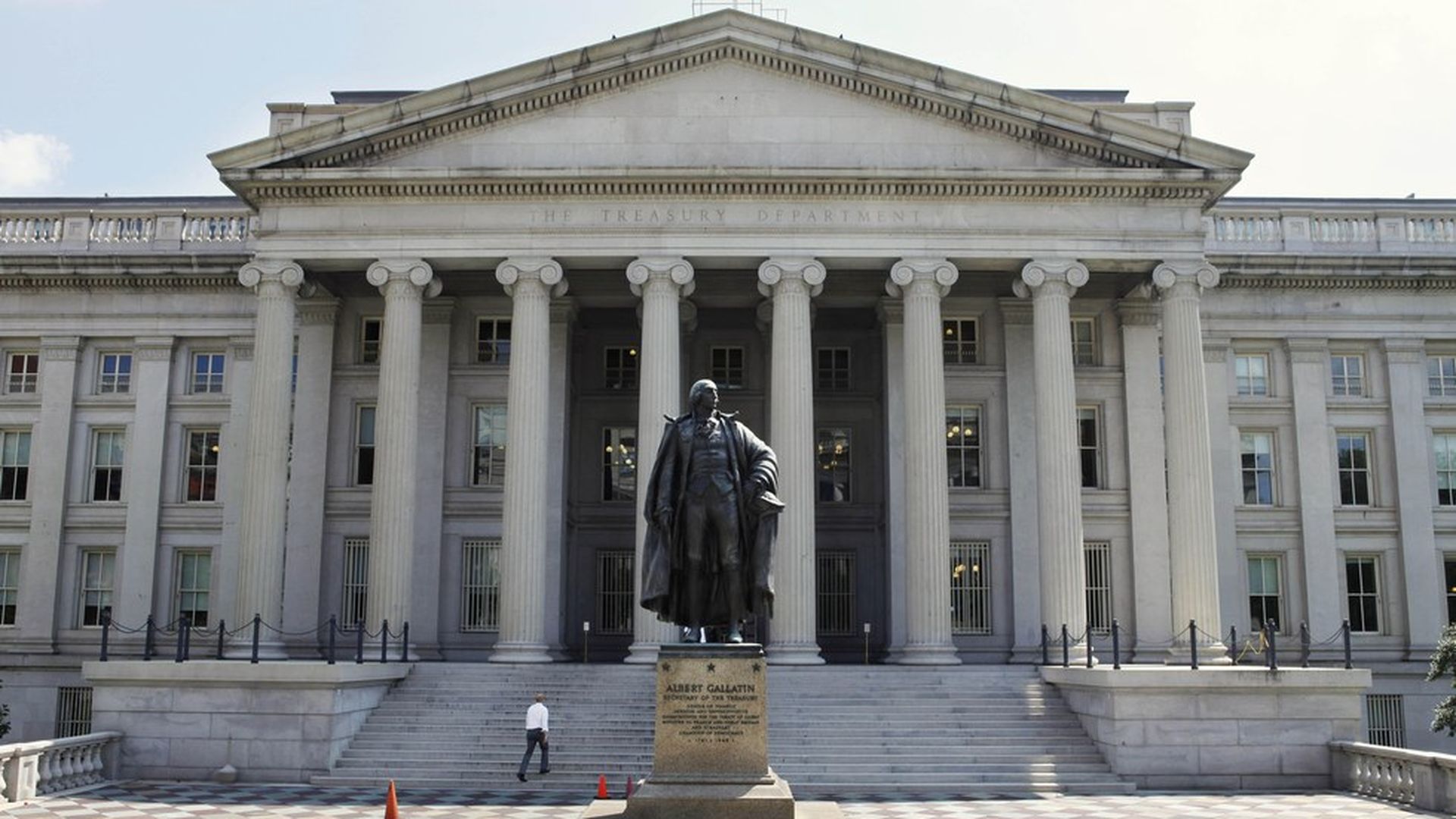 Fannie Mae's General Counsel Brian Brooks will be appointed Deputy Secretary of the Treasury Department, according to three sources with direct knowledge. He previously worked with Treasury Sec. Steve Mnuchin at OneWest, which became the largest bank in Southern California after the 2008 economic collapse.
Why this matters: Deputy Secretary is a pivotal role in the Treasury Department, and Wall Street has been keeping a close eye on the vacancy. Brooks will be expected to play a driving role in tax reform and the other major agenda items. Two sources say that Mnuchin wanted a loyalist in this key position.
The Trump effect: Mnuchin, like President Trump, puts a high premium on loyalty when it comes to appointing senior aides. Mnuchin's closest confidants, Eli Miller and Justin Muzinich, are folks whom Mnuchin trusts as virtually leak-proof. The original selection for this position was Goldman Sachs executive Jim Donovan, but he later withdrew his name from consideration because of family issues.
Behind the scenes: When Donovan dropped out, an intriguing name on the early consideration list was Rep. Pat Tiberi (R-OH), according to a source with direct knowledge. Treasury officials liked the idea of someone with Capitol Hill relationships going into tax reform. It's unclear whether Tiberi, an influential member of the tax-writing Ways and Means Committee, even knew he was under consideration.
What's next: The OneWest foreclosure controversy will almost certainly be brought up at Brooks' confirmation hearing. Leaked documents from the California AG's office alleged that OneWest was responsible for "using potentially illegal tactics to foreclose on as many as 80,000 California homes." Mnuchin denied the allegations during his confirmation haring, saying he was "committed to loan modifications intended to stop foreclosures. I ran a 'loan modification machine.'"
Brooks joined OneWest in May 2011 where he served as the bank's vice chairman. He joined Fannie Mae in November 2014, serving as EVP, general counsel, and corporate secretary. From 1994 to 2011, Brooks was a managing partner at law firm O'Melveny & Myers, where he helped financial services companies with litigation cases. He received his J.D. from the University of Chicago in 1994. There also were earlier reports that he was being considered to lead the Consumer Financial Protection Bureau.
Go deeper