Scientists race to create artificial hearts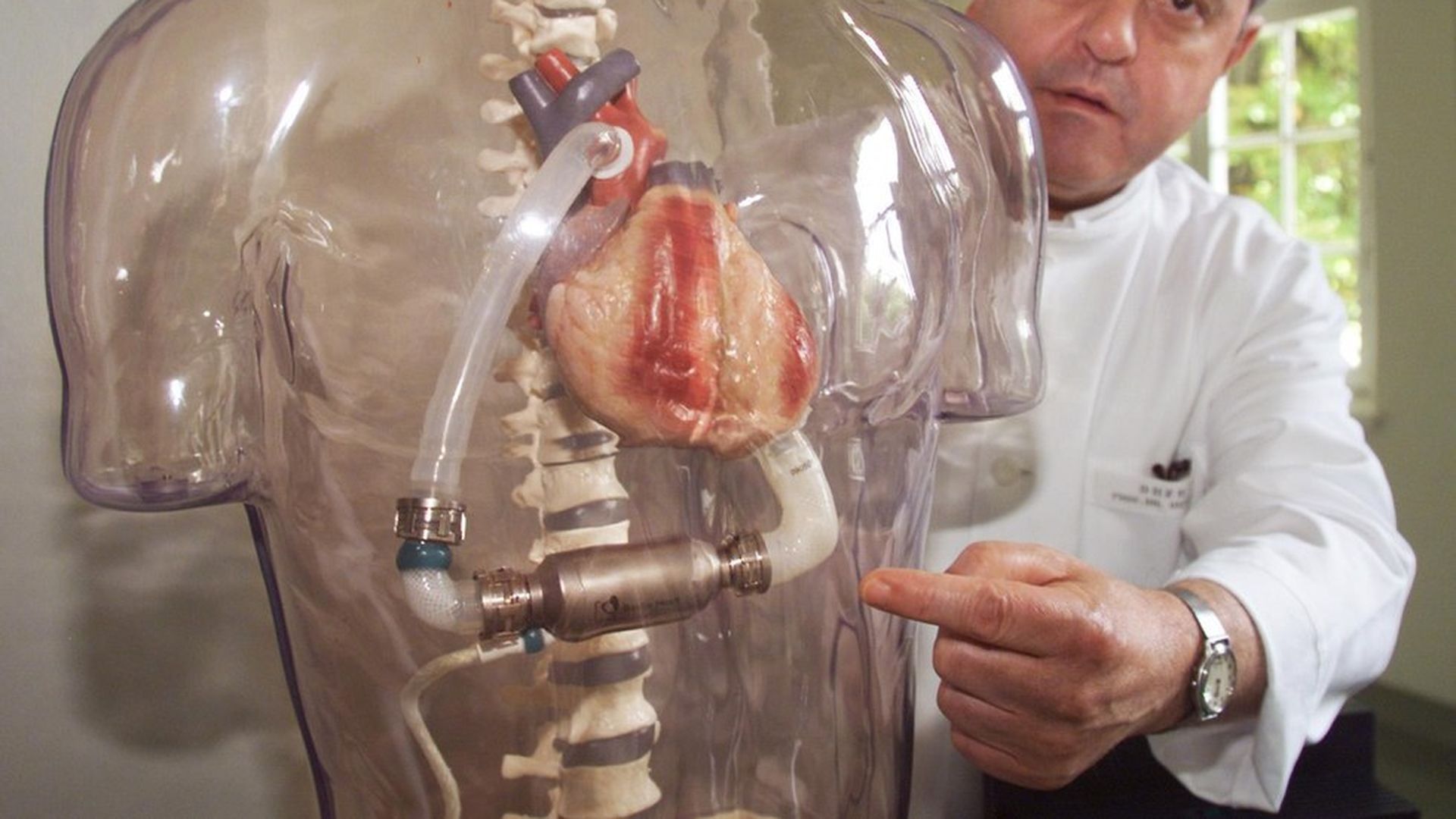 Hearts are not the easiest organ to come by when a patient is in need of a transplant, so various companies are now working on ways to create artificial "robot" hearts, per The Guardian's Thomas Morris, who did a deep-dive on the subject.
So far, there are two types of artificial hearts:
One that hasn't been tested on humans, but has "shown promising results" in animals, per Morris. Compared to pneumatic pumps, this version is significantly smaller, more efficient and more durable. It uses magnets to suspend the rotors that drive the blood.
Another artificial heart was created by French surgeon Alain Carpentier and it was recently tested in humans. He worked with engineers "to design a pulsatile, hydraulically powered device whose unique feature is the use of bioprosthetic materials – both organic and synthetic matter." What makes it unique: The design actually mimics the shape of the heart — "the internal surfaces are lined with preserved bovine pericardial tissue, a biological surface far kinder to the red blood cells than the polymers previously used."
What's next: Patients first received Carpentier's artificial heart in 2013 and now a larger clinical trial is currently undergoing.
The skepticism: The price tag. These artificial devices cost around $112,000, so cardiologists recognize that it'd be nearly impossible to provide everyone who needed one with an artificial heart.
Cardiologists have long tried to figure out an innovative alternative to open-heart surgery when a full heart transplant isn't necessary, and are increasingly using robotic heart parts, Morris details in his piece.
For example, a robot-like transcatheter aortic valve implantation (TAVI) is used to help replace diseased or damaged aortic valves. The first person to receive a new aortic valve without open-heart surgery was in 2002.
One big thing: Some pediatric cardiologists have started using TAVI procedures to operate on unborn children with heart malformations, which affect 5% of all babies and are the most common cause of birth defects. TAVI is especially helpful in cases of unborn babies who are diagnosed with hypoplastic left heart syndrome (HLHS), a condition that prevents the left side of the heart from properly developing.
How it's different: Inserting a TAVI requires a non-invasive procedure to address surgeries that would otherwise require open-heart surgery. TAVI procedures don't take place in a standard operating room, and instead the patient is treated in a catheterization laboratory. And the timing is a huge factor, too: Most open-heart surgeries take between four to six hours — implanting a TAVI has taken cardiologists less than one hour.
What's next: TAVI is still relatively in its infancy, but experts believe in addition to replacing diseased valves, this procedure could also repair them by imitating surgeons' techniques. Furthermore, many experts believe surgery will becoming rare, as this will eventually become the default medical option for valvular, aortic diseases.
Go deeper