Schumer urges Trump to pressure China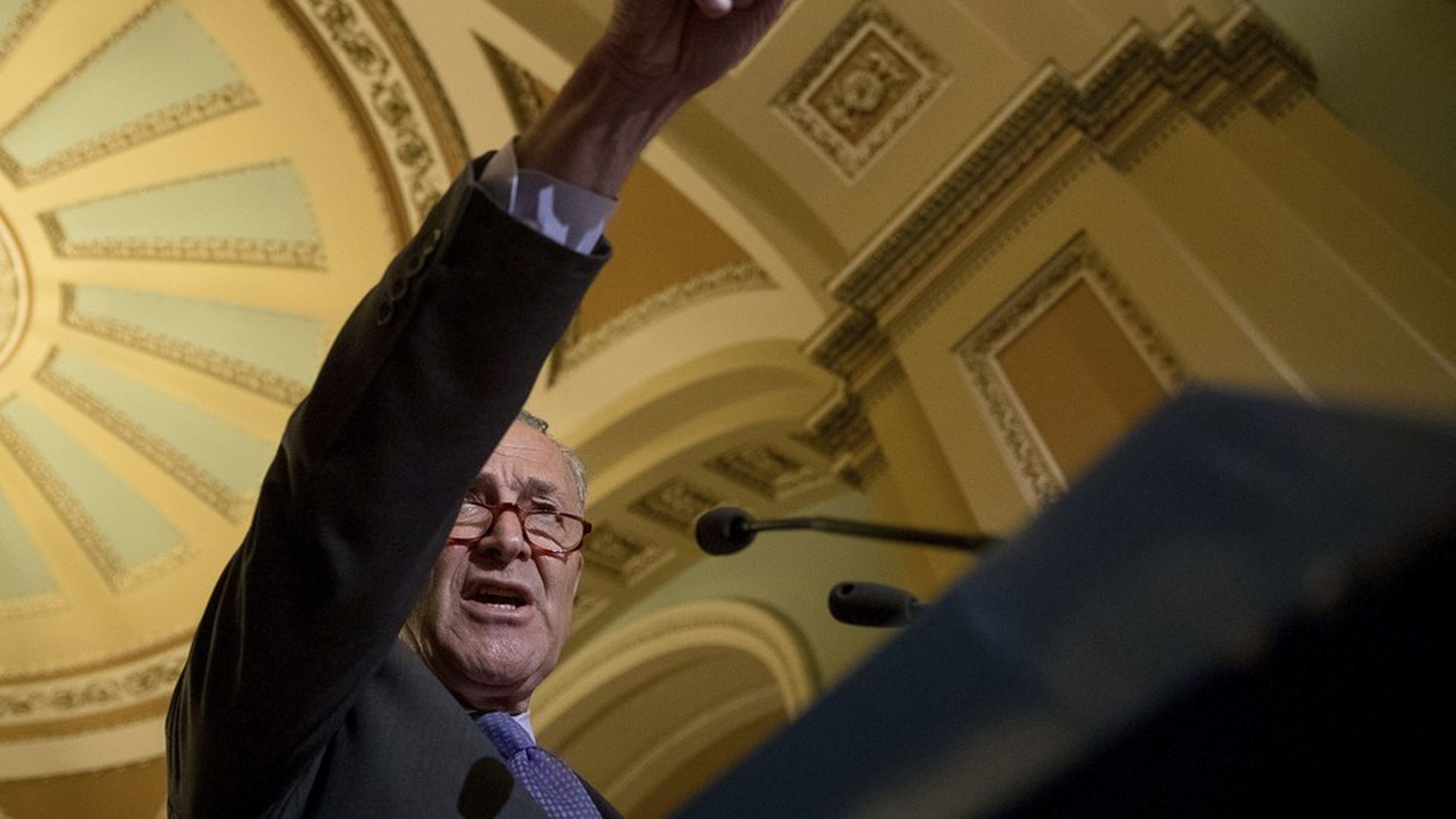 Senate Democratic Leader Chuck Schumer told Trump in a letter this week that "to help rein in North Korea's threatening and destabilizing behavior," you need to pressure China economically, per Reuters.
It's the first time Schumer has asked Trump to go after Chinese investment in the U.S., WSJ reports.
Schumer wants Trump to suspend approval of "all mergers and acquisitions in the U.S. by Chinese entities" through his authority via the Committee on Foreign Investment in the United States (CFIUS), which approves acquisitions of U.S. companies by foreign entities. Congress and the White House are already planning to work with CFIUS, per National Counterintelligence Executive William Evanina.
Context: China is North Korea's largest trade partner and as North Korea gets closer and closer to being able to hit the U.S. with a long-range missile, the pressure is mounting to come up with a strategy to curtail the tensions. But one of China's top economic officials recently said U.S.-Chinese trade is "unrelated" to North Korea.
The other side of Capitol Hill: Republican John Cornyn said that's not what CFIUS is supposed to be used for — it "is a national security vehicle" to make sure other countries "don't steal our cutting-edge technology." CFIUS experts told Reuters Schumer's plan would be a reach for CFIUS' mandate, but technically legal, since usually CFIUS operates on a case by case basis, not a broad ban.
Get smart thanks to Axios' Dan Primack:
"Some Chinese regulators might actually be kind of grateful for this potential move Schumer proposed, given that it's been pressuring many of its own local conglomerates to stop buying foreign assets. But it does seem odd to punish U.S. businesses or shareholders over how China is handling North Korea, particularly those who likely would then be blocked in return from buying Chinese companies."
"CFIUS already has been pretty stingy this year" in granting approvals, sometimes acting so slowly deals collapse, like in the case of the Los Angeles-based company, Global Eagle Entertainment, and its potential $416 million investment from China's HNA Group, which was canceled after CFIUS approval did not pull through by an agreed-upon date.
What's next: Trump could make an "aggressive" announcement against China over theft of intellectual property as soon as this week, as Axios' Jonathan Swan reported. And although that announcement may be unrelated to the CFIUS debate, it would show signaling from the White House that they're interested in harping on unfair trade deals.
Go deeper