Roy Moore faces deepening allegations, dwindling allies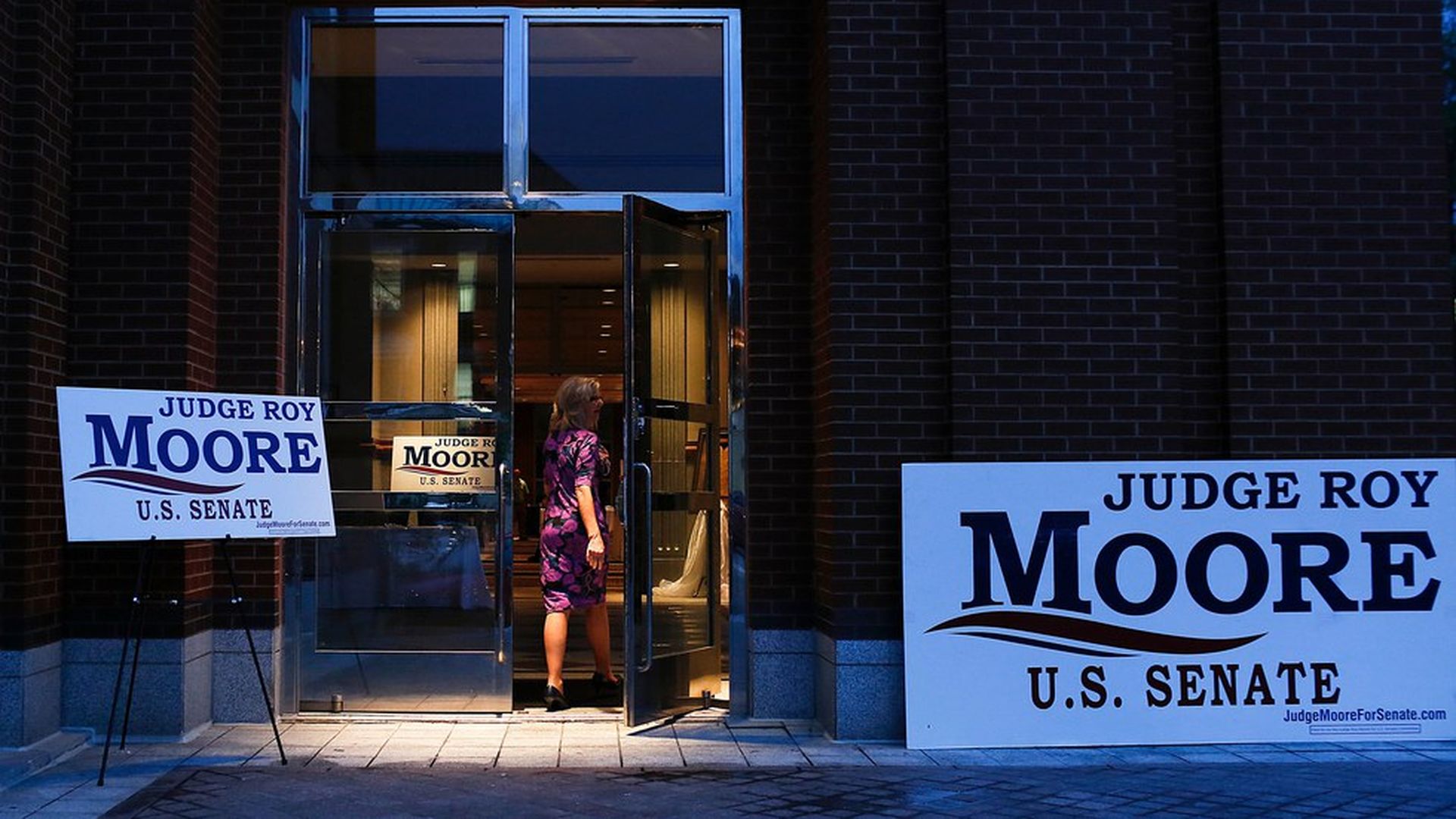 A fifth woman came forward Monday with claims of sexual misconduct against Roy Moore, and calls for Moore to withdraw from next month's special election in Alabama are growing louder.
Here's our roundup of all the latest news:
The accusations
The 5th accuser
Beverly Young-Nelson alleged at a press conference alongside attorney Gloria Allred Monday that Moore sexually assaulted her when she was a 16-year-old waitress. Through tears, Young-Nelson claimed that Moore, then-District Attorney of Etowah County and a regular at the restaurant, attacked her one night roughly 40 years ago.
"Mr. Moore reached over and began groping me, putting his hands on my breasts. I tried to open my car door to leave, but he reached over me and locked it so I could not get out. I tried fighting him off, while yelling at him to stop, but instead of stopping he began squeezing my neck attempting to force my head into his crotch."
Go deeper: More from her statement
The original accusations
Four women accused Moore of sexual misconduct in a story published Thursday in the Washington Post.
Leigh Corfman, who was 14, says she met Moore (then 32) at the local courthouse and he later took her to his house on two occasions, the second time undressing her and touching her inappropriately, as well as directing her hand to touch him over his underwear.
Three other women told WashPost that Moore made advances toward them when they were 16, 17, and 18 years old. Moore was in his 30s and asked them all on dates, allegedly kissing at least two of them.
Local knowledge
"It was common knowledge that Roy dated high school girls. Everyone we knew thought it was weird," former deputy District Attorney Theresa Jones, who used to work with Moore, told CNN. "We wondered why someone his age would hang out at high school football games and the mall."
Over a dozen sources in Alabama, including lawyers, police officers and a "major political figure," told the New Yorker's Charles Bethea that they had heard Moore was banned from the Gadsden Mall for bothering teenage girls.
The reaction
Republican repudiation
Sen. Mitch McConnell called on Moore to "step aside": "I believe the women."
Sen. Susan Collins: "I did not find his denials to be convincing and believe that he should withdraw."
Sen. Jeff Flake: "If the choice is between Roy Moore and a Democrat, I would run to the polling place to vote for the Democrat."
Go deeper: Our full roundup of GOP reaction
Abandoning endorsers
Sens. John Cornyn and Ted Cruz followed a handful of Senate colleagues in withdrawing their endorsements of Moore, leaving Sen. Rand Paul as his only endorser in the Senate. Full coverage here.
Cabinet fallout
A HUD spokesman provided Axios with this statement in response to questions about Ben Carson's past support for Moore: "The Secretary believes any man that assaults any woman is unfit for public office."
Carson was the only member of President Trump's cabinet to voice support for Moore during the Alabama Republican primary. Trump endorsed Luther Strange, Moore's opponent.
White House reaction
President Trump has been silent on the issue over the past few days while on his Asia trip, but members of his administration addressed the controversy on the Sunday shows:
Kellyanne Conway told ABC's Martha Raddatz that Moore's "conduct as described should disqualify" him — if true.
Treasury Secretary Steven Mnuchin to CNN's Jake Tapper: "People should investigate this issue and get the facts. It appears there's a significant issue here that needs to be addressed"
Legislative Director Marc Short to NBC's Chuck Todd: "No Senate seat is more important than the issue of child pedophilia, but, having said that, he has not been proven guilty. We have to afford him the chance to defend himself."
Moore's defenders
Steve Bannon sent two top Breitbart staffers to Alabama. Their mission: to discredit the Washington Post's reporting on Moore's alleged sexual misconduct with teenagers.
Go deeper:
The options to block him
Option 1: Moore withdraws
Legally, parties and candidates in Alabama have until 76 days before an election to withdraw a nomination, so it's too late for Moore's name to be replaced on the ballot. But a spokesman told NPR that the Alabama Republican Party can withdraw his nomination, meaning he wouldn't be declared the winner even if he received the most votes.
Go deeper: Full legal breakdown
Option 2: The Senate removes him
The Constitution also allows both houses of Congress to expel a member with a two-thirds vote. That means McConnell would have to get 19 of his own members on board to get rid of a Republican senator.
The big picture: No senator has been expelled since the Civil War, with 14 out of 15 prior expulsions having been for support of the Confederacy.
Option 3: Write-in campaign
Several prominent Republicans are lobbying for Luther Strange (who lost in the primary against Moore) or Jeff Sessions (who resigned the seat to become Attorney General) to mount write-in bids. They've both indicated that's unlikely to happen.
Option 4: Democrat Doug Jones wins
Polls are now showing a tight race, despite Trump having won Alabama by 28%.
How we got here
Who is Roy Moore?
Moore is one of the most controversial and conservative politicians in America, known for his unbending stances on social issues. He had twice lost his position as the Chief Justice of Alabama's Supreme Court — once by removal, once by resignation — after his refusal to back down on federal directives on cases relating to religion and sexuality.
In his own words
On the separation of church and state: "The Church's role should be separated from the state's role. That is the definition of separation of church and state. But separation of church and state was never meant to separate God and government."
On homosexuality: "Homosexual conduct should be illegal, yes." Moore then compared homosexuality to bestiality — and, when asked if homosexuality was the same as bestiality, he responded, "It is a moral precept upon which this country was founded."
On the September 11 attacks: "You know, we've suffered a lot in this country. Maybe, just maybe, because we've distanced ourselves from the one that has it within his hands to heal this land."
Go deeper: Read the full piece
The primary
Moore, with Bannon's backing, defeated Strange — endorsed by Trump and McConnell — 57% to 43% in a runoff for the Republican nomination in September's election. Trump visited Alabama to rally support for Strange, but Alabama Republicans were unmoved.
What Moore is saying
Moore appeared with his wife Monday and gave a statement, which included a denial of the most recent accusers claims: "I can tell you without hesitation this is absolutely false. I never did what she said I did. I don't even know the woman. I don't know anything about her. I don't even know where the restaurant is or was."
Go deeper