Roundup of Neil Gorsuch's marathon hearing (day two)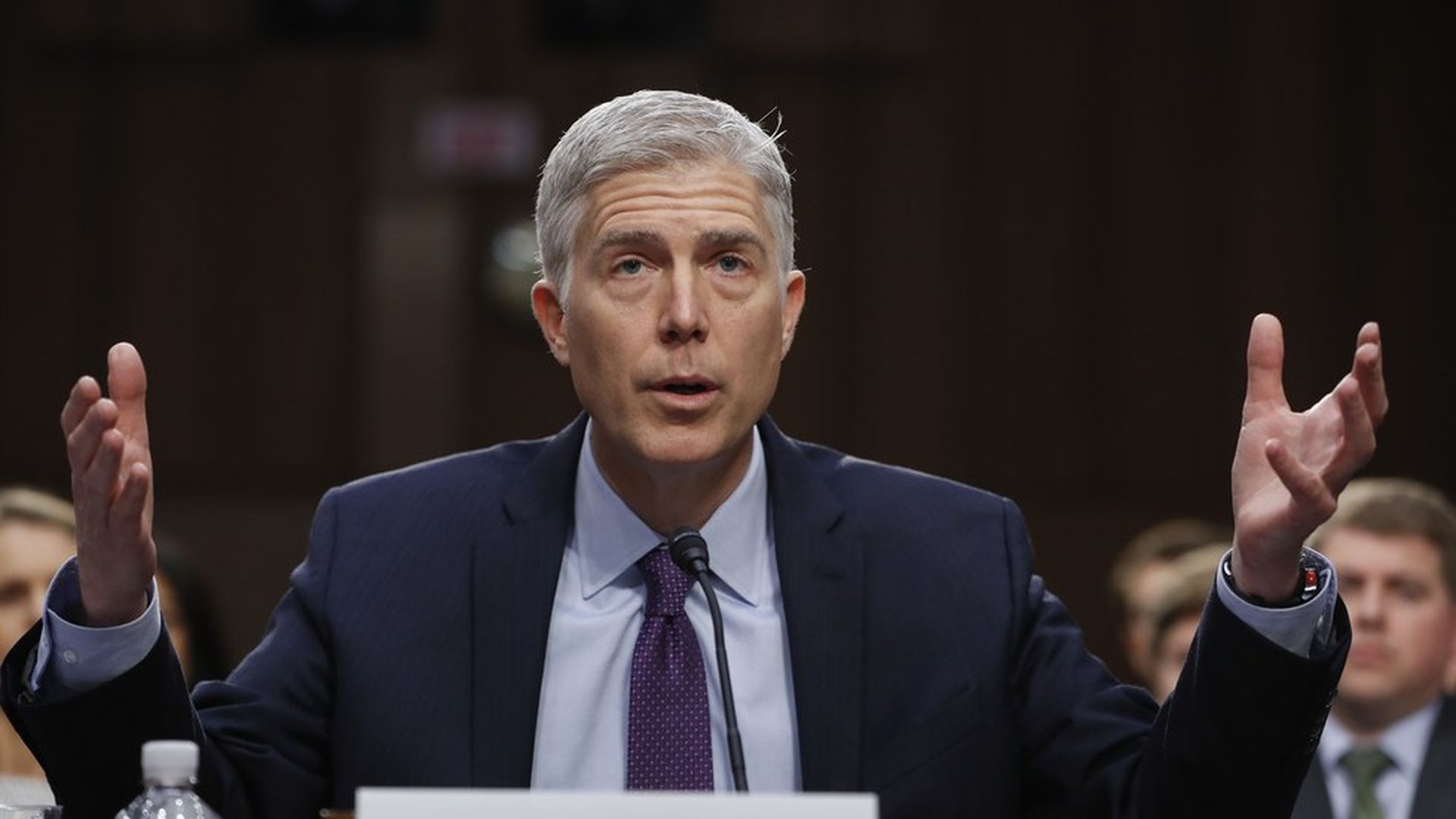 Neil Gorsuch took on controversial topics such as Roe v Wade, sex discrimination and gun rights in a marathon session before the Senate Judiciary Committee. He also said attacks on the judiciary by anyone (including President Trump) were "demoralizing".
Highlights from day two of his confirmation hearings:
On Roe v. Wade: "The holding of Roe v. Wade…is that a woman has a right to an abortion." He said if Trump had asked him to overturn Roe he "would've walked out," but said they did discuss the case.
On gay marriage: Gorsuch sidestepped, since "there's ongoing litigation" on the matter.
On asking women employees and not men about pregnancy plans: "It is highly inappropriate," but would not say it constitutes sex discrimination. Allegations that Gorsuch said women abuse maternity leave before quitting to raise their children led to this exchange:
On surveillance of Americans: He said he doesn't exactly agree that POTUS has the right to surveil Americans, despite having written a defense of Bush's NSA surveillance.
On whether the President can authorize torture: "Nobody is above the law, and that includes the President."
On physician assisted suicide: Gorsuch does not support it.
On gun rights: "It's not a matter of me agreeing or disagreeing, it's a matter of the law," said Gorsuch, indicating that he'd uphold the landmark Heller decision.
On campaign finance: Gorsuch cited Buckley v. Valeo, which says limits on campaign spending are unconstitutional.
On the Chevron Doctrine: He said it's up to the judicial branch to interpret the law, not government agencies.
Also of note:
Gorsuch noted that 99% of the time he has ruled in the majority, and is rarely reversed by SCOTUS: "My opinions have attracted the fewest number of dissents from my colleagues."
Al Franken, however, said Gorsuch's opinion in one case (TransAm Trucking v. Administrative Review Board) was absurd: "I know it when I see it…it makes me question your judgement."
Go deeper