Providers overwhelmingly back Pence's Medicaid expansion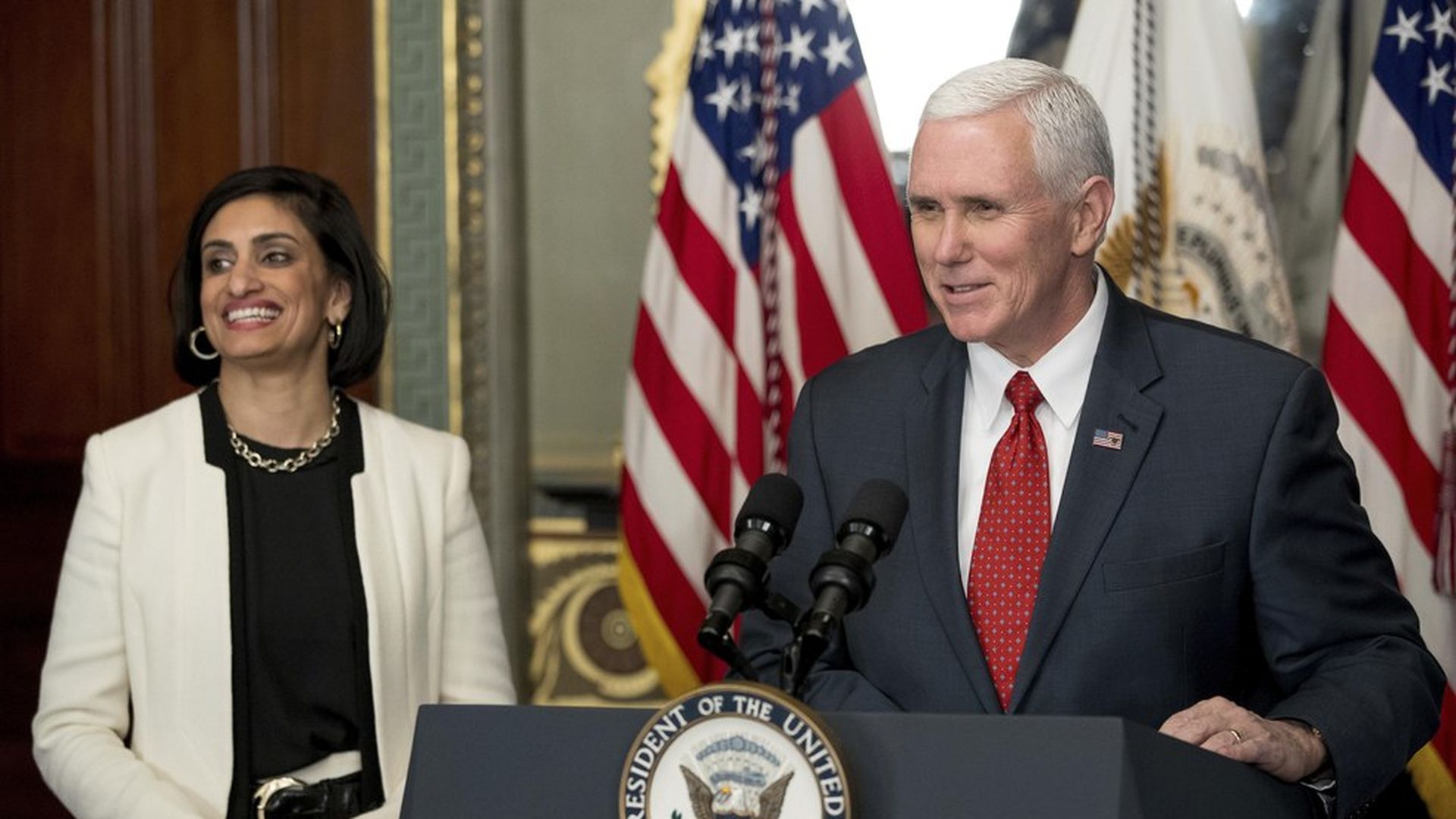 Indiana's conservative twist on Medicaid expansion — approved when Mike Pence was governor — has solid support among health care providers in the state. The two main reasons: It pays better than standard Medicaid rates, and they prefer it to no expansion at all, which would have left them on the hook for more charity care.
Why it matters: A big problem with Medicaid is getting enough doctors and other providers to participate — so when they support the program, they're going to treat more Medicaid patients. That works out better for everyone, and it's more likely to make Indiana a model for for other Republican-led states to change their Medicaid programs.
Pence's expansion of Medicaid has been a lasting irony as the Trump administration tries to repeal Obamacare. But his plan — called Healthy Indiana Plan 2.0 — bolted on conservative elements, such as requiring low-income people to pay into a health savings account to maintain coverage. (Centers for Medicare and Medicaid Services chief Seema Verma also helped develop the plan.)
You won't hear a lot, if any, negative pushback from hospital leaders, clinic directors and doctors in Indiana. In fact, many providers call HIP 2.0 a lifesaver even though researchers and liberals say it creates barriers to care. Here's why:
Paying Medicare rates
States that expanded Medicaid to adults earning 138% of poverty pay Medicaid rates to hospitals and doctors for those patients. But those payments could be low, sometimes to the point where doctors could refuse to see new patients.
Instead, the health insurance companies that administer Indiana's Medicaid program pay medical claims at the much higher Medicare rates. It's funded through a cigarette tax and hospital taxes, as well as federal Obamacare funds.
"We needed to have a bigger provider network to do those (Medicaid) services," said Dr. Jennifer Walthall, secretary of Indiana's Family and Social Services Administration, which oversees Medicaid. And paying Medicare rates entices more providers.
States that haven't expanded Medicaid but are looking at Indiana could get providers to accept conservative elements if it means they are getting Medicare-level reimbursement.
Better than no expansion at all
Nineteen states haven't expanded Medicaid, and providers in those states have urged their legislators to act. Hospitals and clinics, especially in rural areas, would gladly take any kind of expansion money instead of absorbing uncompensated care costs from the uninsured.
"It's so much better than nothing," said Dr. Sarah Stelzner, a pediatrician at Eskenazi Health, the public safety net system in Indianapolis.
Many clinicians in Indiana also believe HIP 2.0 offers robust health coverage. If beneficiaries stay current on payments to their health savings account, the "plus" plan includes vision and dental on top of medical benefits.
"It's better insurance than I have," said Dr. Frank Messina, an emergency medicine doctor at Eskenazi, whose uninsured population has been cut in half since the expansion took effect.
One rub: Some people, especially the homeless, struggle to make their health savings account contributions, even if it's the minimum $1 per month. But church groups and not-for-profit hospital foundations are able to pay $12 to cover the poorest members' annual contributions and keep them insured. It's a minimal amount for charity groups — although it raises the question of whether the health savings account is really making people more engaged in their care.
Go deeper