President Trump's inaugural promises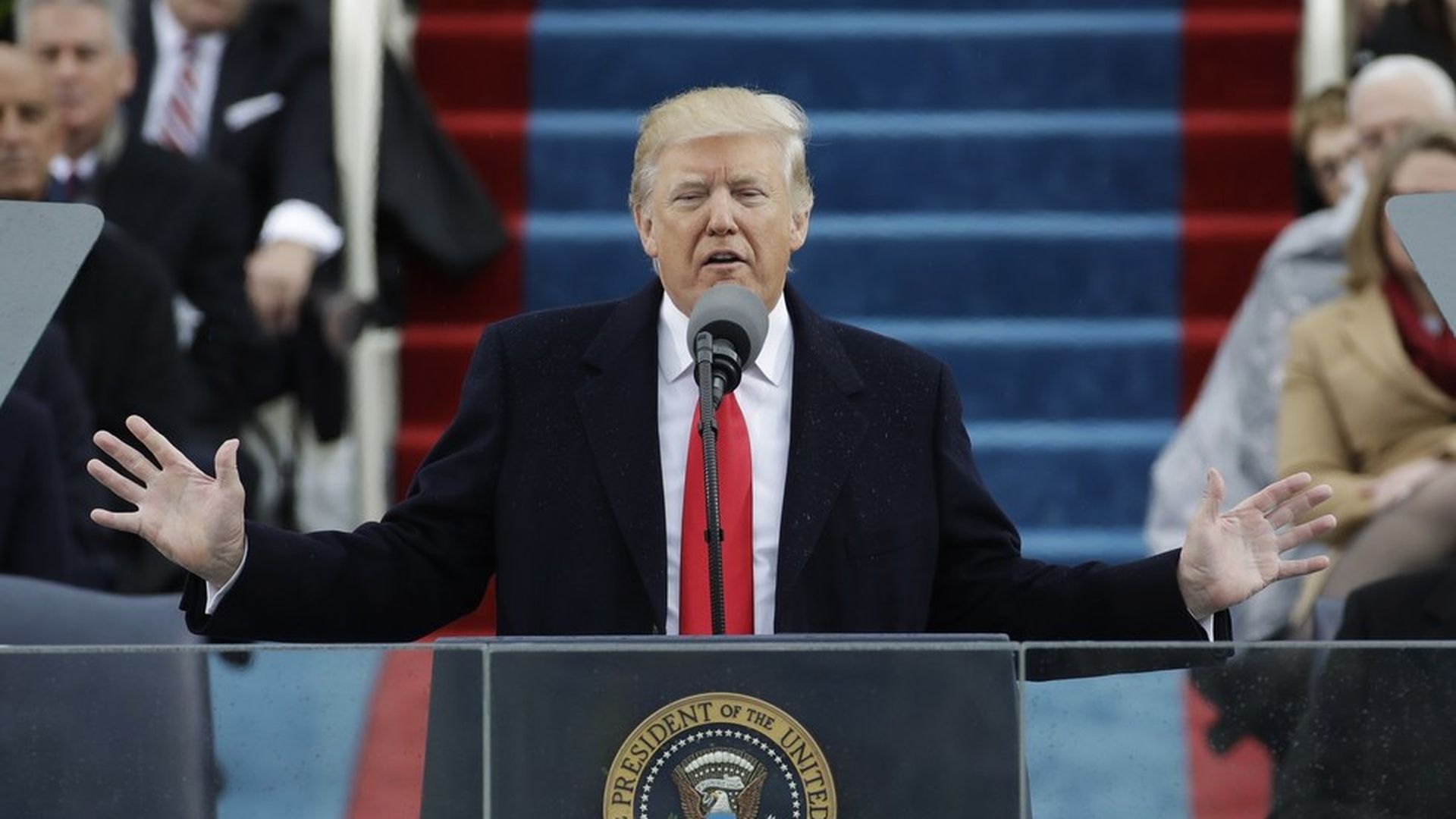 The new president took the dais on Friday afternoon for a short speech that painted a grim picture of our nation's present and offered a series of promises for its future.
The key quote: "This American carnage stops right here, and stops, right now."
Highlights below the fold.
The president named his movement: "The forgotten men and women of our country will be forgotten no longer. Everyone is listening to you now."
He praised those who put him in office: "At the center of this movement is a crucial conviction, that a nation exists to serve its citizens. Americans want great schools for their children, safe neighborhoods for their families, and great jobs for themselves."
But was grim about the present: "For too many of our citizens a different reality exists... Mothers and children trapped in poverty in our inner cities... An education system flush with cash but leaves our young and beautiful students deprived of knowledge."
Then his promises:"Protection will lead to great prosperity and strength.""We will bring back our borders.""We will bring back our wealth and we will bring back our dreams.""We will get our people off of welfare and back to work.""We will follow two simple rules: Buy American and hire American.""We will no longer accept politicians who are all talk and no action." "To all Americans in every city near and far... hear these words – you will never be ignored again.""From this day forward, it's going to be only America first. America first.""We will seek friendship and goodwill with the nations of the world – but we do so with the understanding that it is the right of all nations to put their own interests first. We do not seek to impose our way of life on anyone, but rather to let it shine as an example for everyone to follow.""We will reinforce old alliances and form new ones – and unite the civilized world against Radical Islamic Terrorism, which we will eradicate completely from the face of the Earth."
He threw in some fancy language: "And whether a child is born in the urban sprawl of Detroit or the windswept plains of Nebraska, they look up at the same night sky, they fill their heart with the same dreams, and they are infused with the breath of life by the same almighty Creator."
And his ending promise, no surprise: "Make America Great Again."
Go deeper