Pence's "polite distance" from Trump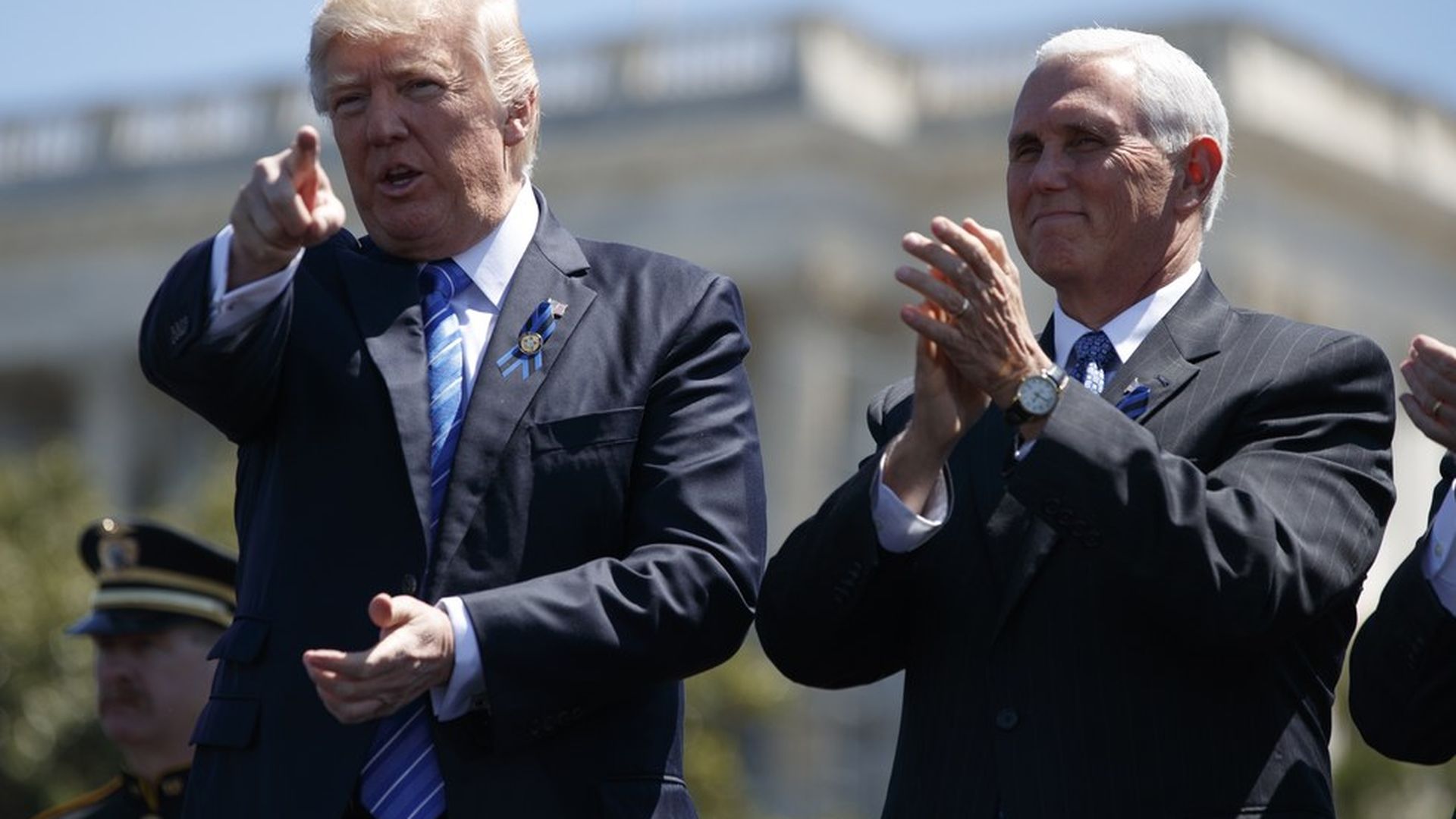 The most awkward waiting game in Washington is being endured by Vice President Mike Pence, who can't look like he's distancing himself from his boss, but has to protect his own viability amid the chaos at 1600.
As part of navigating this volatile White House, look for Pence to spend even more time outside Washington, including an upcoming foreign trip.
"Changes for him are ones that also apply broadly to the White House," an adviser said. "Both of them need to go out and sell more. ... When they don't, they respond all day to handful of journalists and politicians out to kill them."
Traveling gives the V.P. physical and psychological distance from a West Wing where presidential aides privately speculate about a President Pence. The dilemma is similar to that facing every White House #2 who wants a political future — but is more acute because of the swarm of investigations.
"He needs to chart an independent course, with more distance from Trump," says an ally of both leaders. "Not so much on issues — they're well aligned on issues. He needs distance from the behavior and personal foibles — polite distance."
The dynamics: Pence almost fears attention and credit. He sees his role as listener, mediator, executor — and has helped cement Trump's general adherence to conservative principles.
Sources who've known Pence a long time, and would expect candor from him, tell Axios' Jonathan Swan that they're struck by how effusively he praises and sells Trump, even privately. While other White House officials signal to Washington elites at parties that they "get the joke" about Trump, Pence never does.
The dynamic works for Trump. The President would never have tolerated a limelight-seeking V.P. A source who knows Trump well said: "He would've killed Newt by the end of the campaign" if he had made him VP.
Some top White House officials say Pence is conspicuously quiet in West Wing meetings.
Each week that the Senate is in session, Pence holds a dinner at his Naval Observatory residence with five to 14 senators (sometimes all Republicans, sometimes with a mix) to discuss a particular theme — Supreme Court, health care, tax reform, foreign policy.
What the Pence team tells itself: "Never cave on your principles, which he hasn't."
Aides to both Trump and Pence dismissed a McClatchy Washington Bureau story that briefly was Drudge's banner headline yesterday: "TRUMP, PENCE STAFFS FEUDING."
Pence will get an aggressive in-house advocate Aug. 1 with his new chief of staff, Nick Ayers, an elbows-out operative with a deep investment in protecting the Pence brand. Ayers will move up from Georgia to replace longtime Pence aide Josh Pitcock, who said he'll "transition to the private sector."
Go deeper