Pence: Americans will go to the moon, and then Mars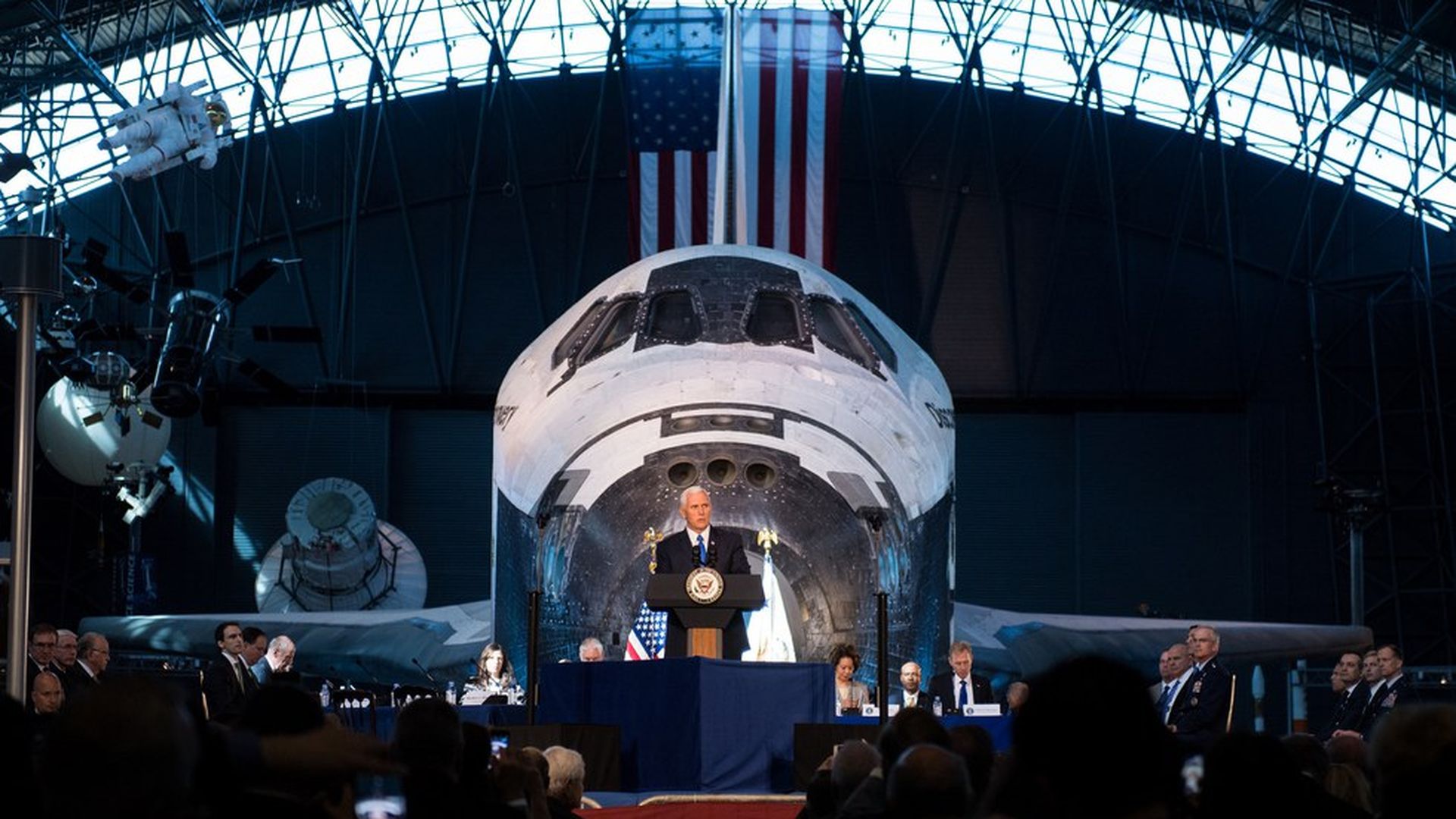 "America seemed to have lost its edge in space. Those days are over," Vice President Mike Pence said at the inaugural meeting of the revived National Space Council Thursday. "America will lead in space once again."
Between the lines: It's arguable that the U.S. has fallen behind in the space race. Although the China National Space Agency and the European Space Agency have made progress, NASA is still at the helm of the majority of space explorations.
The space race
What they're saying: "America entered this millennium without a coherent plan ... Rather than lead in space, we too often drift," Pence said, calling on the private sector to partner with the government to explore space. Gwynne Shotwell of SpaceX said they need federal regulations lifted to launch back-to-back and keep innovating. Still, "America is out-innovating the rest of the world in space launch," Shotwell said.
Where things stand: The big players in the space race are China, Europe, Russia and the United States. But AP reports that, compared to the Cold War era, "space research now appears to rank low on the Kremlin's priorities."
Go deeper: 60 years after Sputnik, Russian space program faces troubles, via AP.
The moon base
What they're saying: "We will return American astronauts to the moon ... to build the foundation to send Americans to Mars and beyond," Pence said in his opening remarks. He brought back the idea of establishing a base on the Moon, which was floated during the Obama administration. "The Moon will be a stepping stone, a training ground," Pence added.
Where things stand: Building a base on the Moon could be a step forward in getting humans on Mars, as it takes much less fuel to get to Mars from the Moon than from Earth. But the goal seems to shift between administrations — Democrats seem to prioritize going to Mars and Republicans seem to focus on the moon. That back-and-forth could threaten any mission becoming reality, tweeted Emily Lakdawalla, senior editor of The Planetary Society.
Go deeper: What it will take to make it to Mars
National security in space
What they're saying: Space has been weaponized, and "our adversaries [Russia and China] are developing anti-satellite weapons" to interfere with U.S military and commercial capabilities, Secretary of State Rex Tillerson said. U.S. satellites and navigation systems are vulnerable to hacking by other nations as well as independent actors, said Admiral James Ellis, the former commander of United States Strategic Command.
Where things stand: One technological solution is investing in GPS-independent navigation for military actions, but foreign hacking of commercial GPS can hurt the U.S. economy, which is linked to national security, according to Pamela Melroy, a deputy director at the Defense Advanced Research Projects Agency and former astronaut. "An attack on GPS is an attack on the U.S.," she said. Ellis added that U.S. cooperation with allies on a space national security strategy is "absolutely essential."
Go deeper: Our next World War might be fought in outer space, via New Republic.
Noticeably absent on the agenda: Research in Earth and climate science, which falls under NASA's umbrella.
Go deeper