Ousted President of Catalonia says he's not seeking asylum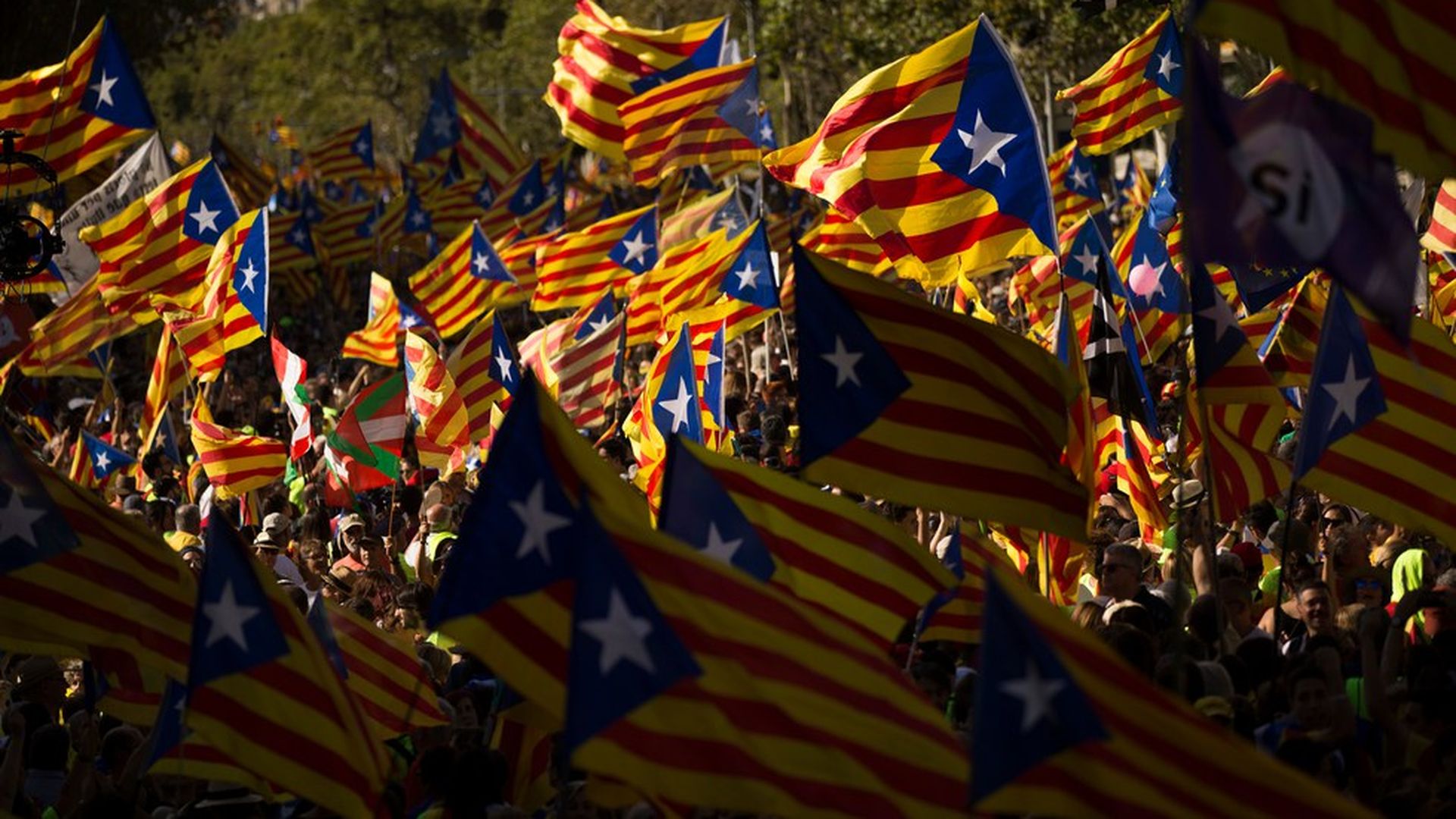 Tensions in Spain escalated to new heights Friday when the Spanish Senate authorized the government to use unprecedented measures to remove Catalonia's self-run government, moments after the Catalan parliament declared the region's independence. Since then, Spanish authorities have filed charges that carry up to 30 years in prison against ousted Catalonia President Carles Puigdemont and his colleagues.
The latest: Puigdemont, who fled to Brussels on Monday, said Tuesday that he is not trying to escape justice, but wants to be able to speak freely. He added that he does not plan to seek asylum there, and will return to Spain once he's given "guarantees" by the Spanish government.
Why it matters: The territorial conflict has propelled the country into its greatest constitutional crisis since it embraced democracy in 1978, and has left Catalonia in chaos.
Clashes between Spain and Catalonia
Catalonia, home to Barcelona, is one of Spain's wealthiest and most popular regions in Europe. It also enjoys a high degree of autonomy.
However, many Catalans feel Madrid takes more money from them than they get in return. This conflict was exacerbated during the 2008 recession, when Spain's economic failure hit Catalonia hard, creating large spikes in unemployment rates and driving some residents into poverty.
There are also historical grievances between Catalonia and Spain, many of which stem from Catalonia's poor treatment under the dictatorship of Francisco Franco. Those deep-rooted cultural issues are still very prominent in Spain today.
The independence referendum
Catalonia held an independence referendum on October 1st, despite the Spanish government declaring it illegal. There was only one question on the ballot: "Do you want Catalonia to become an independent state in the form of a republic?"
Catalan officials later declared that 90% of those who turned out voted for independence. However, more than 750,000 votes could not be counted because polling stations were closed and ballot boxes were confiscated as a result of the clashes between voters and police officers, according to a Catalan spokesman.
Following the vote, Catalan President Carles Puigdemont signed a declaration of independence, but delayed implementation to allow talks with the Spanish government.
Madrid set a deadline for Puigdemont to clarify his intentions, but it passed with no progress, so Spanish Prime Minister Mariano Rajoy announced plans to impose direct rule on the region to keep them from declaring independence.
The Catalonian independence vote
Catalonia's regional parliament passed a motion Friday to establish its independence from Spain, just hours after Rajoy made his case for measures to keep Spain unified. The vote was approved with 70 in favor of independence, 10 against, and two blank ballots in the 135-member parliament, per NPR. Catalan lawmakers opposed to seceding walked out of the chamber in protest prior to the vote.
Moments after, the Spanish Senate authorized the government in a 214 to 47 vote to invoke Article 155 of Spain's Constitution, giving Rajoy the power to take direct control over Catalonia's government. The measure is expected to go into effect after it's published in the government register Friday night.
Rajoy said he had "no alternative" to implement the unprecedented measures, stating that Puigdemont and his separatist cabinet were acting illegally.
What's next
With Article 155 now in effect, the Spanish government is able to run Catalan government ministries, as well as local police and local media stations from Madrid, per the Financial Times.
In the immediate aftermath, Catalonia can't do much more aside from removing Spanish flags and symbols from government buildings. As the AP notes, "Catalonia does not have security forces sufficient to set up borders and key areas such as taxes, foreign affairs, defense, ports, airports and trains are in the hands of the Spanish government in Madrid. Spain also recently took virtually full control of Catalonia's spending."
So far no country or international body has expressed support for the Catalan government's push for independence, with the European Union standing firmly behind Madrid and Rajoy. Jean-Claude Juncker, President of the European Commission has said Catalonia will not be able to be an E.U. member state if they secede, and Martin Schulz, President of the E.U. Parliament, said no one in the E.U. will recognize Catalan independence, per AP.
U.S. State Department spokeswoman Heather Nauert said in a statement Friday: "Catalonia is an integral part of Spain, and the United States supports the Spanish government's constitutional measures to keep Spain strong and united."
The latest
Rajoy assumed direct control of Catalonia on Friday, sacked its separatist government, and called a snap election for December 21.
Spanish prosecutors in Madrid have brought rebellion, sedition, and embezzlement charges against Catalonian leader Carles Puigdemont and other members of parliament involved in the independence vote.
At a press conference in Brussels Tuesday, Puigdemont said he would accept the result of the snap Catalonia elections in December, and stated that he and his team will "continue our work despite the limits imposed on us."
Go deeper