Oath relaunches its "Newsroom" app centered around vertical video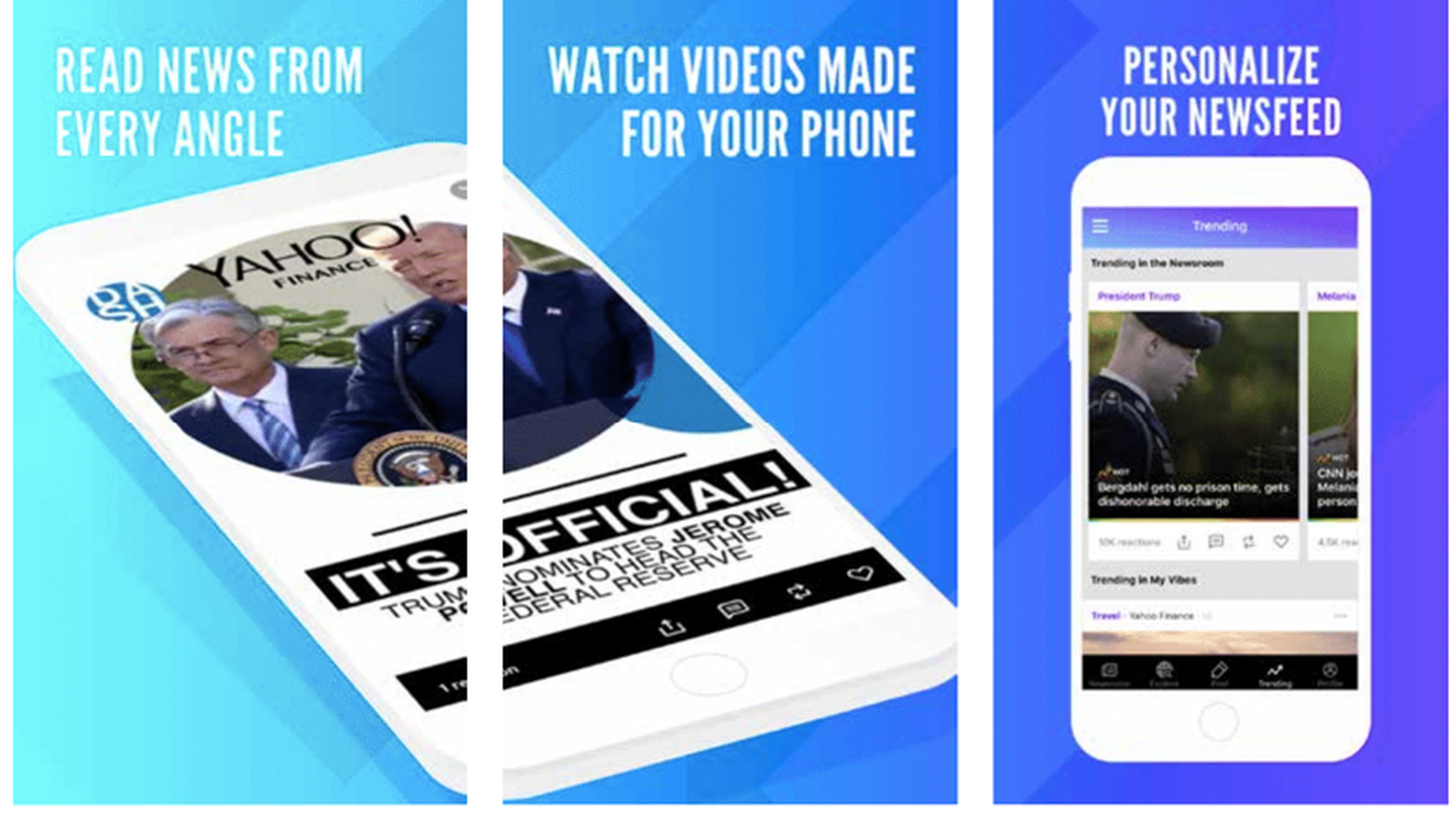 Oath, the Verizon-owned news brand that encompasses Yahoo, AOL, The HuffPo and more, is relaunching its "Newsroom" app today.
What's new: A vertical video-driven format accompanied by a fresh slate of programming. The app and content will focus on trends (called "vibes") that users can opt into. The trends are curated from comments and data about what has performed well with their audiences.
Why it matters: The relaunch is a part of a larger push to center Oath's content strategy around customizable and mobile-first video. Oath CEO Tim Armstrong has been vocal about how the company's scale will be a driving force in its ability to take on Google and Facebook's advertising dominance.
What they're saying:
"There's a hole in the market for what this is," says Alex Wallace, Head of Oath Studios. "There is nothing comparable with this much video in it that's optimized with this mobile experience."
"We want users to be able to engage content both quickly and deeply," says Oath's Global Head of News Jared Grusd. "The app will be different from Facebook or other platforms that feature news, because it won't necessarily center around one News Feed, but rather an infinite number of 'vibes' — think of them like Spotify playlists," Grusd says.
The relaunch will include 14 new original video series, each designed to only be a few minutes in length, and made for vertical video consumption on mobile. The new slate of programming will draw from Oath's 3,000 publishing partners, ranging from Yahoo Sports to TechCrunch to Conde Nast. Another ten news series will debut by the end of the year.
The relaunch and new programming push is a part of a broader video effort by Oath to capitalize on the scale of content it has access to from premium brands. Earlier this year, Oath's launched a new video product called "Slick" that allows it to quickly convert text-based stories to videos using machine learning.
Go deeper