North Korea's scary milestones keep speeding up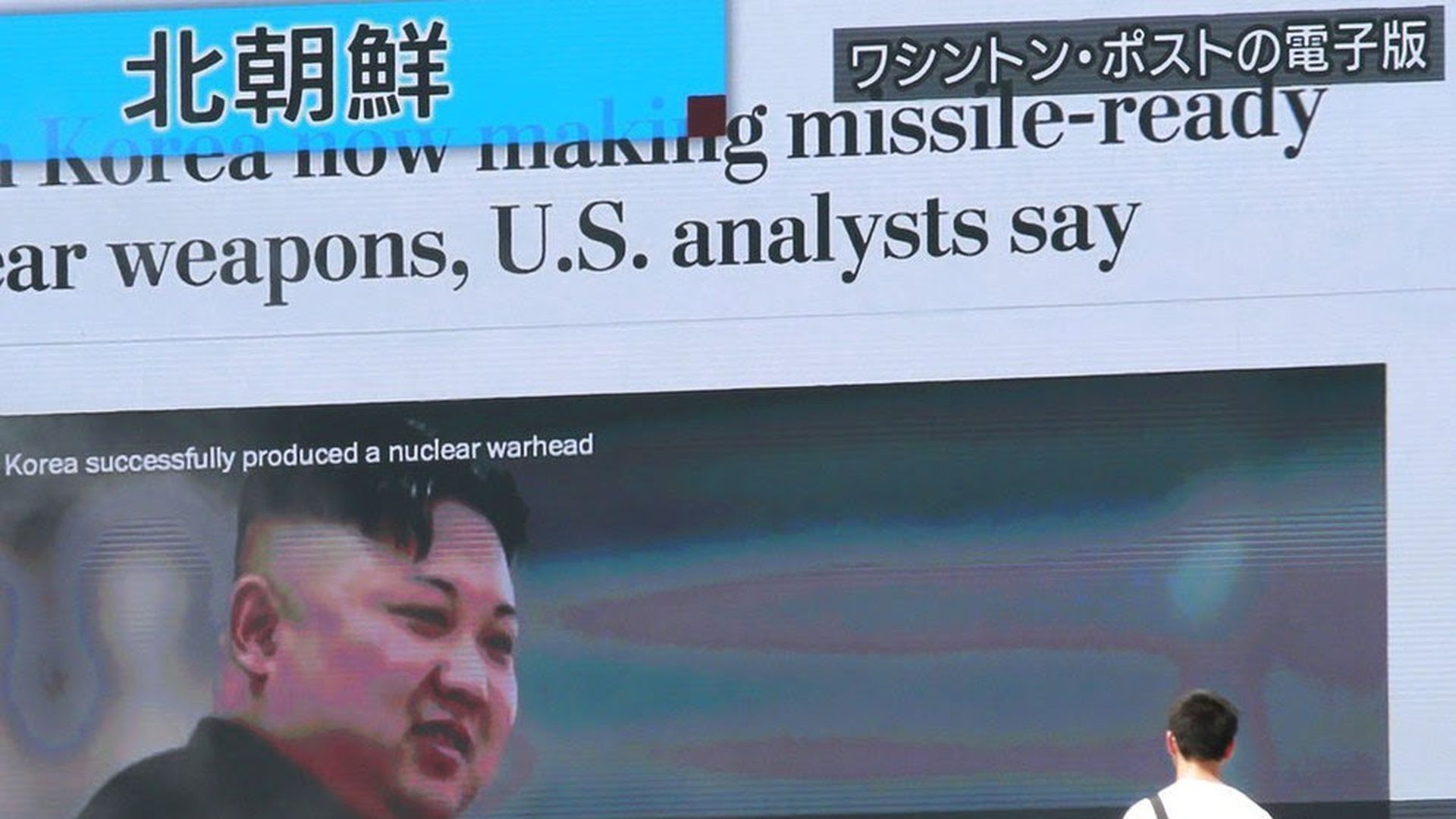 The North Korean nuclear threat, which had been unfolding over years and even over presidencies, now hits ominous milestones by the week.
In what Kim Jong-un had taunted was an Independence Day "gift," the regime on July 4 launched an intercontinental ballistic missile that could reach Alaska.
By the end of the month, he was gloating about a test that could reach California (per the N.Y. Times), or even Denver or Chicago (per the Wall Street Journal).
Then came yesterday's WashPost scoop that North Korea has "produced a miniaturized nuclear warhead that can fit inside its missiles, crossing a key threshold on the path to becoming a full-fledged nuclear power."
It's the big idea of Tom Friedman's book last year about the "age of accelerations": that Moore's Law, about the rate of doubling in computer power, now applies to basically everything.
Shortly after the Post's huge story, Trump poured on accelerant with remarks that were a quick coda to a statement on the opioid crisis that he delivered at his Summer White House at Trump National Golf Club in Bedminster, N.J..
A reporter asked if he had any comment on the reports about North Korea's nuclear capabilities. He sure did:
"North Korea best not make any more threats to the United States. They will be met with fire and fury like the world has never seen. He has been very threatening beyond a normal state. And as I said, they will be met with fire, fury, and, frankly, power, the likes of which this world has never seen before."
Be smart: Of all the dumb things North Korea says, the idea of threatening Guam is one of the dumber.
An all-around wise man points out: "Makes no sense. Attacking anywhere is a suicide mission for the regime. U.S. retaliation would be devastating and complete. Most Korea experts would tell you that if they are going to take their one shot, it will be at a more populated and emotionally connected target."
Go deeper