North Korea taunts Trump; bellyflops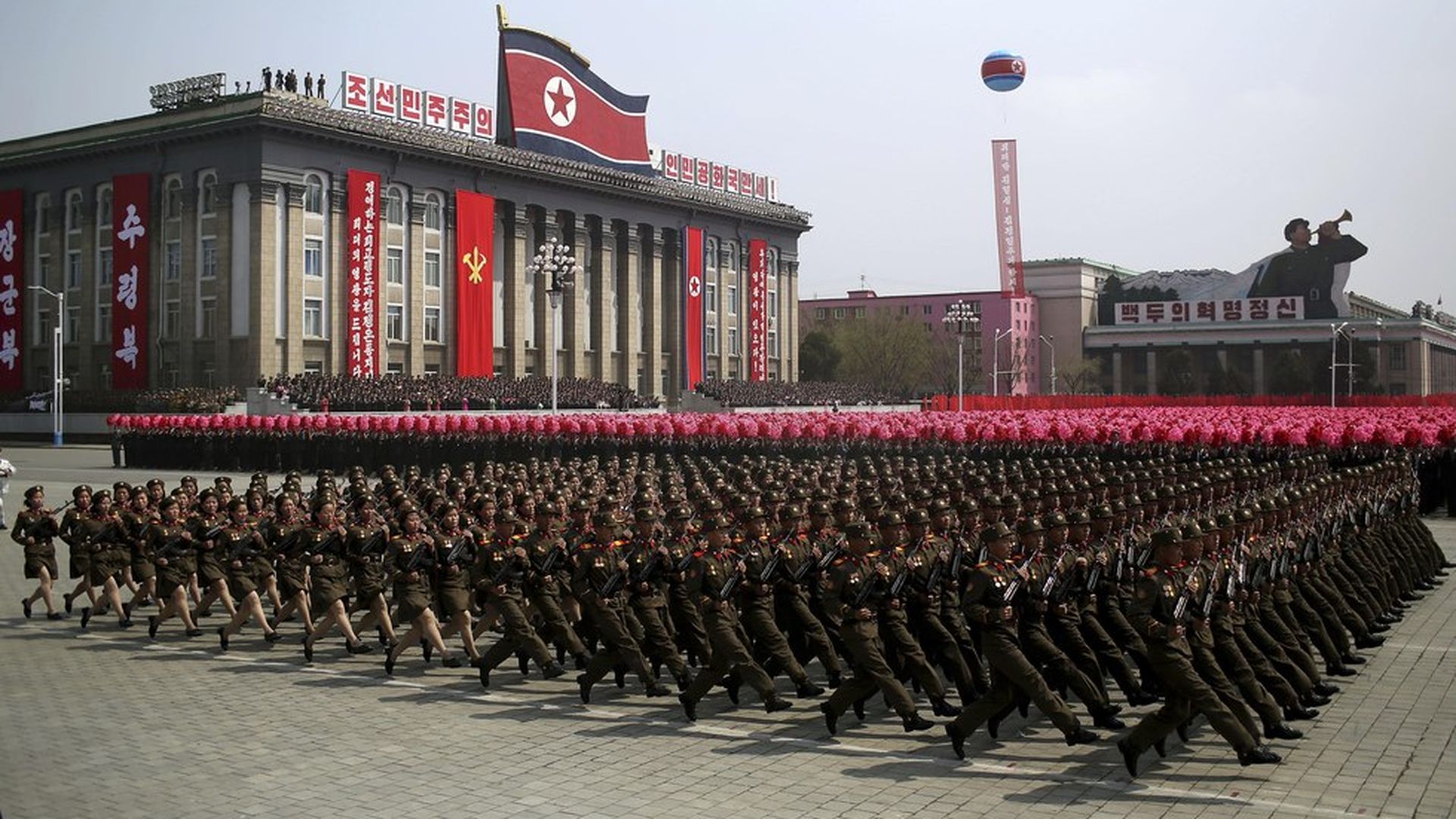 Speculation is growing this morning that the U.S. cyber-terminated the North Korean missile test — clearly aimed at taunting Trump — that belly-flopped last night.
It's a win for Trump, at least for the time being, and came as Mike Pence was en route to South Korea.
Get smart fast: Steve LeVine, a longtime foreign correspondent for the top papers who joined Axios this week as Future Editor, emails:
Whatever really happened, the spectacular anticlimax to the frightening brinksmanship between Kim and Trump makes the former look horribly incompetent and Trump yet again a lot more skillful internationally than he's generally given credit for.
Some people will be convinced that the message of the abortive launch demonstrates that the North Koreans have a much longer road to an ICBM that can strike the continental U.S.
But many more will suspect that, as the Trump administration threatened leading up to the abortive launch, it was not going to permit Kim to detonate a sixth nuclear test, and that it fulfilled its words....
All in all, a win for Trump, and — at least for the moment — a pause in the most fraught foreign policy crisis of his early presidency.
Sir Malcolm Rifkind, former U.K. foreign secretary, speaking to the BBC today and quoted in The Telegraph of London: "It could have failed because the system is not competent enough to make it work, but there is a very strong belief that the US — through cyber methods — has been successful on several occasions in interrupting these sorts of tests and making them fail."
Key point, from N.Y. Times' story (which runs on p. A9 in the final!):
North Korean leader Kim Jong-un "is acutely aware that the threat that he could soon possess — a missile that could strike the continental United States — is Washington's biggest concern, and both the number and the variety of missiles he showed on Saturday seemed to be sending the message that a pre-emptive strike against his facilities would be fruitless."
WashPost leads the paper with North Korea:
The president seemed to be hoping for a calm weekend. He was joined on his trip by just three junior staffers and K.T. McFarland, a deputy national security adviser who was recently pushed out and made ambassador to Singapore as a consolation.
N.Y. Times' Jonathan Martin to John King on CNN's "Inside Politics""
Trump is all for the sort of "big stick" part of it. But he's also walking loudly here. So he's not really a Teddy Roosevelt type. He's doing his own thing here with the presidency."
Mike Pence was on board Air Force Two over the Bering Sea at the time of North Korea's 'provocation', at the start of his ten day Asia trip.
During a fellowship meal with military personnel after an Easter service, Pence said: "This morning's provocation from the North is just the latest reminder of the risks each one of you face every day in the defense of the freedom of the people of South Korea and the defense of America in this part of the world."
Go deeper