News turns to comedy in the Trump era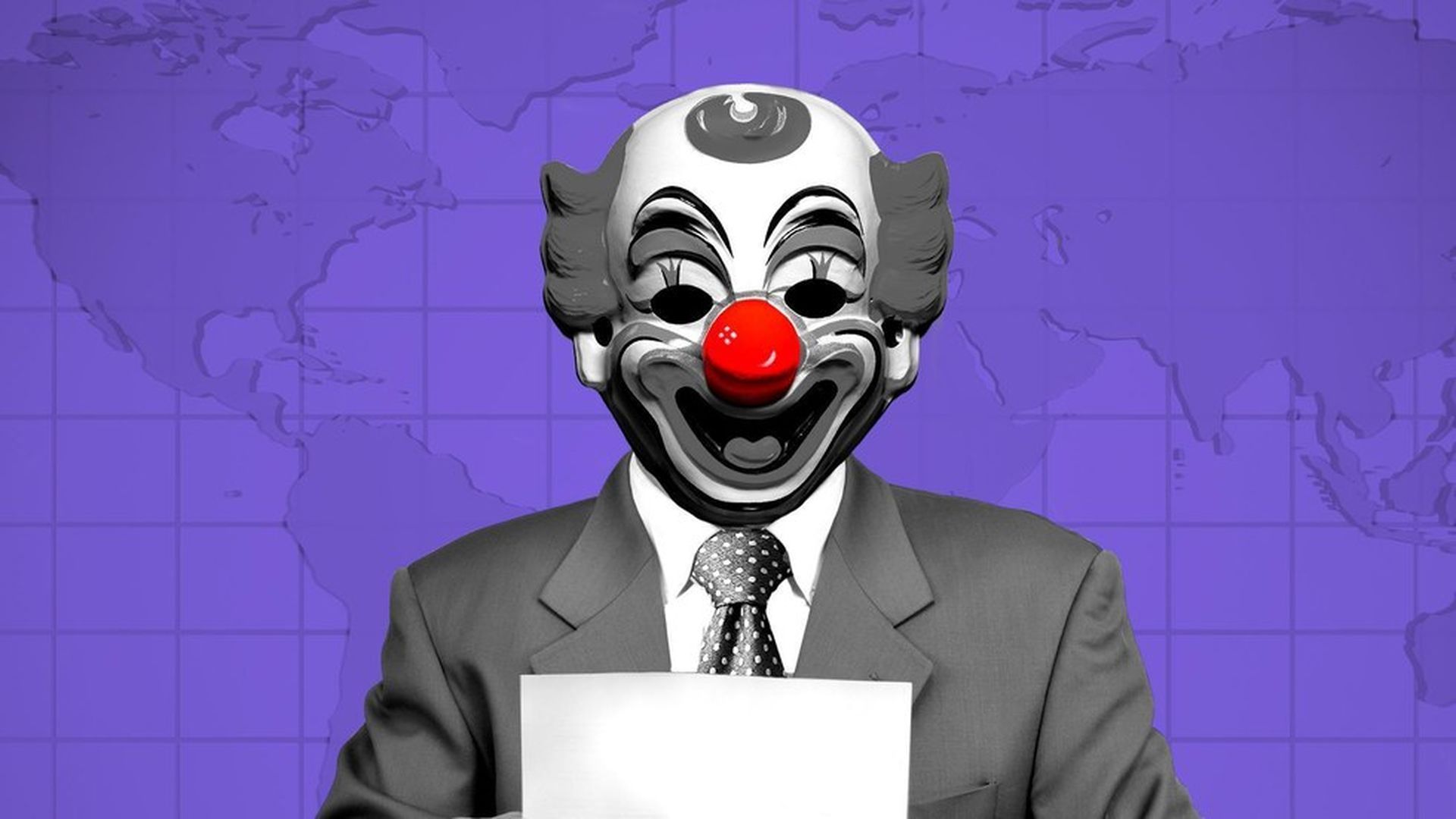 At a time of political uncertainty and confusion, news outlets are using new types of comedic relief to relate to their readers.
The role of comedy in news isn't novel, but it's transforming. It used to be that comedy and voice were limited mostly to opinion pages, but now it's become an important part of the way journalists communicate the news. As veteran political cartoonist Ted Roll explains, "Shortly after World War II, The New York Times, which today has none, employed four cartoonists on staff. Today there are fewer than 30 (in the U.S.)."
Print:
The Boston Globe's Editor Brian McGrory put out a 3,000+ word memo Monday about creating a blueprint for their coverage in the future. Humor was a point of focus:
We're going to be more humorous, god dammit, and absolutely more humane.
The Washington Post announced in January that it's hiring video journalists to produce what looks to be a Daily Show-style scripted humor series.
The New York Times created a new "best of late night" feature, where the paper posts a recap of the best moments, usually news-related, from late-night shows.
TV:
Fusion turned to its sister publication, The Onion, to write satirical news banners to appear next to Fusion's coverage of the President's first address to Congress.
MSNBC took a similar approach that night, recruiting comedian Kathy Griffin to react to the speech in real time on live TV during Chris Matthew's 8 p.m. hour, where she made jokes about Congressman looking at Melania in her sequin jacket.
Showtime's The Circus often uses humor to make an editorial point about how unusual the current political environment is. For example, leading up to the release of the Congressional Budget Office's health care score in March, Circus hosts Mark Halperin and Mark McKinnon staked out the CBO cafeteria, catching the staff there by surprise. The pair did everything they could to get everyday CBO workers to talk to them at their own comedic expense, like offer workers free pizza and using makeshift signs made out of cardboard lunch trays to lure people into conversation.
Digital:
Audio:
WNYC's On the Media host Brooke Gladstone tells Axios that she uses humor in her media investigative show because, "Humor gives responsible parties cover for saying what's real, and decrying what's reprehensible, without the backlash suffered by mainstream media. And so, ironically, it serves the audience in a way that even the best straight journalism often cannot."
Pod Save America, a podcast run by former Obama staffers, uses humor constantly to explain the twists and turns of the Trump Administration. In one episode, hosts Jon Favreau, Jon Lovett, Dan Pfeiffer and Tommy Vietor joke: "It's the rich versus the racist in the White House."
On the flip side: Comedy has always used the news as a peg, but lately, the news has taken on a larger role.
Late-night: There's no question the Trump Era has given rise to the late-night comedy boom. Earlier this year Alec Baldwin brought in SNL's highest-rated show since 2011. Per CNN, SNL is averaging 10.6 million weekly viewers, the show's biggest audience in 22 years. Stephen Colbert's Late Show has seen an unprecedented ratings bump over late-night competitor Jimmy Fallon, which critics attribute to Colbert's reputation and ability to explain politics.
Stand-up: Vulture spoke to 16 comedians, and many said that comedy is becoming increasingly political in their routines.
Washington: This year, comedian Samantha Bee will be hosting an anti-White House Correspondents Association Dinner, in response to news organizations and celebrities boycotting The Trump Administration.
Something to consider: Some comedians are wary of overindulging in Trump fever. John Oliver said last month he is "very anxious not to make it all Trump all the time." South Park creators have too said that they will be backing off of Trump-focused humor. "It's really tricky now as satire has become reality," co-creator Trey Parker said in February. "They're already going out and doing the comedy. It's not something you can make fun of."
Go deeper