New trend in terror: U.K. reels from 3rd attack in 3 months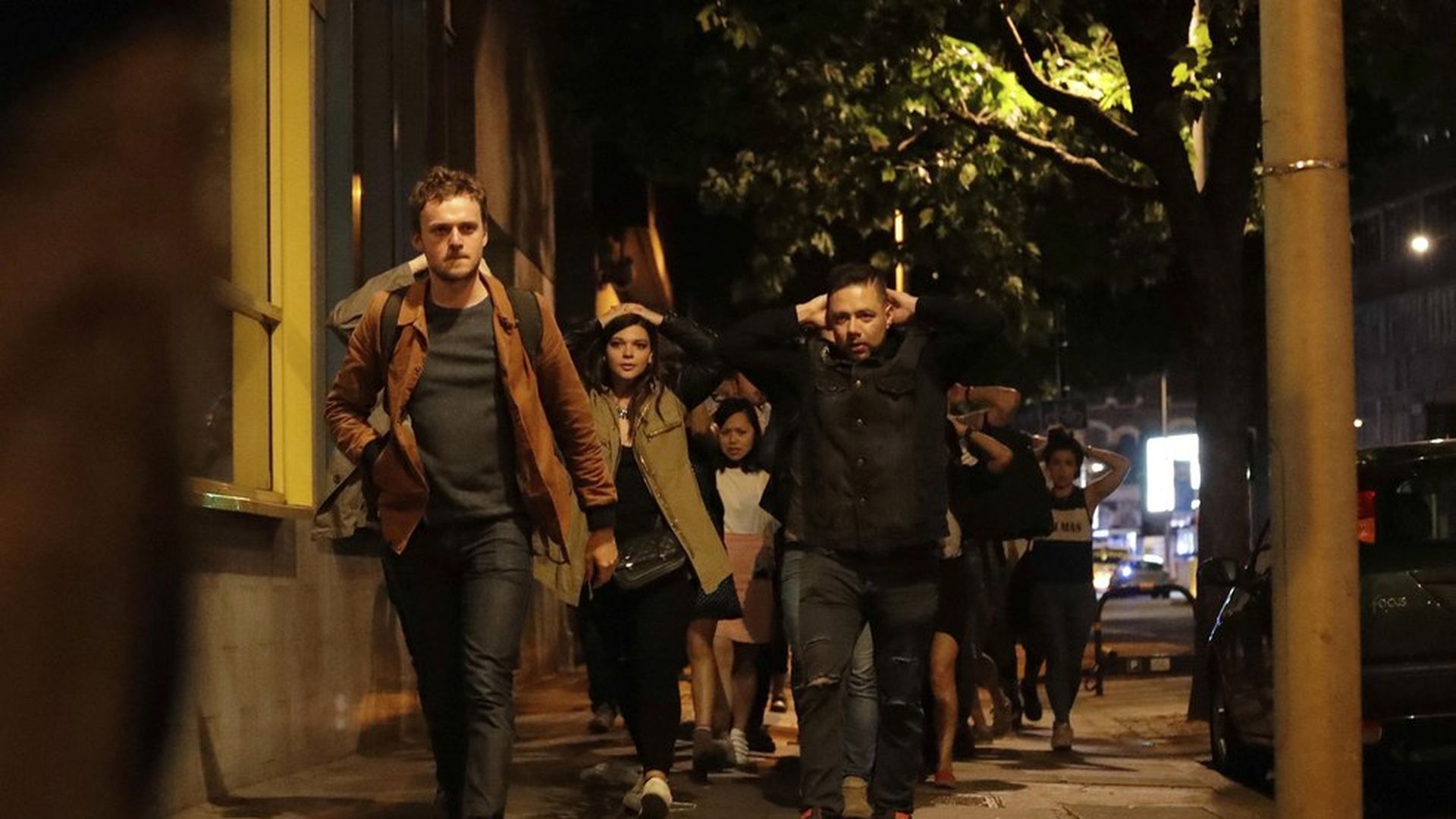 CNN's Clarissa Ward said during last night's live coverage of the London Bridge terrorist rampage that the slaughter on a summery Saturday night was "sadly, rather unsurprising."
Why it matters: In a series of tragic episodes, Western Europe is learning that the war footing against domestic terrorism will be permanent.
The attack (seven killed, 48 injured in a two-location assault with a van and knives; three suspects shot dead by police) came five days before U.K. elections, and was England's third terrorist horror in three months.
It targeted average blokes out partying on the weekend: NBC's Matt Bradley said from the scene that there were enough drunk people around that it was complicating police operations.
President Trump was like a first responder, quickly retweeting a Drudge headline before details were confirmed: "Fears of new terror attack after van 'mows down 20 people' on London Bridge."
Then he went political (with critics pouncing on his use of "ban"): "We need to be smart, vigilant and tough. We need the courts to give us back our rights. We need the Travel Ban as an extra level of safety!"
Only after that did he go personal: "Whatever the United States can do to help out in London and the U. K., we will be there - WE ARE WITH YOU. GOD BLESS!"
Trump's morning tweets:
"We must stop being politically correct and get down to the business of security for our people. If we don't get smart it will only get worse..."
"At least 7 dead and 48 wounded in terror attack and Mayor of London says there is 'no reason to be alarmed!'"
"Do you notice we are not having a gun debate right now? That's because they used knives and a truck!"
"Enough is enough" ... Prime Minister Theresa May, seeking reelection on Thursday, warned in somber remarks outside No. 10 this morning that there has been "far too much tolerance of extremism" in the U.K., and promised to step up the fight against Islamist terrorism, per The Guardian:
"She said internet companies must not allow extremism a place to exist, but that there was also a need to tackle 'safe spaces in real world,' which would require 'difficult' conversations."
Key quote: "In terms of their planning and execution, the recent attacks are not connected but we believe we are experiencing a new trend in the threat we face."
The new trend: "[T]errorism breeds terrorism and perpetrators are inspired to attack ... by copying one another and often using the crudest of means of attack. We cannot and must not pretend that things can continue as they are."
Go deeper