New player in solar trade fight: Sean Hannity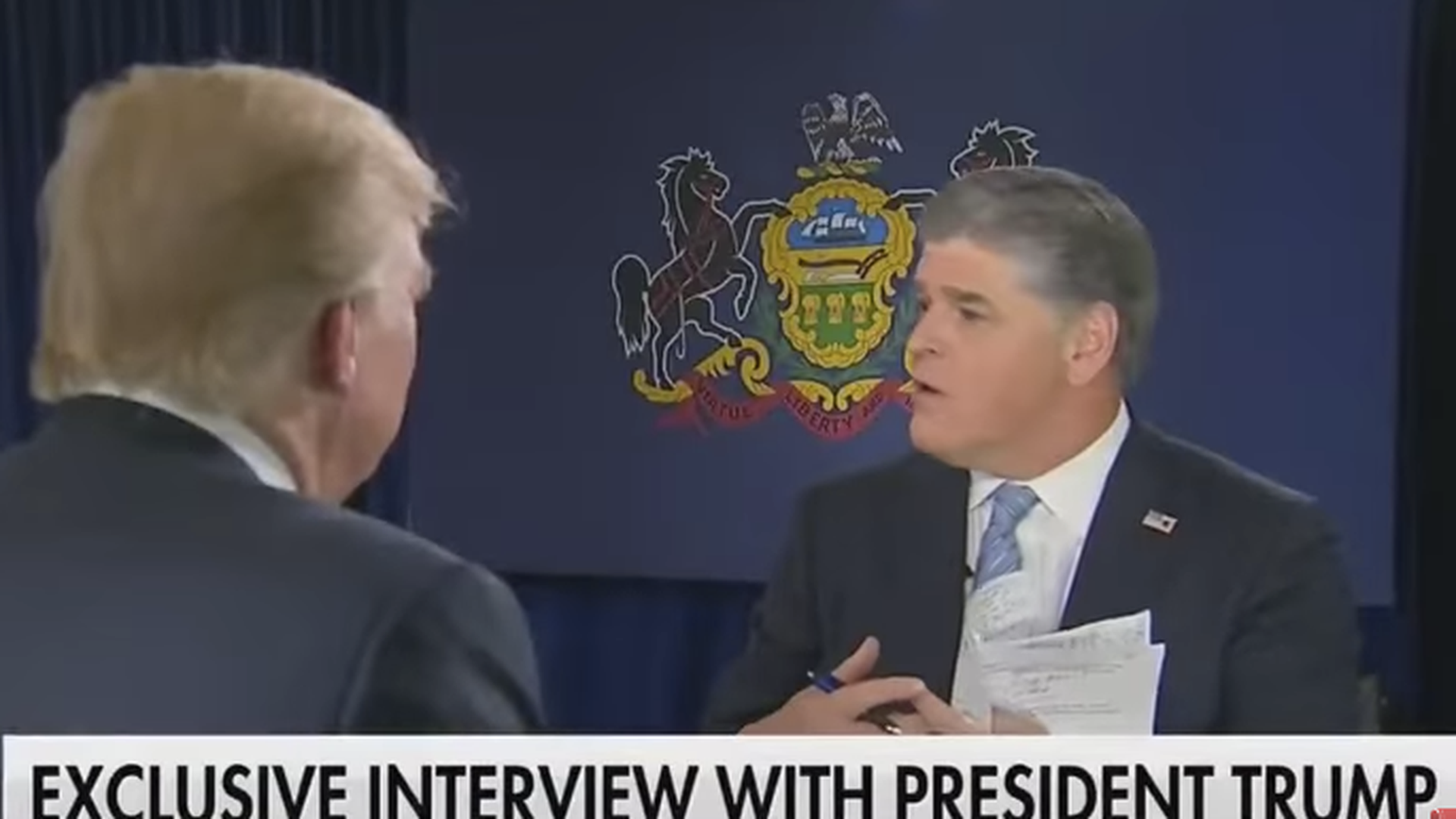 As the White House tariff decision looms, Fox News personality and radio host Sean Hannity has come out against proposals for new penalties on imported solar panel equipment.
Why it matters: Hannity is friends with President Trump, and has a big platform.
The White House will make the final decision on potential new import restrictions at some point after next month's recommendations from the U.S. International Trade Commission, which concluded in September that low-cost imports from Asia and elsewhere are harming U.S. manufacturers.
Hannity cut a radio ad that ran in South Carolina over the past two weeks that calls the tariff petition by two financially distressed panel-makers an attempt to "manipulate" trade laws, and a "bailout" that would increase prices by "government mandate."
"Now that the Obama gravy train has run dry, well now they want President Trump to also stick you with the bill for their bankrupt businesses," Hannity says in the spot. "Taxpayers should not have to bail out one foreign-owned company only for their foreign financiers to get another payout."
One level deeper: The spot was commissioned by the group Solar Powers America. The group, a relatively new entrant in the renewables advocacy world, is focusing on topics including the benefits of solar energy in southeastern states, according to Bret Sowers, a board member.
Hannity was compensated for the ad, but Sowers did not disclose the amount of the payment or the overall cost of the buy. It was targeted around Trump's visit to South Carolina a few days ago.
"Sean Hannity is a well-respected voice in the south," Sowers, an executive with the South Carolina-based solar developer Southern Current, told Axios on Thursday. "We were pleased with it and we hope to work with Sean and others to continue educating the public on this trade issue," he said.
"The solar industry itself needs to be working with conservatives, needs to be working with both sides of the aisle," Sowers said.
Why you might be hearing about it: The spot achieved wider circulation when the Solar Energy Industries Association—a trade group that fears tariffs would spike costs for solar power projects enough to badly hinder growth—circulated it via Twitter and YouTube on Tuesday.
A spokesman for SEIA said: "We were sent the audio via email, and we thought the message was so great that we put it to video and shared it on social media. Sean Hannity is a highly-influential conservative voice and we are thrilled to have him speaking on behalf of American solar workers."
Big picture: The ad underscores how the tariff petition has emerged as one of the most intense, closely watched energy policy battles of the Trump era. Solar Powers America is also part of U.S. Made Solar, one of the industry coalitions fighting new tariffs via ads on Fox News and other steps.
Go deeper