New generation of Democrats emerges one year after Trump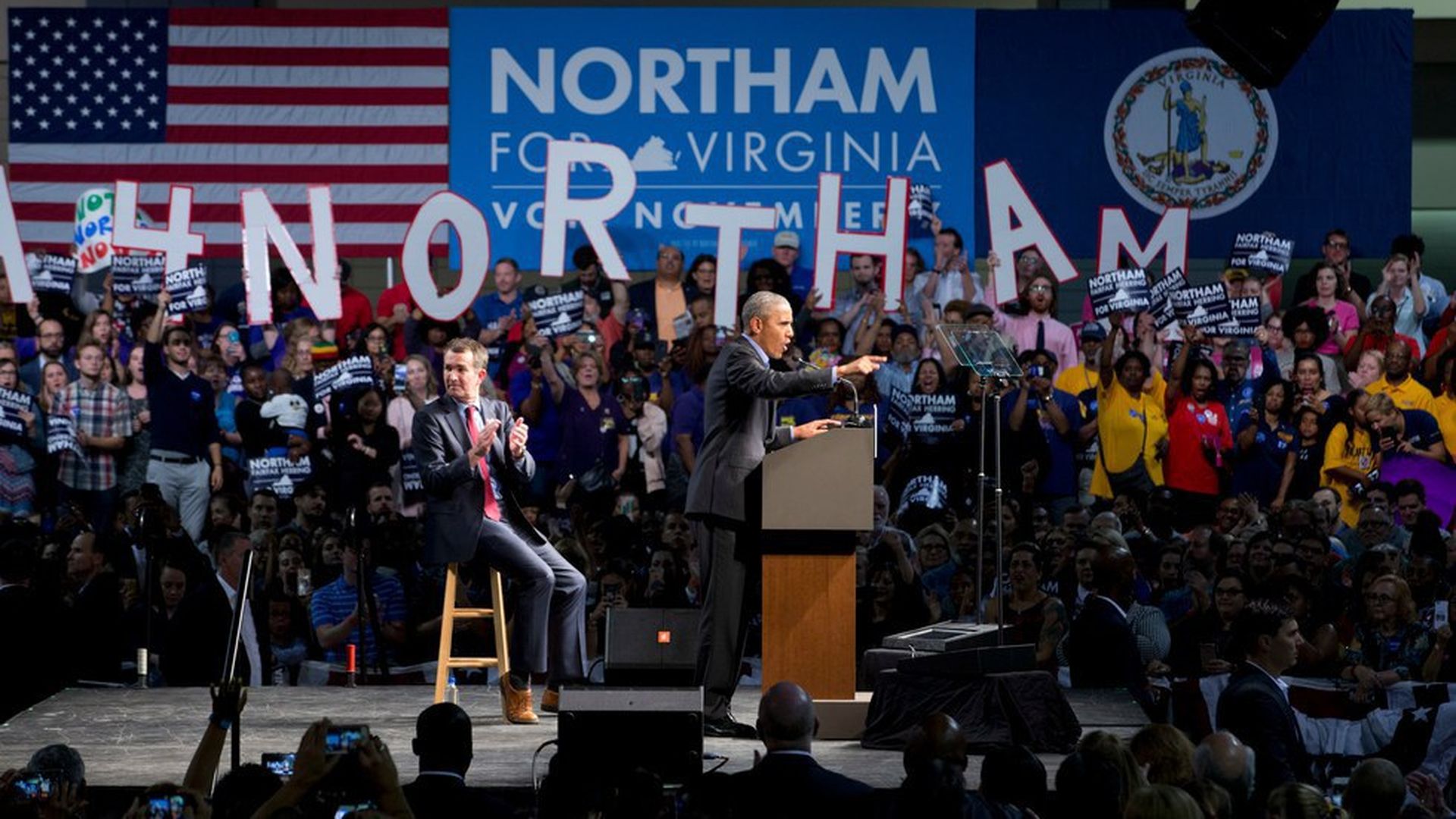 One year after President Trump was elected, Democrats have flipped 21 state legislature seats from red to blue and more Democratic women are running at every level than ever before.
Why it matters: This Democratic push (and subsequent victories) could bode well for the party as they try to find a handful of qualified candidates to take back the House and Senate in 2018, and to run against Trump in 2020.
A list of the new kids on the block:
Danica Roem became the first openly transgender woman elected to a state legislature seat, in Virginia's 13th district. She ousted the Republican incumbent who co-sponsored the "bathroom bill" that requires individuals to use public restrooms that correspond to their assigned gender at birth.
Joyce Craig is the first woman elected mayor in Manchester, the largest city in New Hampshire.
Vi Lyles is the first African-American woman elected mayor in Charlotte, North Carolina.
Kathy Tran became the first Asian-American woman elected to the House of Delegates in Virginia (and she won with 62% of the vote).
Melvin Carter is the first African-American mayor of St. Paul, Minnesota.
Dawn Adams is the first lesbian candidate elected to Virginia's House of Delegates.
Andrea Jenkins is the first openly transgender woman of color elected to the city council of a major U.S. city (Minneapolis).
Elizabeth Guzman and Hala Ayala are the first Latina delegates elected in Virginia.
Lee Carter became the first Democratic socialist delegate elected, ousting the Republican incumbent even after the state Democratic Party pulled their support from Carter.
Justin Fairfax, only the second African-American elected as lieutenant governor in Virginia, especially noteworthy after the white supremacist rallies in Charlottesville, Va., last summer.
Ravi Bhalla is the first Sikh-American elected as mayor in New Jersey.
Chris Hurst, whose girlfriend Alison Parker was gunned down in local TV, was elected as a delegate in Virginia, beating his Republican opponent Joseph Yost who was endorsed by the NRA.
Manka Dhingra won a Washington state Senate seat, giving the Democratic Party full control of the state government.
Wimot Collins was elected mayor of Helena, Montana, last night — becoming the first Liberian refugee and African-American mayor. (Although Helena's elections are nonpartisan, Collins leans Democrat.)
The last time Democrats picked up more than five House of Delegates seats in Virginia was in 1975; two years ago they picked up just one seat, but yesterday they picked up 14 seats (10 of which are held by women).
Go deeper: A look at the Dem super PAC that quietly helped 16 Democrats run in Virginia.
Go deeper