Mitch McConnell's week of reckoning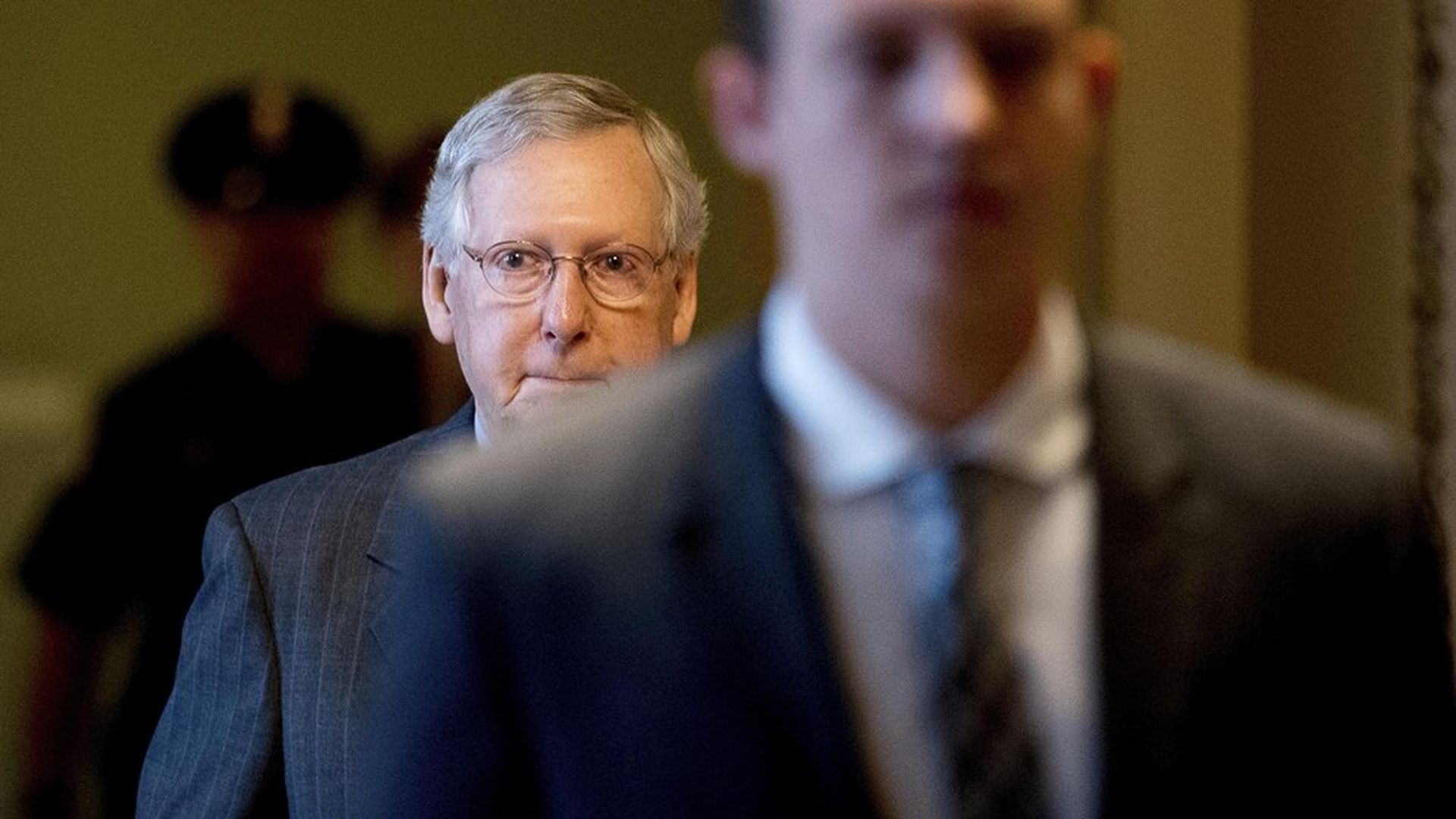 Josh Holmes, Mitch McConnell's former chief of staff, has this analogy for his former boss's week ahead: "It really is a 747 landing on a suburban driveway."
Consider the complexity: McConnell has at least eight holdouts on the Senate Republican healthcare bill — and likely even more. He needs to satisfy the ideological poles of his conference: Ted Cruz et al. on the right, and Dean Heller & Co. in the middle.
Oh, and there's no time: He needs to pass the bill before the July 4 recess. No senator I've spoken to thinks a bit of extra time spent with angry voters will make them more likely to support this bill.
One person on McConnell's staff has been telling associates that there's a 60% chance he can pass the bill. But most folks I've talked to in McConnell's orbit say it's more like a jump ball.
Nuggets from my conversations over the past 48 hours with sources close to Republican Senate leadership:
A widely-held view in McConnell-world is that he doesn't start with 52 Republicans; he starts with 51. Many view Rand Paul as a lost cause and someone who was never "gettable." Upshot: McConnell has no wiggle-room — he can only afford to lose one more.
Of the four conservatives who came out against the bill last week, Ted Cruz and Ron Johnson are viewed as easier pickings.
A source close to McConnell says the Trump administration can turn the screws on Cruz and Johnson: "The 'off the reservation' crowd is the one where the administration has maximum leverage — especially Ted Cruz going into 2018. He would not want to be on the wrong side of the President. RonJohn, some of his best relationships in Washington are with Reince Priebus and Paul Ryan ... So two of those four seem very gettable from a leverage standpoint."
A source close to Cruz described that thinking as way off the mark. The source said the political risks in Texas of high premiums - which Cruz believes the current bill locks in place - are far worse than incurring the anger of Washington's political class. "And the political upside - for all Republicans - of enacting reforms that actually decrease premiums," the source added, "would be immense."
Planned Parenthood is a sleeper issue: Lisa Murkowski has said she won't vote for a bill that defunds PP. Susan Collins will likely join her, so all it would take would be one more Republican to sink the bill over abortion alone.
The President has close to zero leverage over the wavering moderates, like vulnerable Nevada Senator Dean Heller. A top Republican source tells me: "I think the [Trump outside group] ads against Heller are really dumb. It basically forces him to vote no or he looks like he can be bullied. [It gives] McConnell limited room to cut a deal with him."
Programming notes: Republicans are nervously awaiting the CBO score, which comes out tomorrow. It'll reveal coverage and cost estimates for the bill.
The next big hurdle: a vote to proceed will likely happen on Wednesday, and McConnell needs a majority of senators. This should be a formality but if a senator has decided to oppose the bill he probably won't want to vote it onto the floor and be accused of backflipping later.
Assuming McConnell gets over those hurdles, expect a "vote-a-rama" Thursday where Dems will offer a ton of amendments. The bill has a 20-hour time limit on consideration, so the final vote could be very late (or very early.)
Go deeper