Meet the next chair of the FCC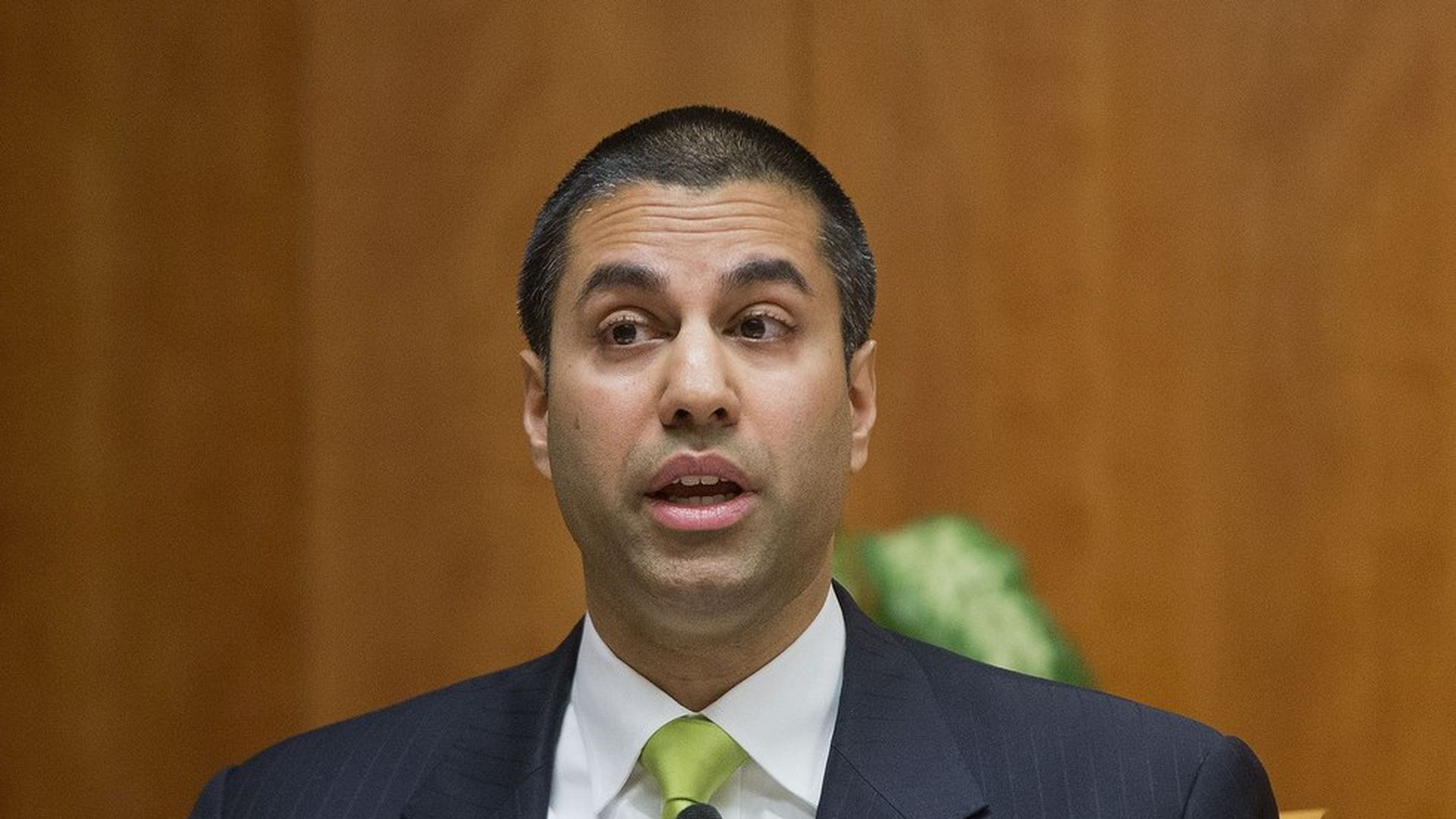 Republican Federal Communications Commission member Ajit Pai has been Democratic Chairman Tom Wheeler's foil for the past three years. Now, Pai's fortunes have changed: multiple industry sources say Donald Trump will soon elevate Pai to lead the FCC. The news was first reported by Politico.
Pai has significant ties to the Washington conservative establishment. Ed Corrigan, a Heritage Foundation executive who is working at a senior level with the transition team, has been a strong advocate for Pai. The two men both worked for Attorney General nominee Sen. Jeff Sessions.
Some sources familiar with transition discussions say he will be designated the permanent chair, but other sources said it was not immediately clear.
Bottom line: Regardless, Pai will be the tip of the spear in trying to roll back Wheeler's work. That could give internet providers like Verizon and AT&T wins and be a blow for companies like Google, Facebook and Netflix. "I expect him to move very quickly," says Berin Szoka, who heads up the conservative group TechFreedom.
A spokesman for Pai declined to comment.
Bio: Pai has served on the commission since 2012 and has regularly clashed with Wheeler on major regulatory initiatives from net neutrality and privacy rules to reforms to broadband subsidy programs. His previous positions will serve as the underpinning of an aggressive push to erase the legacy of the FCC's Obama years.
Here's where he stands on the key issues:
Pai wants to squash Wheeler's signature victory: his net neutrality rules. In a letter last month with Republican colleague Michael O'Rielly, Pai said that he would "revisit" the issue of the net neutrality rules "as soon as possible" after January 17. That's great news for the Comcasts, AT&Ts and Verizons of the world, who have all tried to challenge such rules over the years.
And — unlike Wheeler — he doesn't think the government should be aggressive in merger reviews. He has complained about an approach to reviewing deals that tries to extract broader promises from the companies involved. Those views are especially relevant given the pending sale of Time Warner to AT&T and a potential merger of Sprint and T-Mobile.
He does not see subsidies as the best way to expand broadband access in poor communities. Pai has been skeptical of rapidly expanding the Lifeline program that pays for phone and internet service for low-income people. Instead, he wants the government to offer tax credits to internet service providers and entrepreneurs who build out in low-income areas.
Pai wants to relax media ownership rules. He was critical of an August FCC decision to keep a rule in place forbidding one company from owning a newspaper and broadcast outlet in the same market. He could also roll back limitations on agreements used by TV stations to sell ad time to each other.
He is in favor of resolving a fight over airwaves between Detroit and Silicon Valley. Pai has expressed an interest in opening up more of a block airwaves that are allocated for vehicles to unlicensed uses, like wifi. Public Knowledge's Harold Feld suggested commissioners could resolve that issue with bipartisan consensus. Pai will oversee the conclusion of a major auction where broadcasters sell their airwaves to wireless providers, which has been a bipartisan effort at the commission and in Congress.
Axios reporter Jonathan Swan contributed to this report.
Go deeper