Meet Houseparty, the next big Gen Z craze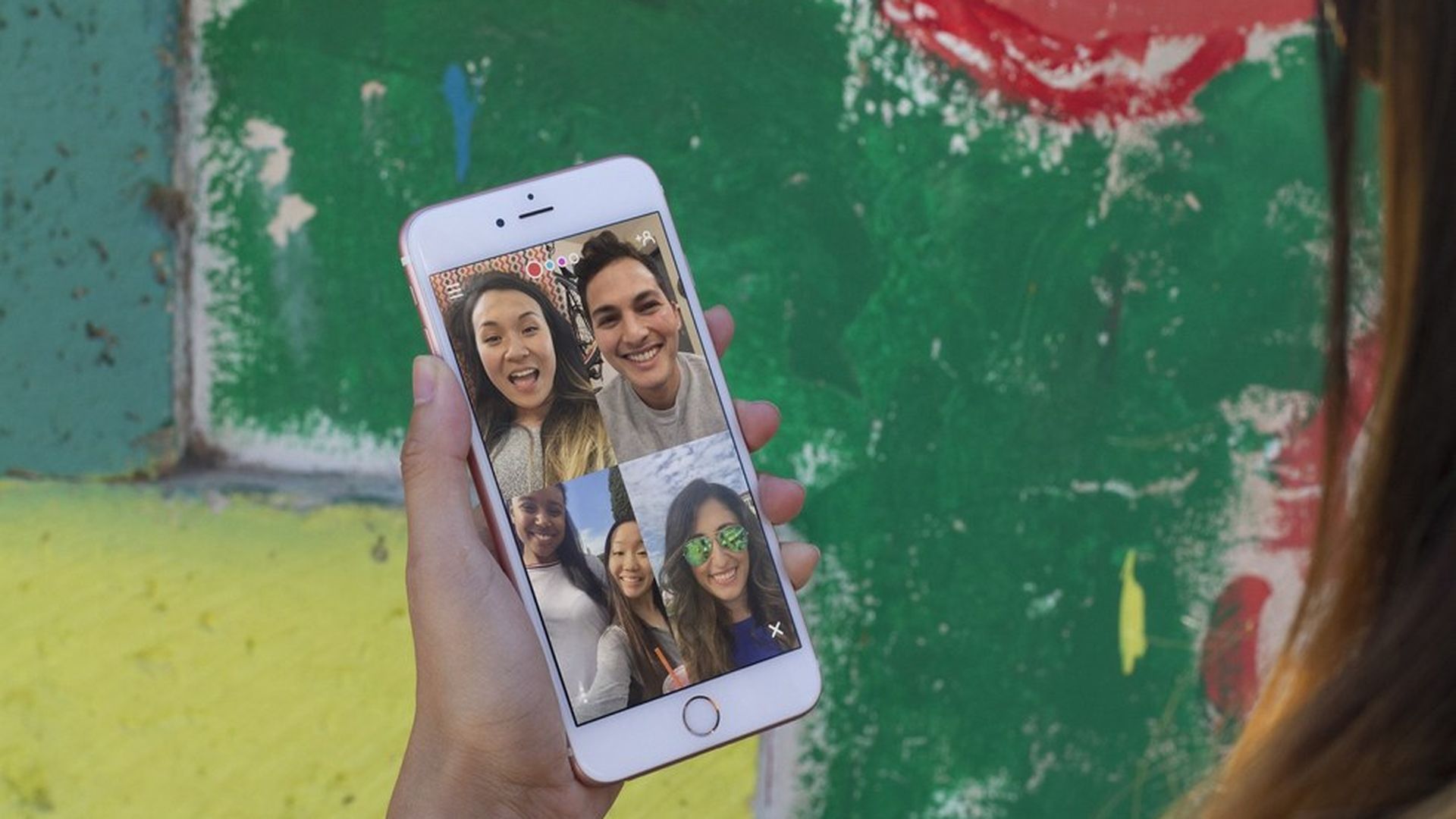 Houseparty, a classic pre-revenue startup, has more than 1 million daily active users, and it isn't showing any sign of slowing down. It's currently ranked 63 under free apps in the Apple App Store, ahead of Google Hangouts, The Weather Channel and PayPal.
What is it? Houseparty is a video chatting app that allows users to enter two-way video chat rooms with up to eight friends. The app differs from FaceTime or Snapchat in that it's synchronous and spontaneous — there's no calling or scheduling a chat. Sixty percent of the apps user are ages 16-24 and most typically sign in multiple times per day, between classes or study breaks. A Houseparty spokesperson tells Axios, it's the new "new high school parking lot."
How does it work? Like Snapchat, users can add friends from their address book or search for usernames. Once friends are added, users can receive notifications that their friends are signed in and can opt to join a video chat with them. From there, up to six more friends can join that chatroom. According to Houseparty, the average user in a "party," or chat, is joined by three other people.
Who's behind it? The founders of Meerkat, Life on Air Inc., pivoted to Houseparty after they realized in the summer of 2015 that Meerkat wasn't performing the way they wanted it to. They launched Houseparty on Feb 29, 2016 and put it in the Apple App and Google Play stores. Instead of a public rollout, like they did with Meerkat at South by Southwest in 2015, Houseparty founders quietly rolled the app out to teens and college students in remote areas throughout the country, making tweaks from user feedback along the way. The founders saw the app take off by the time kids went back to school in the late summer.
Business model: Houseparty has not announced how they will monetize once they scale their audience. The app has received around $70 million in venture capital funds to date. "We're really focused on getting the technology as good as it can be, and making sure it can scale properly," Houseparty told Axios.
Competitors:
Snapchat: Snapchat and Houseparty will both vie for the attention of the Gen. Z user base. While Snapchat does have a synchronous video feature, it only works between two users and there is no push notification system to let you know when your friends are live on the app.
Two-way call and messaging services: Google Hangouts, Facebook Messanger, Microsoft's Skype, Facebook's WhatsApp, Tango
Dating apps: A Houseparty spokesperson tells Axios they've received a lot of user feedback explaining how the app allows users to meet other users face-to-face in mutual friends' chat rooms, when they wouldn't normally feel close enough to reach out.
Go deeper