McMaster reshuffles National Security Council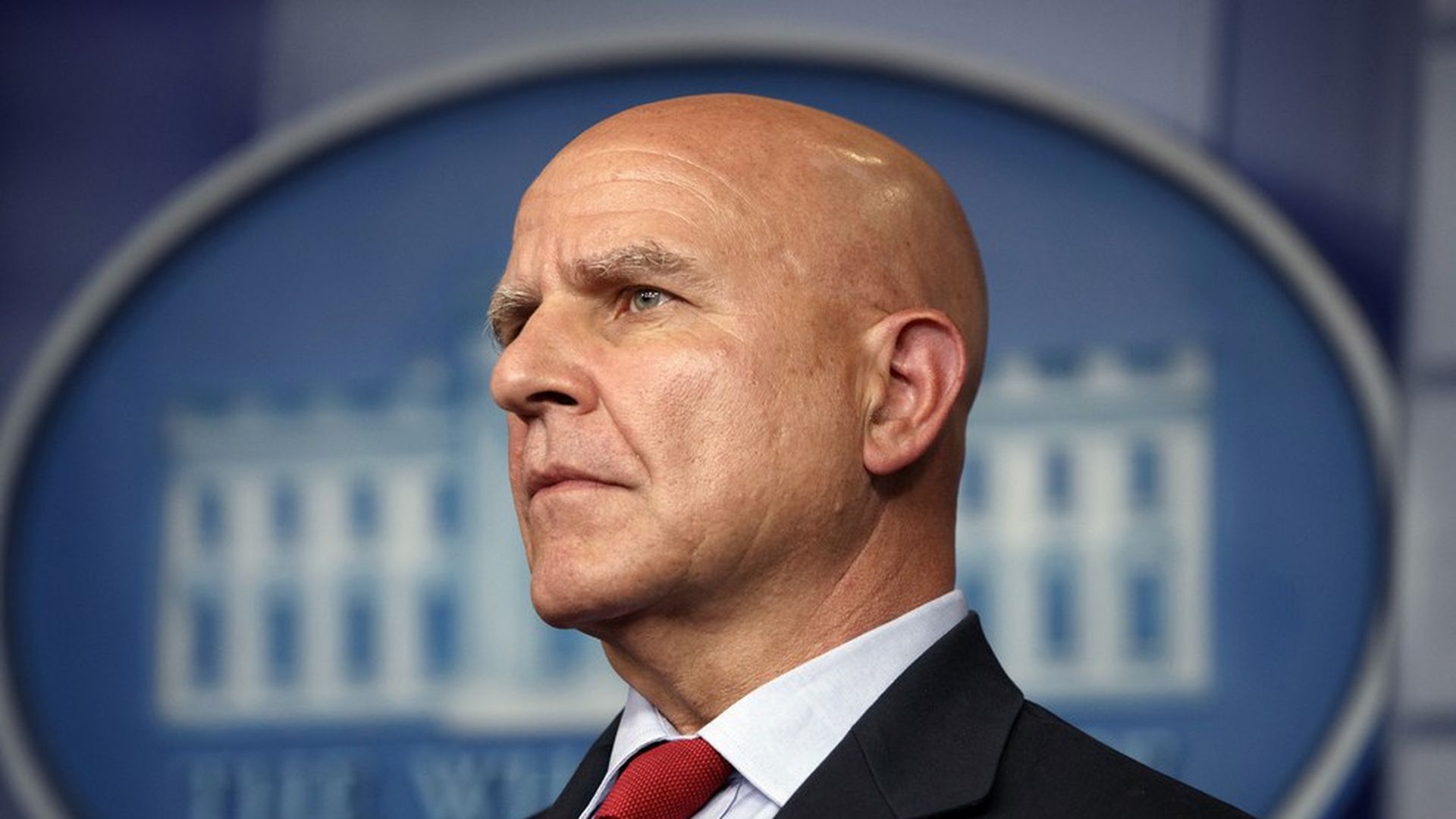 Since replacing Michael Flynn as National Security Adviser, H.R. McMaster has worked to wrest control of the National Security Council away from the nationalist wing of the administration, carrying out a series of high-profile staffing changes in the process.
The latest move: Ezra Cohen-Watnick, the senior director for intelligence at the NSC, was shown the door today by McMaster, who, according to a White House official, decided that "a different set of experiences is best-suited to carrying that work forward." The White House said that Cohen-Watnick will remain in another national security position in the administration.
Think back: Cohen-Watnick first gained notoriety in March as one of Devin Nunes' purported sources for the alleged unmasking of Trump team associates during incidental intelligence collection by the Obama administration. McMaster reportedly tried to force him out of his position after the CIA deemed him as "a threat," but that move was shot down by Bannon and Jared Kushner after they appealed directly to President Trump.
More of McMaster's attempts to reshape Trump's NSC...
Steve Bannon
Trump's chief strategist controversially held a seat on the NSC during the earliest days of the Trump administration, while Flynn was still at the helm. But in April, soon after McMaster was brought in, he launched a restructuring of the NSC that — among other things — saw Bannon lose his seat at the table, along with his most direct influence on the country's national security policy.
K.T. McFarland
Just days after Bannon lost his seat at the NSC, McMaster also pushed out Deputy National Security Adviser K.T. McFarland, a former Fox News contributor and Flynn ally. McFarland stayed in the administration — her nomination to become ambassador to Singapore is currently pending — but she lost her key national security position.
Tera Dahl
McMaster reassigned Dahl, a deputy chief of staff at the NSC who mostly occupied an administrative role, in early July, per Buzzfeed. Dahl was known to have close ties to Bannon, having previously worked as a columnist at Breitbart News. She had founded a think tank with the wife of NSC aide Sebastian Gorka that warned against the use of "politically correct" terms when discussing terrorism.
Derek Harvey
Last week, McMaster removed Harvey, the NSC's Middle East adviser, from his post, per Foreign Policy. Though the reasoning wasn't immediately made clear, Harvey was brought in by Flynn and was a noted hawk on Iran. He had also drafted a list of Obama-era "holdovers" employed by the NSC, a nod to the "deep state" theory in some conservative circles.
Rich Higgins
News broke earlier today that Bannon ally Rich Higgins, a director of strategic planning for the National Security Council, was fired last month after crafting a memo warning that "globalists and Islamists" were undertaking a "Maoist insurgency" to undermine President Trump via "political warfare," per The Atlantic.
Go deeper