Mark Zuckerberg's red state road trip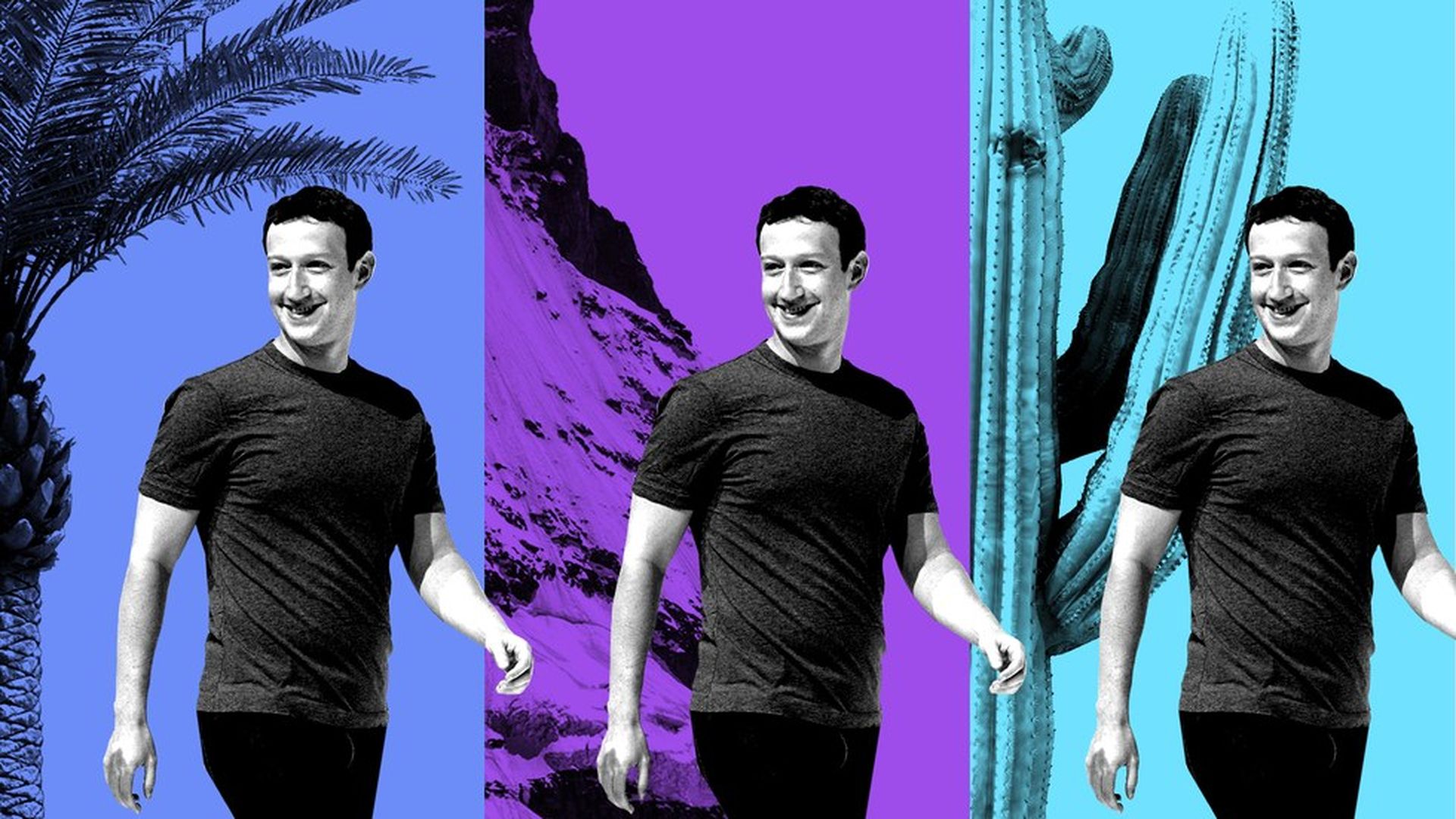 The questions started as soon as Mark Zuckerberg announced on his Facebook page in early January that his "personal challenge" for the year was to travel the roughly 30 states he'd never visited. Was he launching a political career? Making amends for a year of politically-tinged crisis at the company?
It's premature to say what exactly Zuckerberg and his empire will get out of the year-long junket, and he says he isn't running for president. But a few months into his project, there's an early message: Less Crunchies, more Country Music Association Awards.
Zuckerberg has chatted with military spouses in North Carolina and sped around a racetrack with Dale Earnhardt, Jr. He sat down with the coaches of more than one revered southern college sports program and talked about diversity at a historically black university. Once an atheist, he now drops in on church services.
Why it matters: It's been a bruising year for Facebook's public image. The left criticized it for spreading fake news and the right charged that one of its features was rife with bias. How Zuckerberg is positioning himself right now is telling about how the company is moving forward. A Facebook spokesman, asked about the purpose of the trip, pointed to a section of Zuckerberg's announcement saying the CEO's "work is about connecting the world and giving everyone a voice. I want to personally hear more of those voices this year."
The big themes: Zuckerberg's on-the-road dispatches have the message discipline of a political campaign. There are several themes he hits again and again.
Communities matter. Zuckerberg kissed the rings of coaches at Duke, the University of North Carolina and the University of Alabama to learn about the role that sports play in building communities. He's talked to local businesspeople about how the Gulf rebounded from Katrina.
The importance of technology in American life. He talked about automation on an oil rig. At North Carolina's Ft. Bragg, he spoke with military spouses about how they used Facebook's tools to communicate with their loved ones on deployment.
Building strong teams. He's repeatedly expressed an interest in how the people he meets on the road build successful organizations.
Social justice as a priority. His appearance at North Carolina A&T State University let him talk about the importance of diversity (although Facebook's U.S. workforce has only two percent black employees). And he remarked when visiting a Civil War cemetery that it had "struck me over the past few days how much our history is still part of our every day life."
The itinerary: There's a focus on cultural touchstones often associated with conservative America. Think NASCAR and SEC football, rodeos and farming, and life in the military. Those institutions are also economically important in the communities he's visiting.
It's worth noting, however, that he's also visited Washington state (though not for the first time) and his activities rarely have a true political edge. A source familiar with the planning of his travel said that the list of states Zuckerberg plans to visit to complete his challenge includes places less right-leaning than his initial destinations.
Behind the curtain:
Those set-piece visits take a lot of planning. Facebook reached out to the race track in Charlotte a couple of weeks before his visit, for example, according to track spokesman Scott Cooper. An advance team — Fort Worth Mayor Betsy Price estimated that four or five staffers handled the advance work before Zuckerberg visited the city — scouts venues in advance to make sure the logistics would work. Price said it isn't overkill. "Other than that, he was very easy," she said.
A lot of work goes into the day itself. That Facebook Live where Zuckerberg took a spin around Charlotte Motor Speedway with Dale Earnhardt, Jr.? It was shot with help from NASCAR's official production arm. He's trailed at some points by a photographer and videographer. During the Fort Worth visit it was Facebook that chose a visit to the rodeo over a trip to local museums or stockyard. A Facebook spokesman declined to comment on the details of how the trips are planned.
Sometimes, however, he's just another tourist. Officials at the Vicksburg National Military Park didn't know he'd stopped by until they saw him post about it online.
Zuckerberg asks a lot of questions: Whether the topic was stock car engines or the military or raising livestock, people who accompanied Zuckerberg say he wanted to know more. "He was charming," Price said, noting that when Zuckerberg met riders at a local rodeo he was "amazed at what they did and the risk they took."
"You just don't see a lot of people who have what he has willing to get out and go to smaller towns, and even bigger cities, and that are as inquisitive as he is," said Price. "That want to experience it."
The bottom line: With each new glossy photo and polished Facebook post, Zuckerberg is seen as having a presence beyond Menlo Park. It's the gaffe-proof precision of the campaign trail, deployed by one of the most powerful companies and executives in America, while also allowing Zuckerberg to connect with his user base.
Go deeper