Marine Le Pen's brand of populism is far from dead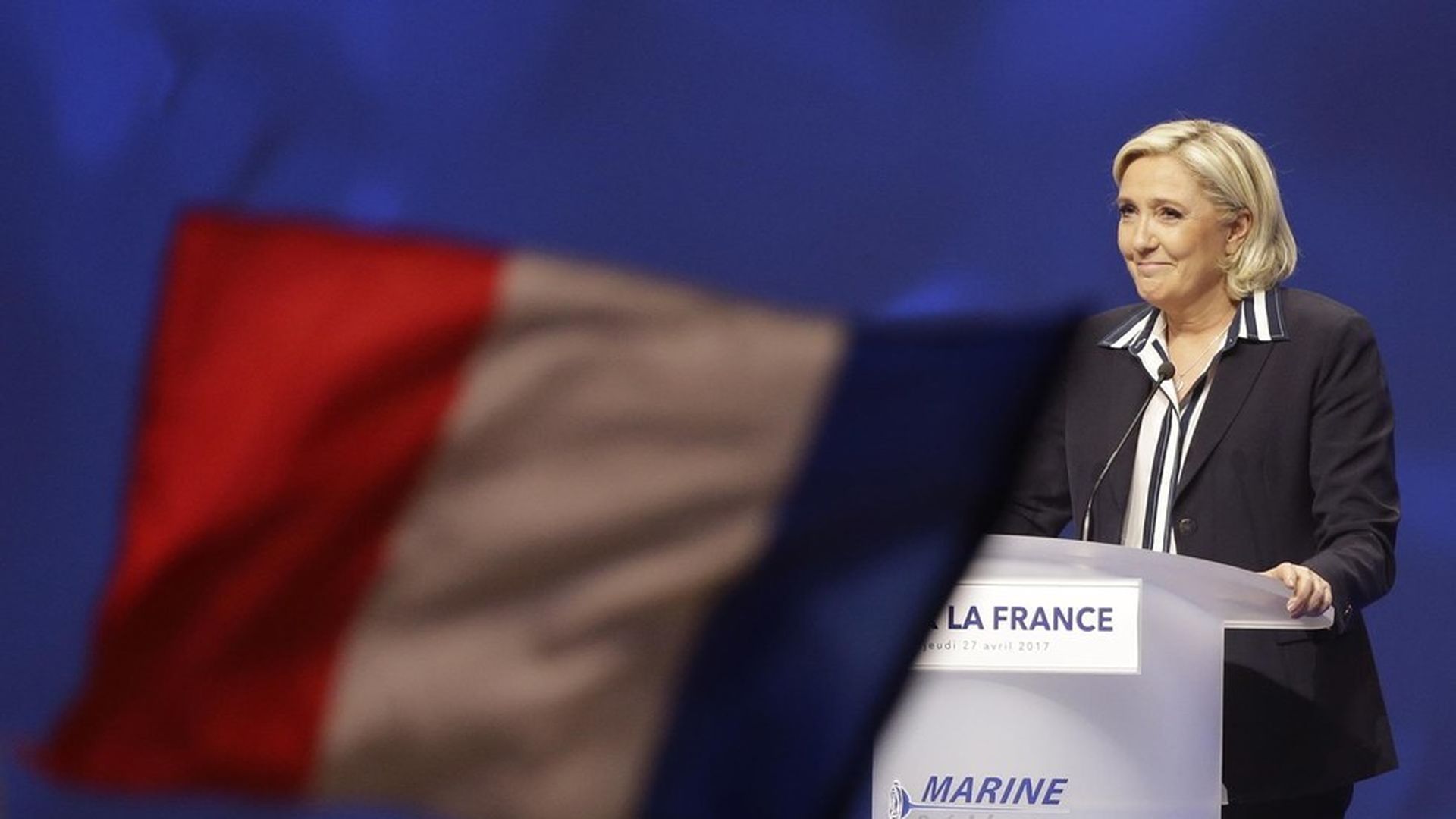 With Emmanuel Macron's resounding victory in yesterday's French presidential election, it's easy to craft a narrative trumpeting the resilience of the grand European experiment and the death of European populism. But to do so would ignore a fundamental truth: Marine Le Pen might have lost, but her performance — capturing more than a third of the French electorate — was another step toward the normalization of far-right politics across both the continent and the West at large.
Here to stay: University of Georgia professor Cas Mudde, who has authored a number of works on populism and extremism in Europe, told Axios that the far right's well-established place in French politics, having played a part for the last 40 years, means Macron's presidency will only affect the National Front in the short-term:
"Macron is just a phase. If he does well, the slow but steady rise of the National Front will be stopped, for a while. If he does badly, it will increase a bit sharper."
Not a surprise: In her defeat, Le Pen nearly doubled the vote tally of her father, Jean-Marie Le Pen, in 2002's presidential runoff — the National Front's only prior appearance in the presidential election's second round — and she did so in a way that felt not only normal but expected. When Jean-Marie advanced to the runoff, France reacted with an almost visceral shock that saw more than a million people take to the streets. This time, Marine's success in the first round had been a constant expectation in polls stretching back to 2013. Though she failed to enter the Élysée, Marine's greatest victory is the transformation of the National Front into a mainstream force in French politics.
The next test: June's parliamentary elections will set the tone for the future of the National Front, which Le Pen has vowed will see a "deep transformation" into a "new political force," maybe even with a new name. Right now, polls have the party winning somewhere around 15 to 25 seats in the National Assembly — up from its current two. If the National Front does not have a strong result, Mudde believes that Le Pen "will become more criticized within the party, but she is still too strong to be replaced."
Farther ahead: If the pressure does mount on Le Pen, there's buzz that her replacement could be her 27-year-old niece Marion Maréchal-Le Pen, who was elected as an MP in 2012. Marion is even more hardline than her aunt, representing a move back toward the party's traditional far-right on religious and social issues. Steve Bannon called her a "rising star" and Sarah Palin gushingly named her a reminder of Joan of Arc, so perhaps Marion will attempt to lead the National Front to a coronation in 2022.
Go deeper