Lawyers warn: Trump falling into legal trap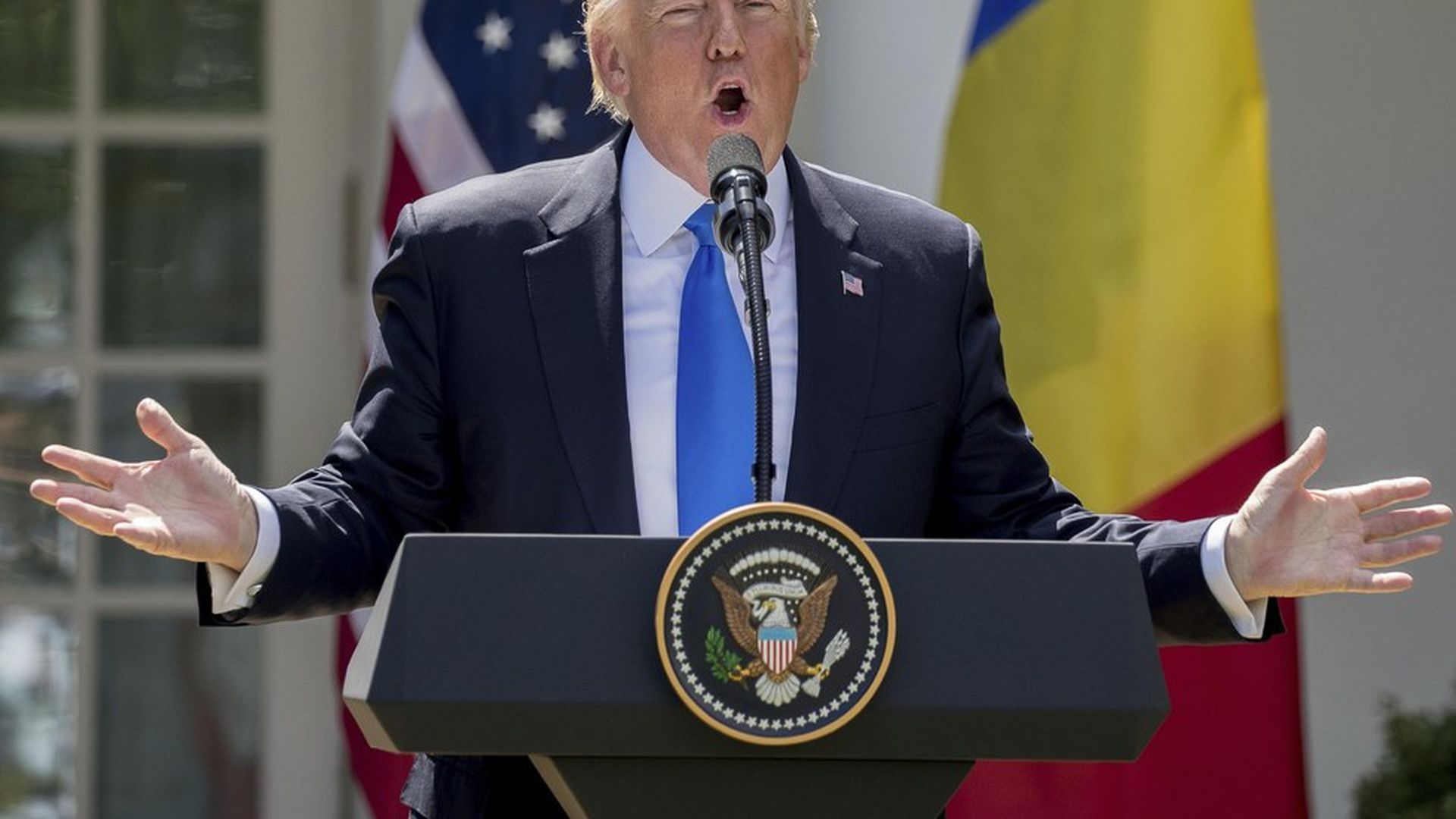 Friends and lawyers were aghast after President Trump brashly declared yesterday that he was willing to testify under oath for special counsel Bob Mueller, to give his own version of events fired FBI director Jim Comey described.
One well-wired Republican said: "The White House says they have the investigation under control. Volunteering to sit down with a special prosecutor is kind of the definition of things not being under control."
These people said the fact that Trump blurted out "100 percent!," in response to a question from ABC's Jon Karl, is proof of why the president shouldn't be giving a deposition to a federal prosecutor. He answered in the moment, with brio, and without regard to what his lawyer or aides might advise.
How lawyers would have advised Trump to answer: "I've said that there's nothing there, but that I want to see this investigation done and done properly, and so of course I will do what I can to help get there." He wants to sound positive, but avoid being specific or overcommitting.
The lawyers pointed out that Trump isn't bound by something he said at a press conference. And his lawyer, Marc Kasowitz, could always set terms that had the effect of delaying or limiting Trump's testimony.
Here are some of the considerations that cause lawyers to strongly advise against such an appearance:
Danger 1: Lawyers said such a meeting would be "a massive false-statements trap," because Trump is inclined to remember things selectively, and often embraces a version of events that is the way he would like them to be. And by the time he talked to the president, Mueller would have an arsenal of evidence. So Trump's characteristic certainty — "I never said that!" or "I never did that!" — could mean trouble. Trump in the Rose Garden yesterday (which made N.Y. Times Quote of the Day): "I didn't say that. ... And there would be nothing wrong if I did say it.")
Danger 2: Trump would be unlikely to prepare adequately. He has little patience and a short attention span, doesn't like to study written documents, and prefers to ad lib.
Be smart: Yesterday's declaration shows that Trump's Russia-related comments aren't being fully vetted by his legal team — meaning that he may keep creating new landmines for himself, as Mueller works away.
And yesterday's tweets won't help: By calling Comey a liar and complaining about the probe, Trump risks coloring prosecutors' impressions of him. Lawyers explain that Trump's temperament and M.O. will be key if prosecutors are looking at intent. And with his tweets and barbs, a top lawyer said: "He is confirming that the way they think he operates, is the way he actually operates."
Extreme case: Marc Kasowitz can refuse to allow testimony — and Trump could direct the firing of Mueller.
Go deeper