Laurene Powell Jobs buys majority stake in The Atlantic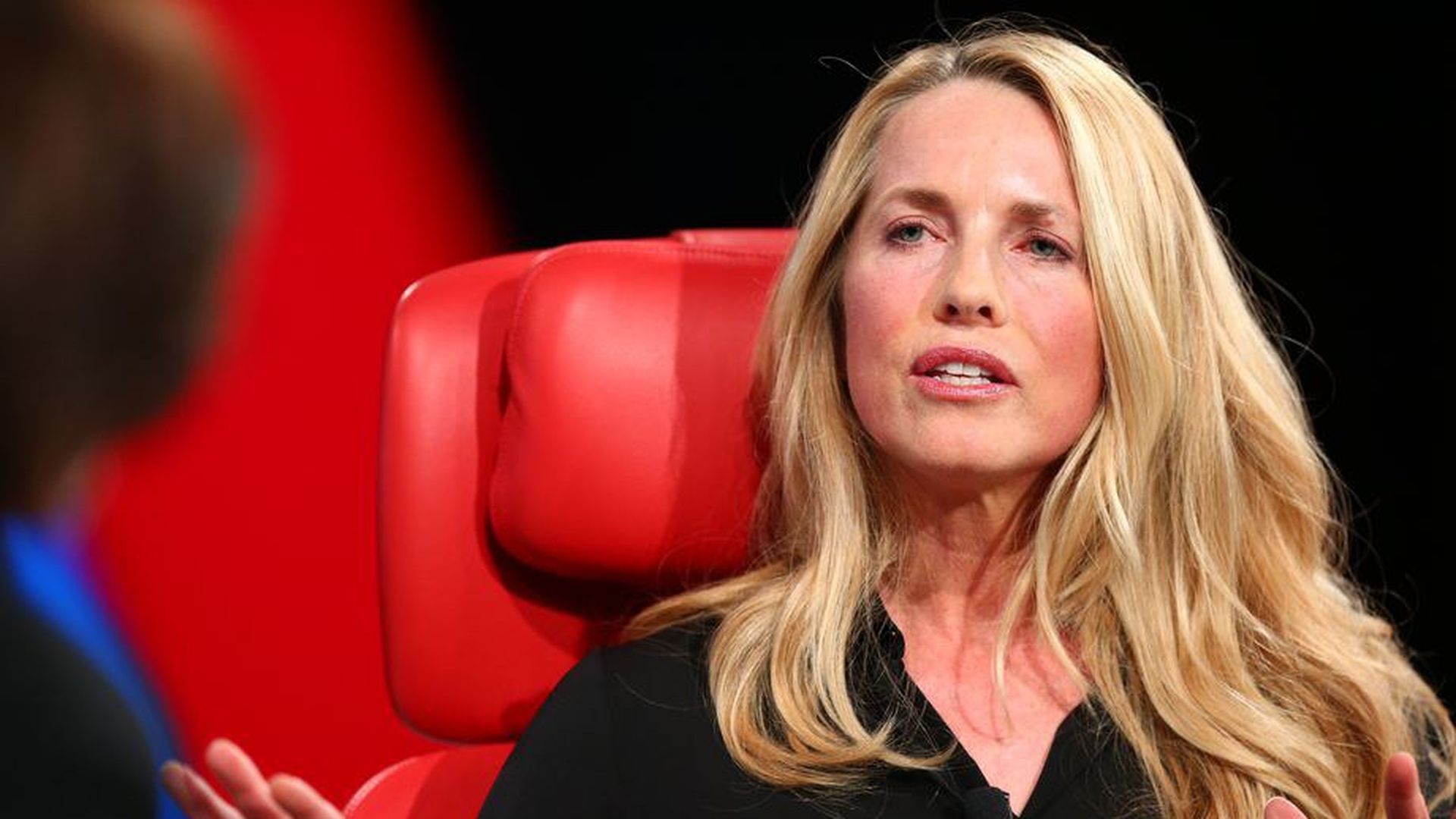 The Emerson Collective, helmed by Laurene Powell Jobs, is taking a majority stake of The Atlantic, which is currently owned by David Bradley, who will remain a minority owner and retain operational control of the publication.
Other Atlantic Media companies will continue operating with Michael Finnegan as president. Bradley contacted Jobs after a process of thinking about how The Atlantic will have a future of growth.
Rumors have been circulating for a while that Bradley was looking to sell.
In a memo obtained by Axios, Bradley says he's been thinking about this investor partnership for a little over a year as he approached 70. Earlier this year, Bradley put The Atlantic's property at The Watergate up for sale to Washington REIT for $135 million.
Emerson Collective is an investor in Axios. Sources tell Axios that David Bradley and Powell Jobs' mutual investments in Axios may have led to the agreement.
Why it matters: The partnership comes at a critical time for both parties. The Atlantic, which was in the red for 10 years, now draws profit of over $10 million. Powell Jobs has been investing in digital media startups, reinforcing a trend of Silicon Valley powerhouses investing in East Coast media startups.
More details: The deal does not include subsidiary properties within The Atlantic Media Company, like National Journal, Quartz and Government Executive. It does include The Atlantic's flagship magazine, digital properties, live events business, and consulting services. In an internal memo, Bradley says he will retain large share of the property; likely, but not certainly, Emerson Collective will purchase remaining interest in 3-5 years.
The Atlantic's leadership will remain the same: President Bob Cohn; Publisher Hayley Romer; and Editor in Chief Jeffrey Goldberg will continue to run day-to-day operations of the company, as well as Michael Finnegan, who will continue to serve as president of Atlantic Media.
Bradley's memo to staff on the announcement:
My Atlantic Colleagues:
This is not my everyday memo to you. Definitionally, it is a message I can write only once. And, in the event, it is to the good.
I want to let you know that I am entering into a partnership with Emerson Collective, the business and philanthropic venture of Laurene Powell Jobs. For a time, Emerson Collective and I will own jointly, and then Emerson Collective alone, The Atlantic – magazine, websites and affiliated businesses. I don't think you will see any material changes in your lives; we all continue in our same roles. But, now 64 years old, I find my gaze casting farther forward. Laurene and I have settled on a plan that, as I approach 70, Emerson Collective will take full ownership of The Atlantic and she serve in my stead as leader of the enterprise.
Against the odds, The Atlantic is prospering. While I will stay at the helm some years, the most consequential decision of my career now is behind me: Who next will take stewardship of this 160-year-old national treasure? To me, the answer, in the form of Laurene, feels incomparably right.
My Thinking in Brief
The Atlantic's long-term future has been on my mind for the last two years. As Katherine's and my three sons reached majority, we came to understand that we did not have a next generation interested in media. Katherine and I would need to look farther afield.
I don't suppose it would be a Bradley search if I didn't burden it with process. A year ago, I tasked a small group of researchers with identifying a list of individuals who might succeed me as the 6th owner of The Atlantic. That the list soon topped 600 names raised the question from me to our researchers: "Is there anyone you think notqualified to own The Atlantic?" But, by anyone's measure, the top 50 names were remarkable. And, for me, from the first, Laurene Powell Jobs sat atop the list.
It was a friend of many of us here, Leon Wieseltier, who first put me onto the possibility that Laurene might come to love The Atlantic as I have. For its part, Emerson Collective had begun to invest in serious journalism for its own sake. And, as to Laurene personally, Leon said, "If she were to take an interest in The Atlantic, it would be for all the right reasons." In a January meeting in Washington, Laurene first took an interest.
Sharing Some of the Detail
Writing alone here, at night, I'm struck by how little I know about business partnerships; this will be the first owner partnership in my 40-year career. I wonder the appropriate detail to share with you. But, here is some to begin.
In roughly a month's time, Emerson Collective will purchase a majority interest in The Atlantic. I will retain a large share of the property; likely, but not certainly, Emerson Collective will purchase my remaining interest three to five years from now.
How might management change? I don't think at all. I will continue in my current role with my current responsibilities for three to five years. In fact, my agreement with Emerson Collective contemplates the possibility that I may remain in some capacity for some longer time. (When I purchased The Atlantic in 1999, our poetry editor was 93 years old. I've some mind to take her role in the event she retires.)
As to our remaining rank of leaders and managers, the agreement contemplates no change. My 8th floor colleagues - Michael Finnegan, Aretae Wyler and Emily Lenzner, the senior Atlantic leadership under Bob Cohn – Jeffrey Goldberg, Hayley Romer, Kim Lau, Margaret Low, Jean Ellen Cowgill, Rob Bole – and all their direct reports – all continue to serve just as they do now. Michael will report to me, Bob to Michael, and so forth down the line. And, as to the only note of disappointment, Atlantic headquarters continues here in the Watergate, and not in Palo Alto.
(Lest 600 of my other colleagues simply wander away, I should make clear that I - alone - will continue to own the other Atlantic Media properties - National Journal Group, Government Executive Media Group and Quartz. We will continue tomorrow exactly as we do today.)
One final note as to leaders: the day-to-day work of bringing us to an agreement was led by an Emerson Collective executive appointed by Laurene to lead her inquiry into media. Some of us knew Peter Lattman when he was the media editor at the New York Times. Though Peter will continue in his role of managing director of media for Emerson Collective, he also will serve as Atlantic vice chairman, taking an office with us in New York.
In our last conversation of any note, Laurene and I thought through timing for her to meet you, and vice versa. Our best guess is that Laurene will visit both our Washington and New York offices in September. We have discussed smaller meetings with the leadership and all-staff events thereafter.
A Closing Thought on Ambition
Against expectation, surely against my own, The Atlantic is completing its most-successful decade in 100 years. In relevance, readership and even commerce, it is as if The Atlantic had entered, to take from Churchill, "the broad, sunlit uplands" of publishing. That it could happen now ... well, you know the odds.
So, for some time, the strategy question nagging my thought is this: "What could we do in the next ten years worthy of the ten years just gone by?" I assume a Wall Street analyst would tell us, "Not a thing. There is no 'broad, sunlit uplands' for serious journalism."
What I loved about Laurene from the first is that her confidence was forged on a different coast. And, if anything, her ambition is greater than my own. So, let's make it our work to prove the wisdom of our era wrong. And, when my time comes to leave, that would be a happy note on which to say "good-bye."
Go deeper