Kushner to talk Mideast peace efforts at Sunday forum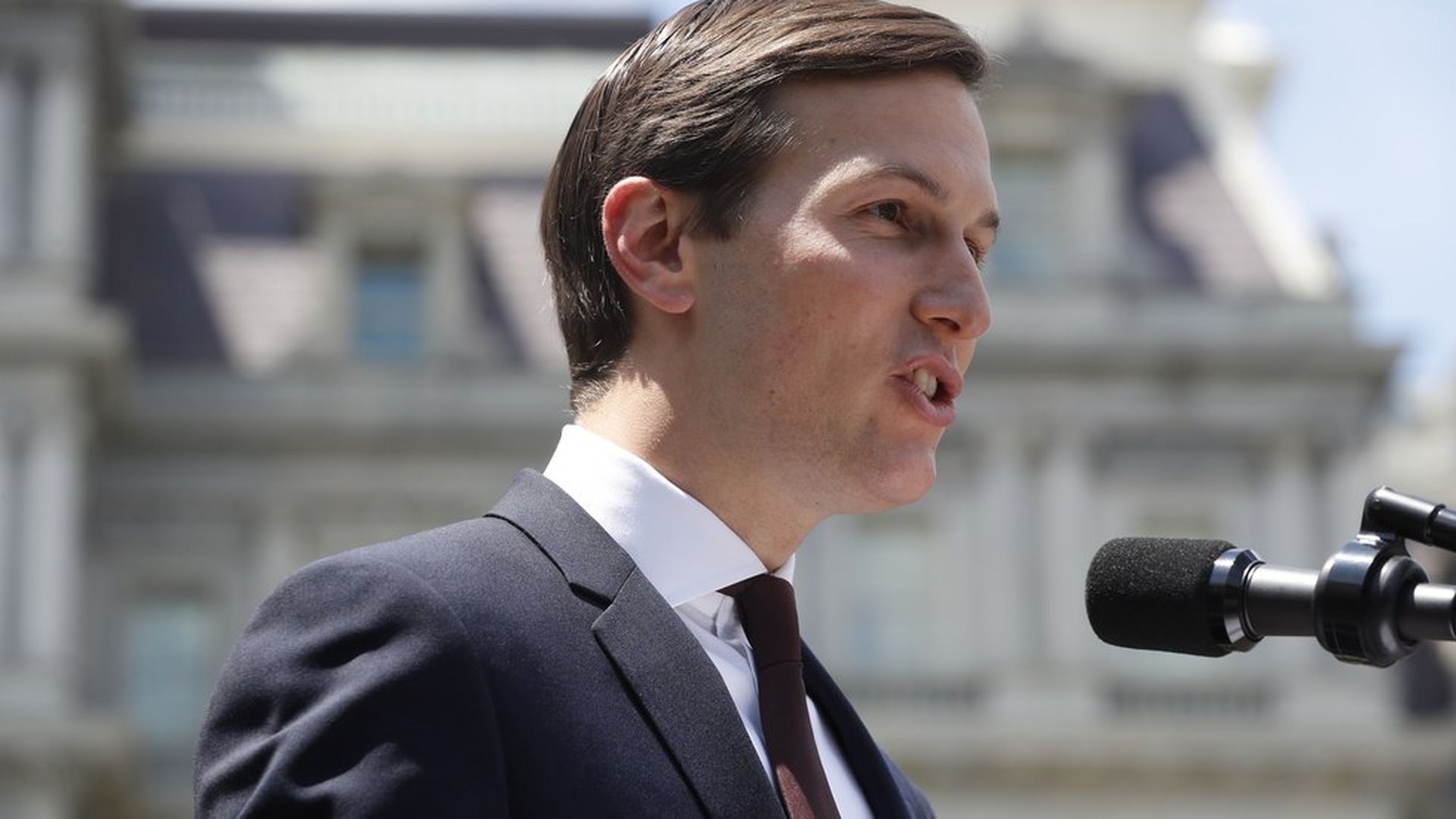 Jared Kushner will make his first public remarks on the Trump administration's Mideast peace initiative on Sunday at the Saban Forum, an annual meeting of U.S. and Israeli leaders organized by the Brookings Institution, according to a source familiar with the event. He'll answer questions from Haim Saban, the billionaire investor — and Clinton donor — who hosts the forum.
Why it matters: Kushner will speak as President Trump ponders a decision — expected early next week, per the Wall Street Journal — on whether to move the U.S. embassy to Jerusalem. Any such move could complicate the talks with the Palestinians, who consider East Jerusalem the capital of a future state.
Israelis and Palestinians have been on their best behavior so they won't be seen as the party scuttling negotiations. But Israeli officials hope that even if Trump signs a waiver delaying the move again — as he did in June — he will make a statement recognizing Jerusalem as Israel's capital.
The back story: Kushner has been heading a small team that has been working on a peace initiative that Israeli and Palestinian officials expect Trump to release early next year. But the details are a total mystery — it's one of the only cases in the Trump administration where the details haven't leaked.
So Kushner's comments could provide the first clues about even the most basic elements of the plan, such as whether it would be based on the creation of a Palestinian state.
What to watch: How much Kushner is ready to reveal about those details — and whether there's any sign that the initiative is being affected by the turmoil surrounding Secretary of State Rex Tillerson, or whether his fate is simply irrelevant to the negotiations.
Other members of the "peace team": Special envoy Jason Greenblatt, Deputy National Security Adviser Dina Powell, U.S. Ambassador to Israel David Friedman, and Consul General to Jerusalem Don Blome.
Go deeper: Trump's mystery plan for Mideast peace
Go deeper