Kirsten Gillibrand takes on Capitol Hill sexual harassment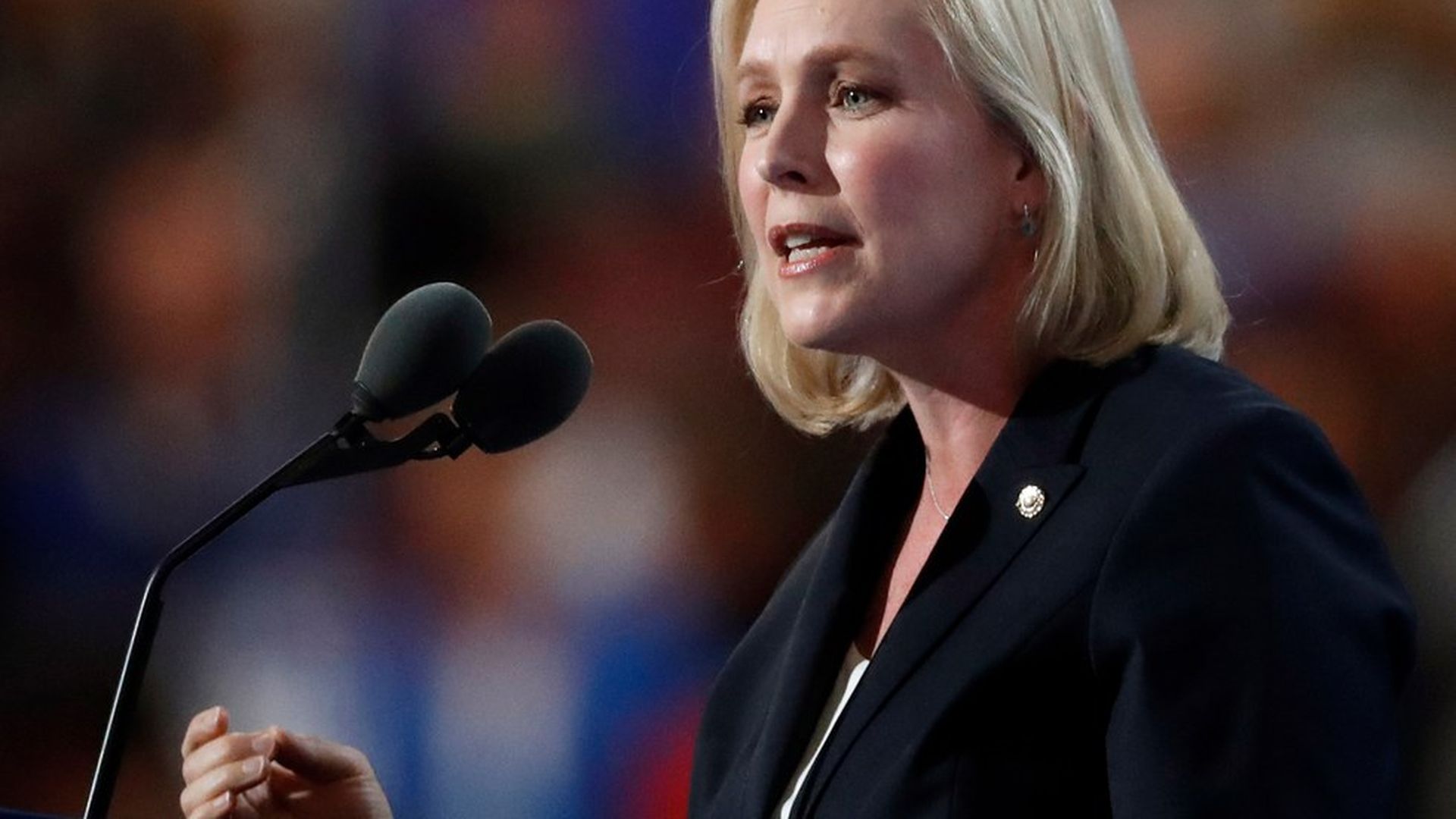 Democratic Sen. Kirsten Gillibrand is introducing new legislation to address the issue of sexual harassment on Capitol Hill. "Congress should never be above the law or play by their own set of rules," Gillibrand said in a statement, per Politico."The current process has little accountability and even less sensitivity to victims of sexual harassment."
Why it matters: After allegations of harassment and assault against Hollywood producer Harvey Weinstein, reports surfaced that many women lawmakers on the Hill have experienced similar situations from their colleagues. Sexual harassment prevention training isn't mandatory for lawmakers and those who allege misconduct against their coworkers are required to take a 30-day "meditation" period before filing formal complaints.
Gillibrand's proposed bill would go beyond simply requiring mandatory sexual harassment prevention training for members; it would also include a complete overhaul of the office that manages workplace misconduct on the Hill, the Office of Compliance. It would also grant interns on the Hill to file harassment complaints in the same way as full-time employees, as well as require every congressional office to publicly post information about employees' rights.
Some of the lawmakers who have come forward, sharing their stories with The Associated Press:
Rep. Linda Sánchez (D-Calif.) said when she was a new member of Congress, a more senior, married member "outright propositioned" her. He's still in Congress. She also alleged a different male colleague repeatedly ogled her and one time even touched her inappropriately on the House floor.
Sen. Barbara Boxer (D-Calif.) said back in the 1980s, a male colleague made a sexually suggestive comment that he wanted to "associate with the gentle lady."
Former Rep. Mary Bono (R-Calif.) said she endured comments from one member for years, including him telling her he'd been thinking about her in the shower.
Former Rep. Hilda Solis (D-Calif.) said she remembers repeated unwanted harassing overtures from one lawmaker.
Rep. Jackie Speier (D-Calif.) last week said she was "forcibly kissed by the male chief of staff in her office" when she was a young aide on the Hill, per Politico.
Go deeper