Key senator backs incentives over tariffs in solar trade battle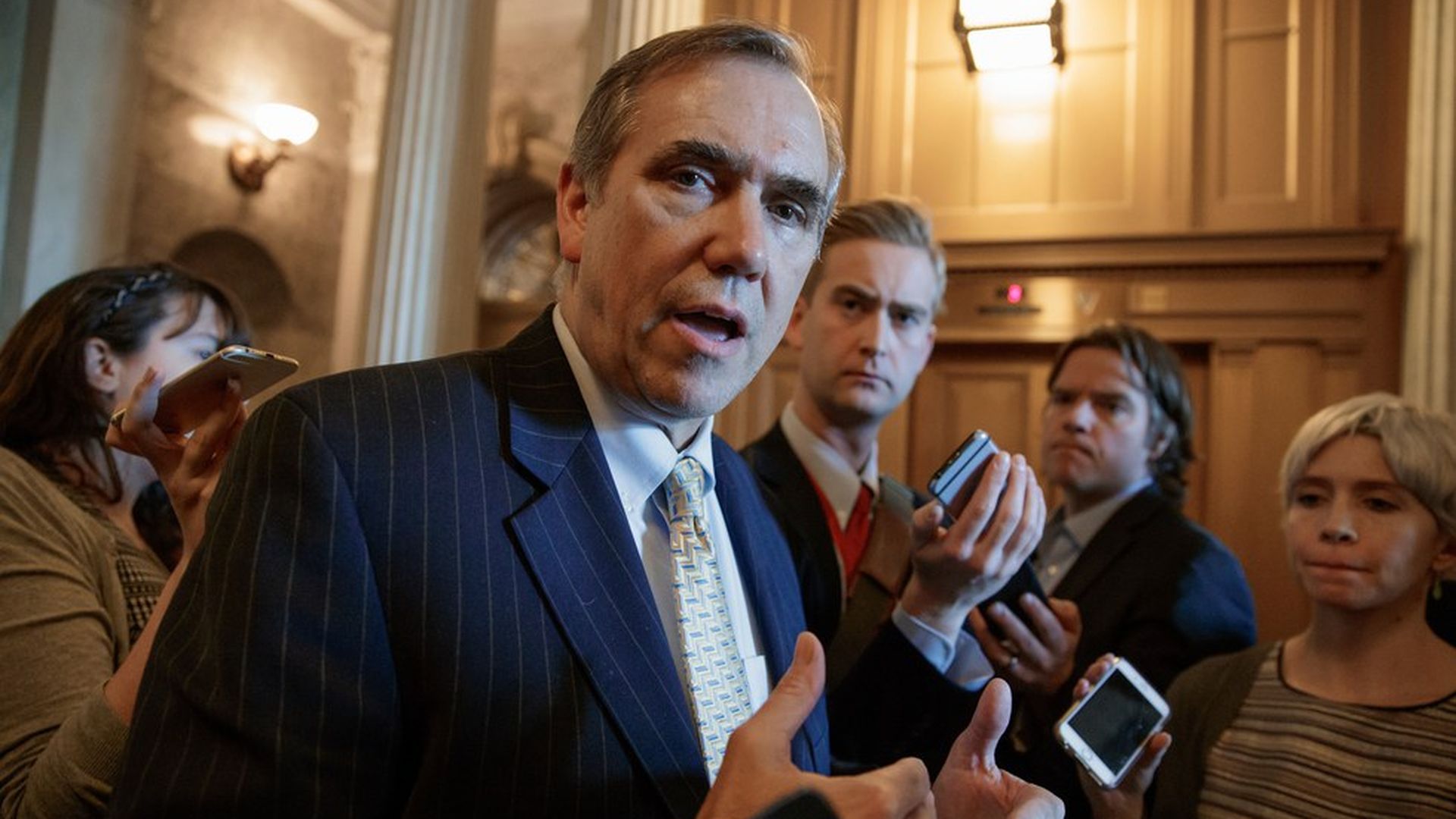 Sen. Jeff Merkley says domestic solar manufacturers should be helped by incentives instead of tariffs to compete with cheap imports, putting the Oregon Democrat on the side of most of the solar industry and against an Oregon-based manufacturer seeking tariffs from President Trump.
Why it matters: Merkley personifies the challenge facing clean-energy advocates in the pending solar trade battle: He wants to support renewable energy whenever possible, but one of his constituents is telling him cheap imports is hurting his home-state solar manufacturer. Merkley's comments to Axios, made earlier this month on the sidelines of a climate conference in Bonn, Germany, are the first the senator has made on the trade case.
"I would like to see us to take an approach that would assist the American companies so they could lower their prices and compete with industry at lower prices," Merkley said in the interview. He said subsidies to U.S. companies would be a "real win-win."
Two foreign-owned but U.S.-based solar manufacturers — Georgia-based Suniva and Oregon-based SolarWorld — are asking the Trump administration to impose tariffs on cheap solar imports. Most experts say tariffs would hurt deployment of American solar energy because the U.S. industry depends heavily on cheap panels from China and other Asian countries, but there's less consensus about how big the impact could be, while other experts say a remedy could at least temporarily help domestic panel makers.
For the record: A SolarWorld representative said the company appreciated Merkley's advocacy but added: "We believe that an appropriate remedy by the President to save and rebuild U.S. solar manufacturing must include tariffs and quotas as well as funding or incentives."
What's next: The United States Trade Representative holds a hearing on the trade case Dec. 6, and the White House has a Jan. 12 deadline to make a final decision. A Trump administration official has said the president is likely to issue tariffs on solar imports, given his protectionist bent.
Merkley didn't go into detail about what kind of incentives he could support, but according to the senator's office, he wouldn't rule out a remedy that could impose quotas on the amount of imports allowed or auction of import licenses, the latter which works kind of like a tariff in that it imposes an extra cost on imported solar panels because companies would have to buy import licenses.
Flashback: Merkley supported a similar, though much narrower, trade case a few years ago, where SolarWorld asked for tariffs against Chinese imports only. This latest case is asking for tariffs against all imports of the most popular kind of solar panel, under the argument Chinese companies have outsourced their manufacturing to other Southeast Asian countries to get around earlier trade barriers.
Between the lines: Merkley is taking a more cautious approach this time around, largely because it's a broader trade request. Oregon's senior senator, Democrat Ron Wyden, has been more outspokenly critical of what cheap imports are doing to domestic solar manufacturers.
Go deeper: Check out my recent Harder Line column on this topic: America's Chinese solar dilemma.
Go deeper