Kellyanne Conway: Trump "sees nothing there" in Russia allegations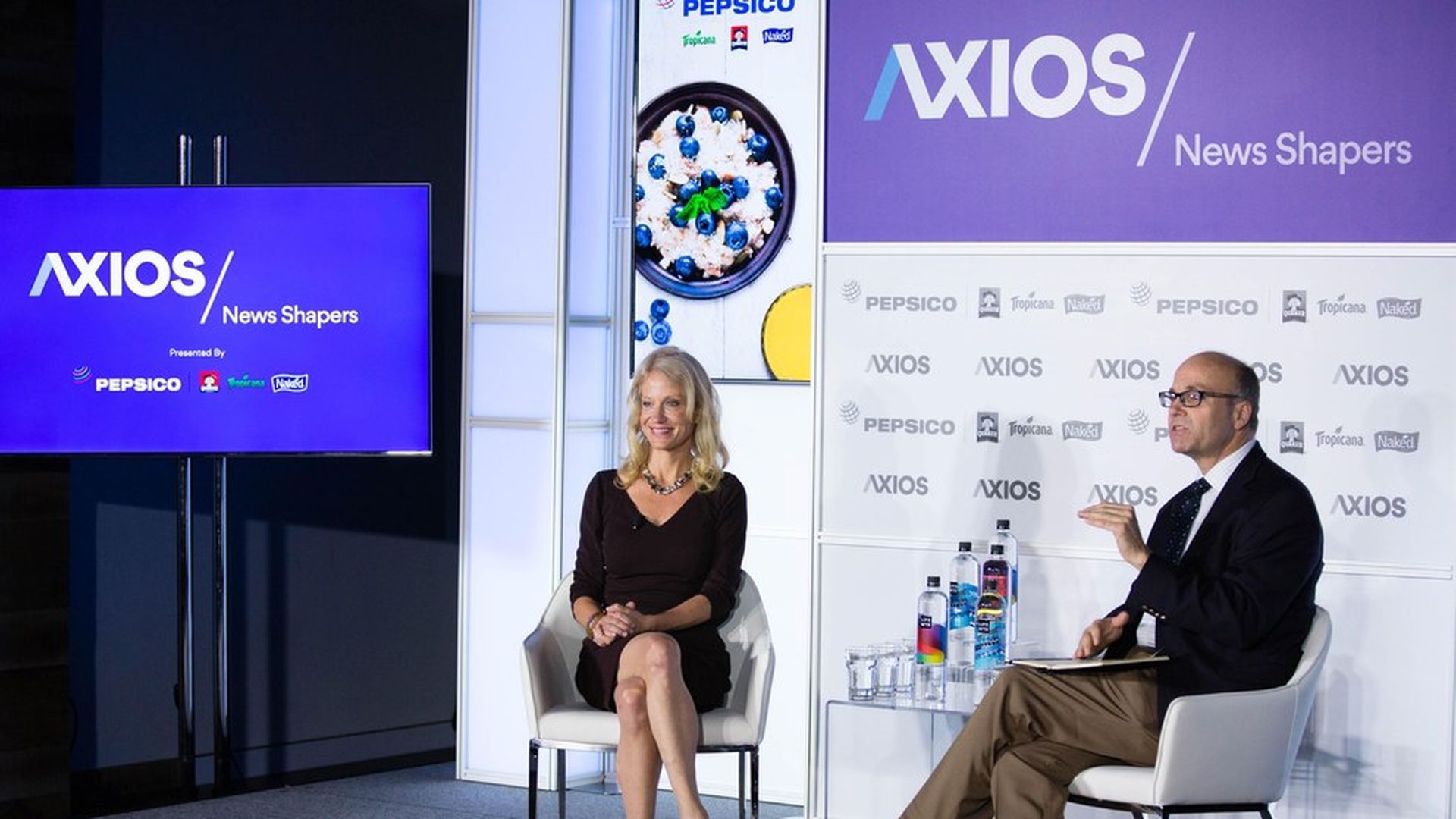 Kellyanne Conway told Mike Allen this morning that Trump "has confidence in the people who work for him" when asked if POTUS still believes in his Attorney General Jeff Sessions, who allegedly offered to resign over tensions with Trump. Follow along for live updates from our Axios News Shapers event in DC.
On whether Trump needs to assert primacy over his colleagues: "I disagree with that premise completely...all of those people who you said are in the dog house…are still in this moment at the White House." Go deeper here in our guide to Trump's doghouse.
On the Russia investigation: Trump "sees that there's nothing there…if you look at everything that's been said and done we're back to where we were at the beginning…if this, if that…doesn't seem to be very responsible to me…You can do almost any storyline with if, if, if, if, if."
On how the White House has gotten into a negative news cycle about Russia: "That's exactly what you've been reading and hearing, you're basically repeating what you've been told all along. That doesn't change any fact. The investigations are about facts and sworn testimony is about facts."
On whether Trump will live-tweet former FBI James Comey's testimony tomorrow: "He will make his own decisions…oh the tweeting men in my life," referencing when her husband tweeted earlier this week that POTUS might be risking his travel ban's stance before the Supreme Court by tweeting.
Trump "goes at a break-neck pace. You really have to focus on the agenda, he really tries to get so many things done."
On press briefings: "A lot of preparation goes into that."
On low polling numbers: "Voters don't ask who can win they ask who can lead. When [candidates] become the President…they don't ask do I approve or disapprove? They ask…are you getting things done that matter to me?"
On why she's not in Ohio today: "I have some other meetings today."
1 fun thing: "George, my son…he's a history buff. Unless it's assigned as homework."
Go deeper