Kelly: I'm not thinking of leaving this job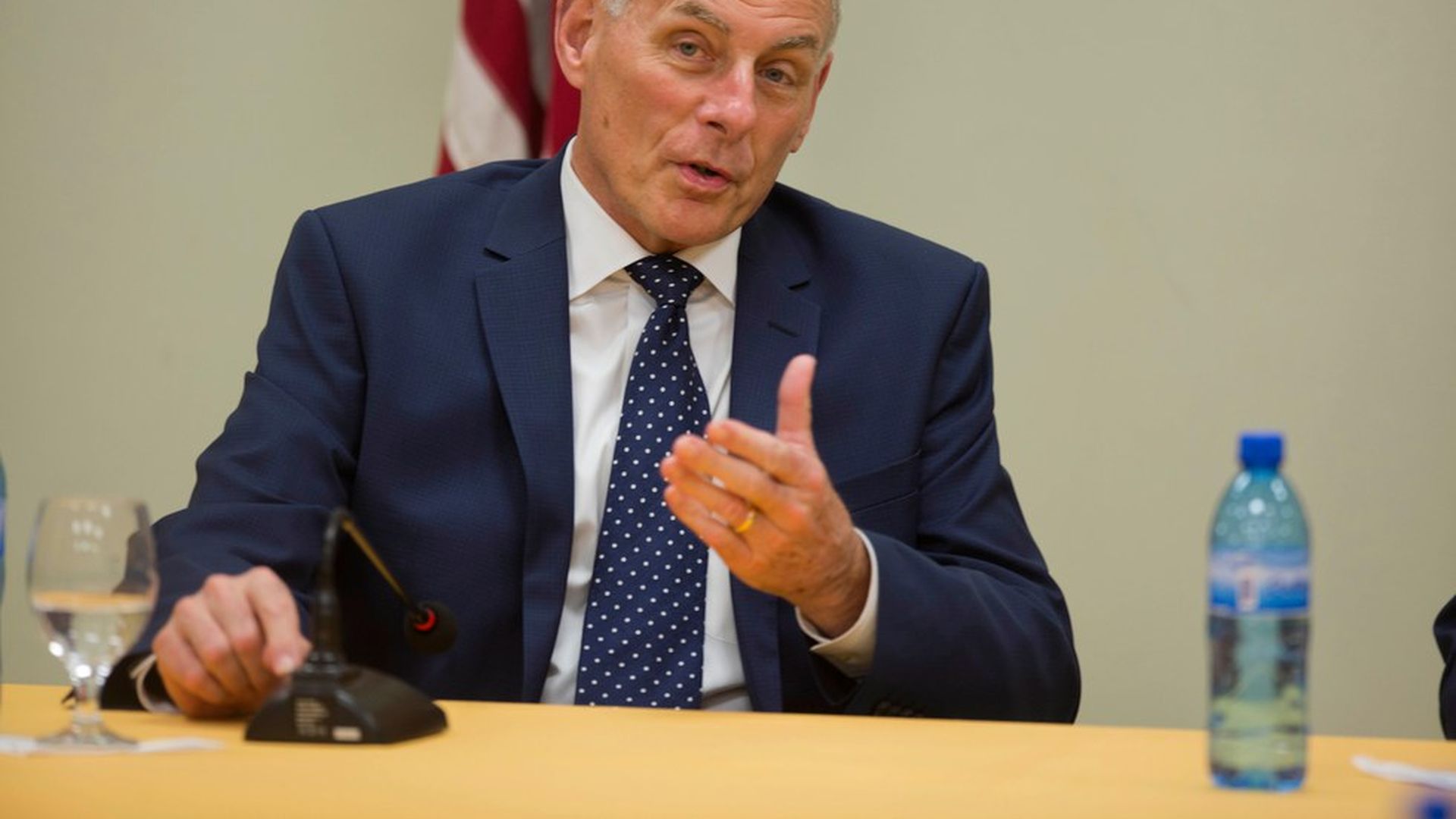 The president's Chief of Staff John Kelly told reporters, "I'm not so frustrated in this job that I'm thinking of leaving ... [Chief of Staff] is the hardest job I've ever had."
The backdrop: Several media reports have included speculation that frustrations with President Trump will cause Kelly to quit, but he joked with reporters, saying "I'm not quitting today ... I don't think I'm being fired today."
On Trump's morning tweets about Puerto Rico: "The tweet about FEMA and first responders is accurate," but they will be there until the work is done, Kelly said.
On Kelly's strategy in the White House: "I just put some organization to it ... with a smile on my face," he said.
On the report that Trump wants to expand the U.S. nuclear arsenal: Trump often says, "Wouldn't it be great if we could get rid of them all?" instead of expanding the arsenal 10-fold, Kelly said.
On Trump's Iran deal announcement: Trump will announce his decision at 12:45pm Friday, Press Secretary Sarah Sanders said.
On Trump's frustrations: He's frustrated with Congress and "you," Kelly said to reporters. "When i read in the morning ... it is astounding to me how much is misrepresented," he said. "I would offer some advice to you .. develop some better sources."
On whether the president is alienating establishment Republicans: Trump "is willing to work with anyone." Some people "grandstand ... I'm not saying Senator Corker is that way." Kelly said he has called Corker.
On Trump's tweets: Kelly said they don't make his job as Chief of Staff harder. "I read in the paper that I've been a failure at ... controlling his tweeting ... I was not brought to this job to control anything except the flow of information to the president."
On why Trump waited on the health care executive order: There was a sense that the big bill would take care of the things in the order, but it didn't pass, Kelly said. "We probably won't have [another] health care bill until, say, the spring," he added.
On potential war with North Korea: "The American people should be concerned about a state that has developed a pretty good ICBM capability ... Let's hope that diplomacy works."
On the appointment of a Fed Chair: Interviews are "ongoing."
Go deeper