Kasich, Hickenlooper eye joint 2020 bid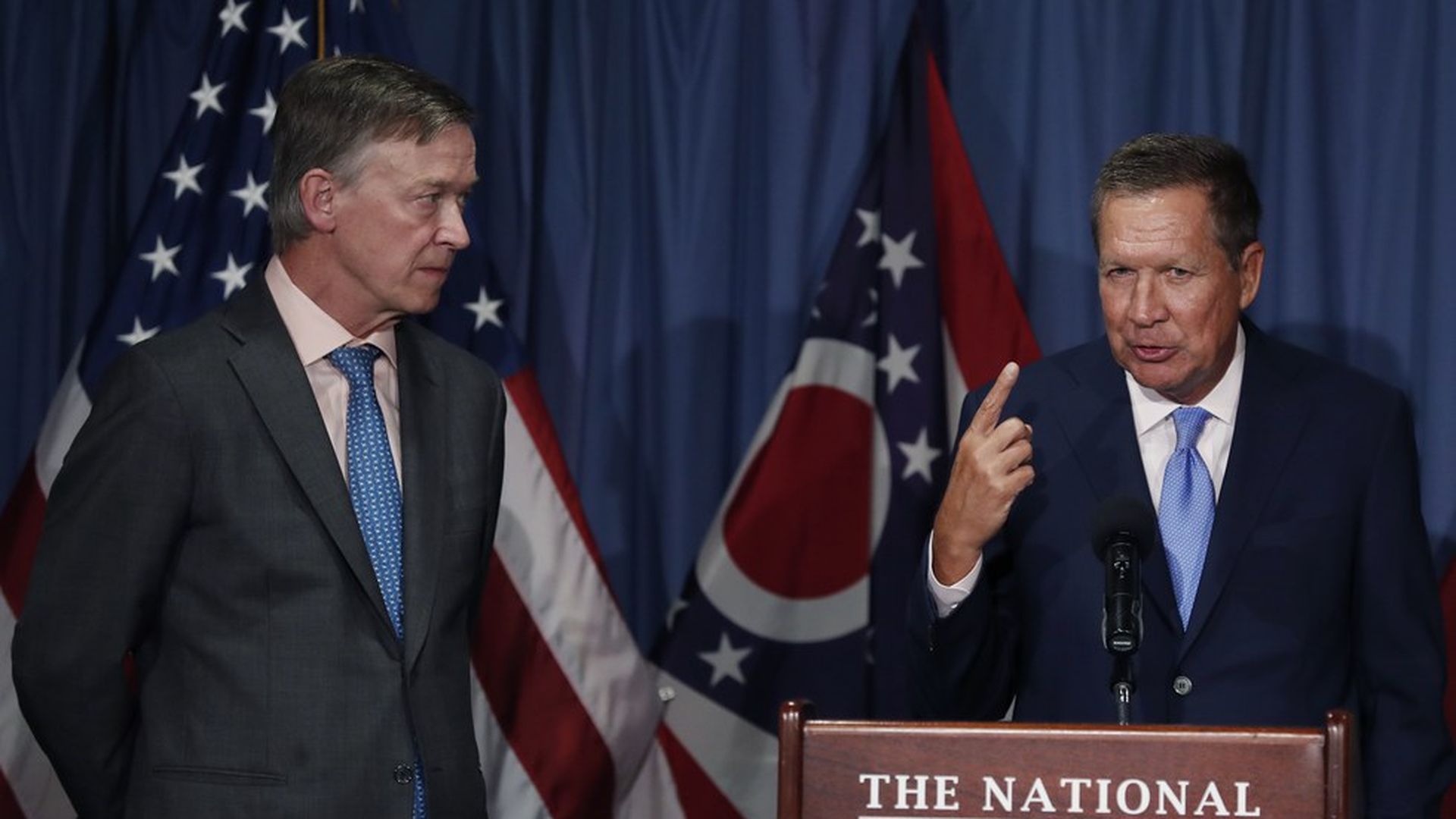 Ohio Gov. John Kasich (R) and Colorado Gov. John Hickenlooper (D) — "the Johns," as insiders are calling them — have been making a flurry of joint appearances to talk about state-driven improvements to health care.
But Axios has learned that their duet is part of an alliance that's gaining momentum toward a possible joint independent bid for president in 2020, likely with Kasich at the top of the ticket:
The two, who got to know each other at conferences, plan to extend their joint platform from health care to two other hot policy areas: immigration and job creation.
On health care (with a detailed plan to be released soon), the two have broadened their efforts to a bipartisan group that includes 11 governors.
The Johns' jobs plan will focus on the coming displacement from automation, with prescriptions that include trade, workforce training — and an optimistic and hopeful message, balanced with an honest admission that some jobs just aren't coming back.
The two are talking to major media companies about a possible podcast or cable show to continue cementing their brand. Their conversations would include politics, policy, and pop culture.
In D.C. in early September, the two will hold a health-care conference that includes policy input from the American Enterprise Institute on the right and the Center for American Progress on the left.
Kasich, who's being advised by veteran consultant John Weaver, is keeping open all his options, including the possibility of primarying Trump in 2020.
Nothing subtle about any of this: Kasich has urged Hickenlooper to visit New Hampshire.
Both are 65 and both were born in the crucial electoral state of Pennsylvania, Kasich from the Pittsburgh side and Hickenlooper from the Philly side (corrected).
Both are proud policy wonks, and their staffs are said to get along famously.
Why it matters: National Dems so far haven't capitalized on Trump's record unpopularity and obsession with his base. But this is a creative coupling that'll get a ton of airtime, and maybe even traction.
The pushback: Some establishment Dems are apoplectic about the idea of Hickenlooper teaming up with a Republican. One top strategist told me: "No Dem wants Kasich anywhere near our ticket. Sounds like a No Labels fantasy, but moderate Dems would hate it."
But a veteran operative emails: "Our political system is completely broken. Something big and historic needs to happen to break the logjam. I'm a big Dem but I'm for anything that ... does away with this hyper-partisanship on both sides that is paralyzing our government."
Go deeper