Kasich, Hickenlooper call for quick ACA fixes, modest reforms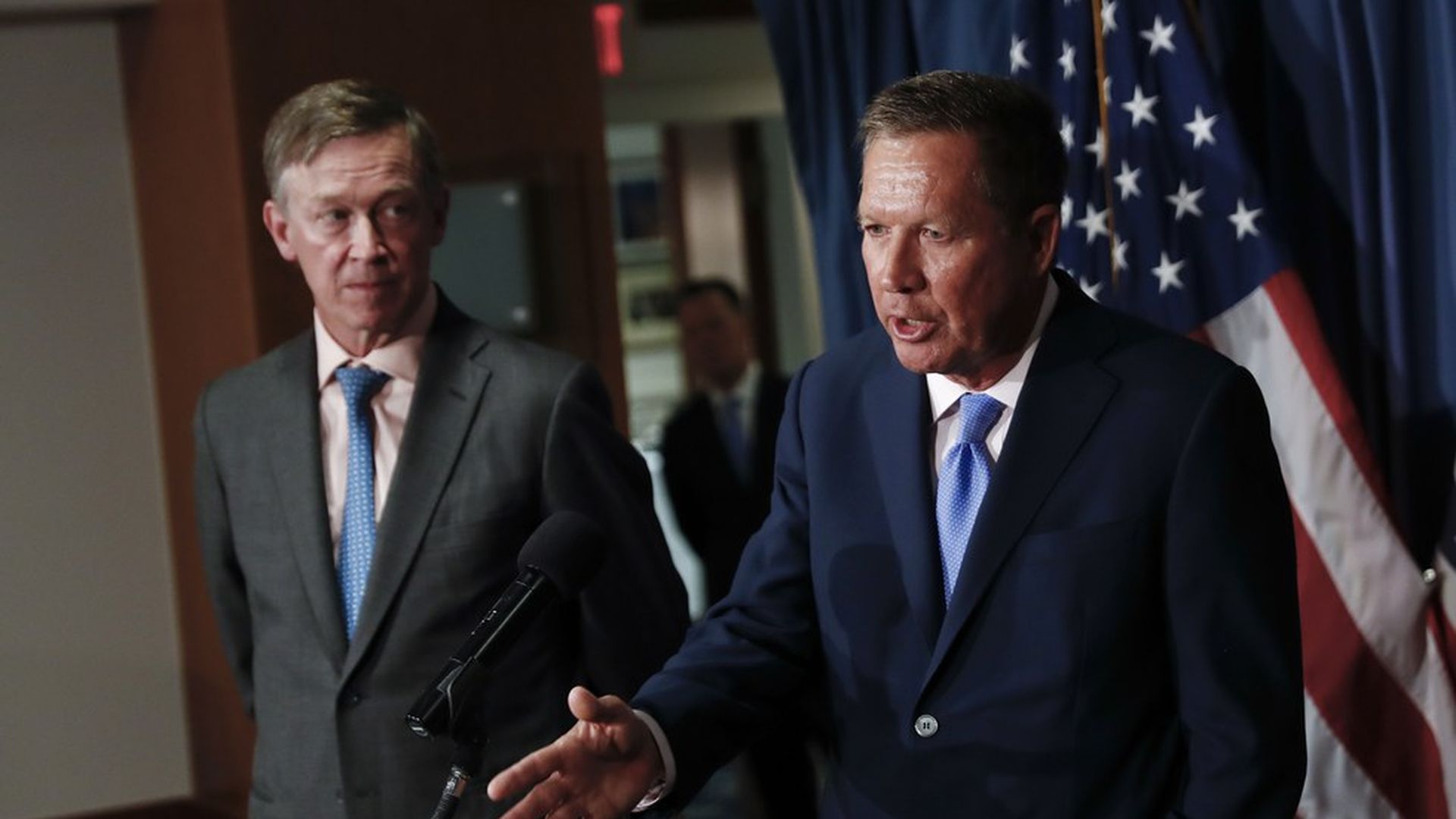 Ohio Gov. John Kasich and Colorado Gov. John Hickenlooper are out with their bipartisan health care plan, and it sticks pretty close to the Affordable Care Act fixes Republican Sen. Lamar Alexander and Democratic Sen. Patty Murray will start considering next week — but with a broader range of practical changes to be considered after the markets are stabilized.
Why it matters: Kasich and Hickenlooper have gotten a lot of attention for their bipartisan work on health care and other issues, though more so before Kasich ruled out running together for the White House in 2020. Their work may boost Alexander and Murray's efforts to fund ACA insurer payments and increase state flexibility, but it also includes a menu of other ideas they could consider after the basic bill passes.
The highlights of the plan:
Quick fixes:
Fund the ACA's cost-sharing reduction subsidies to insurers (likely to be in Alexander-Murray bill)
Create a temporary "stability fund" for reinsurance or other programs to limit insurer losses
Exempt insurers from the ACA's health insurance tax to encourage them to cover underserved counties
Let people in those counties buy into the Federal Employees Health Benefits Program to give them more choices
Keep the individual mandate "for now"
Broader changes:
Keep funding outreach to encourage young adults to enroll
Crack down on customers only signing up when they need insurance
Strengthen the ACA's risk-sharing protections for insurers
Let states choose different ways of covering the ACA's "essential health benefits"
Make it easier to fast-track states' "Section 1332" waivers (letting them achieve the ACA's goals in different ways)
Encourage more creative ways to pay for health care, like "value-based health care purchasing"
Go deeper