Jeff Sessions goes after Chicago in sanctuary cities speech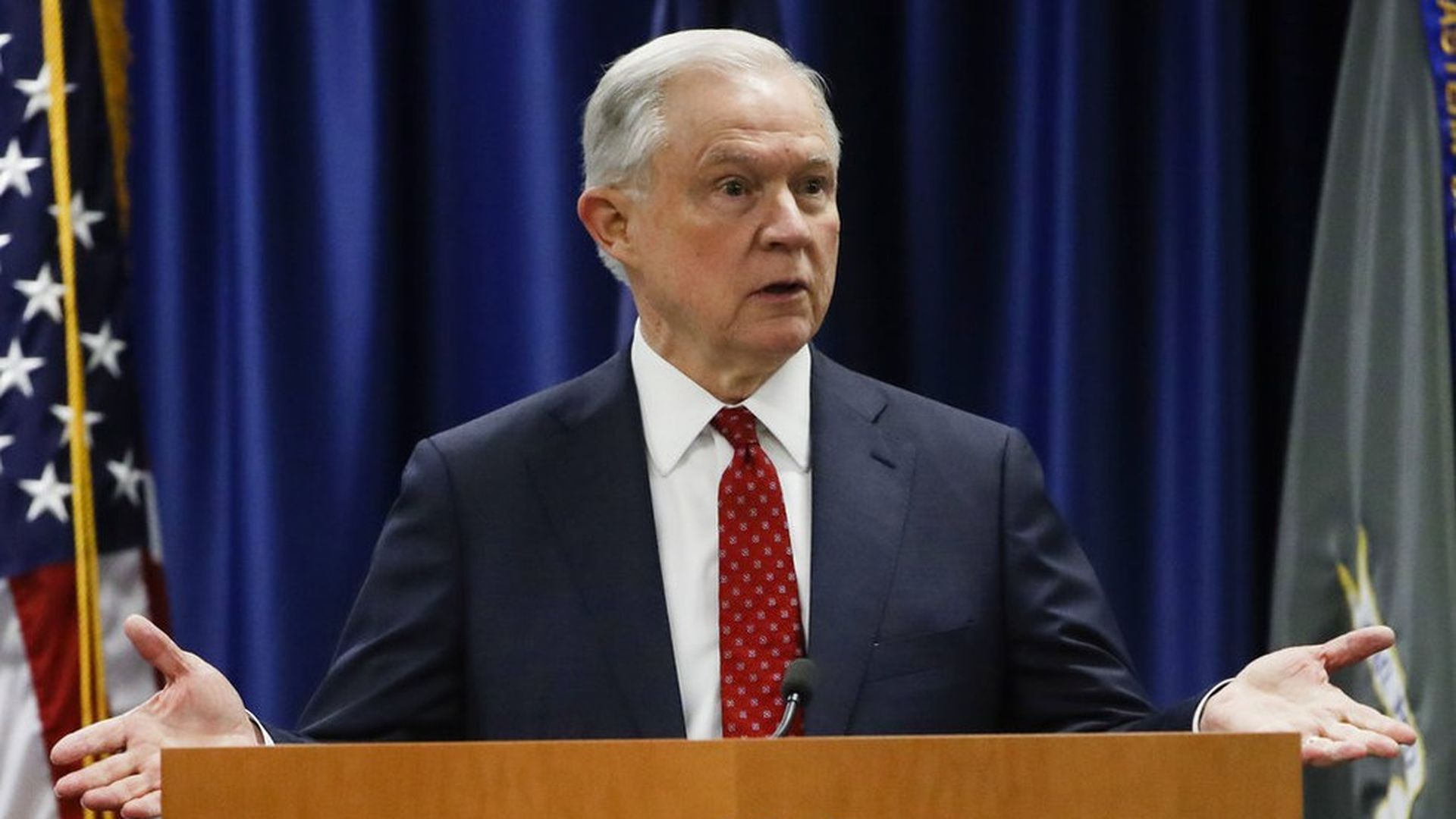 Today, Jeff Sessions gave a speech from Miami on the administration's sanctuary cities crackdown and he focused largely on Chicago: "Respect for the rule of law has broken down. In Chicago, the so-called sanctuary policies are one sad example of that."
But administration officials told Axios Sessions' speech was "not a personal issue, it's not like you seek retribution against [Mayor] Emanuel. ... We're simply saying you should put the safety of your people first."
Chicago Mayor Emanuel announced his lawsuit last week, arguing the admin's requirements for cities to receive federal funding are unconstitutional. Administration officials said they're "totally confident that the policy is constitutional."
Bottom line: "Trump sent me an executive order and it was pretty simple: reduce crime in America. And that's what we intend to do. But these grants that we have can help in crime reduction — we want all cities to have them, but we can't keep giving taxpayer money to [sanctuary cities]."
Miami Dade is a sanctuary cities "success story," administration officials said, and they wanted to point to it as an example for other cities, like Chicago, Los Angeles, and New York. "Work with us," Sessions said. "Please help us enforce a lawful system of immigration that keeps us safe."
Sessions didn't name any other city besides Chicago when pointing to example of "lawless" sanctuary cities. He cited various violent crime stats about the city of Chicago and Cook County, all involving illegal immigrants who were repeat violent crime offenders. "How can politicians hear these stories and do nothing?" he asked, before adding: "This is happening all over the country. These policies do far greater damage to our country than many understand and it's a rejection of our immigration laws."
Highlights from Sessions' speech:
Sanctuary cities are "a trafficker, smuggler, or a predator's best friend."
"Crime is not a force of nature like a tide coming in. It can be dealt with effectively."
"Chicago has chosen to sue the federal government. It complains our focus on enforcing the law would require 'a reordering of law enforcement practice in the city.' But that's exactly the point. Chicago's leaders need to recommit to policies that punish criminals instead of protecting them."
"These lawless policies do more than shield illegal aliens; they also shield and protect gangs and criminal organizations. These predators thrive when crime is not met with consequences."
"This state of lawlessness allows gangs to smuggle drugs and even humans across communities."
"Violent crime is surging. Miami Dade is an example of what is possible through hard work, policing and dedication to the rule of law. It's an example all of us can do better throughout this country."
Go deeper