Jeb Bush gives rare advice to President Trump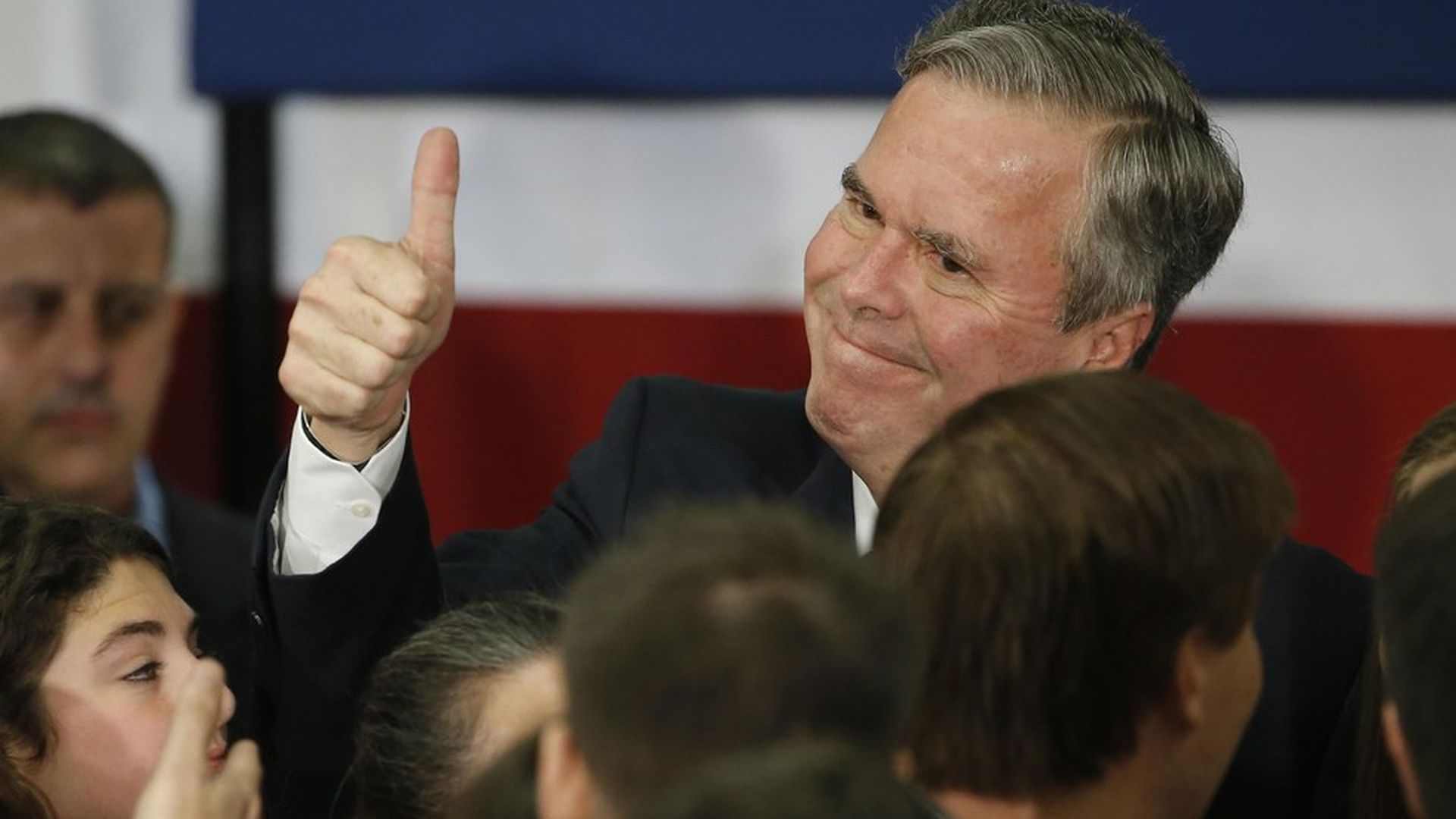 Jeb Bush hasn't said much publicly since the election, but on Friday at the SALT hedge fund conference in Las Vegas, he was asked what advice he'd give to Donald Trump if he could be assured the President would listen to him. The former Florida governor says "chaos" organizes Trump's presidency so far and the White House urgently needs restructuring and discipline.
Why it matters: Jeb has watched at close quarters the functioning of two professionally-managed White Houses, his father's and brother's. He personally knows three of the most disciplined and effective White House chiefs of staff in recent history — John Sununu, Jim Baker, and Andy Card.
Jeb's unsolicited advice for Trump:
Don't tweet.
Bring structure to the White House: "You're not constraining the leader when you have order. It can't be so chaotic that people can walk into the Oval Office any time and have an opinion and the last opinion is the one that ends up being the dominant one...any of the chiefs of staff that have served in either Democrat or Republican administrations have probably given that advice when asked, and it hasn't been heeded."
Uncover and fire the leakers: "There's too many different interests and the problem with this is I've never seen a White House as leaky as this one...there could be 15 to 20 sources on a particular subject. People should be fired if they're disloyal to the President of the United States and leaking. Good administrations set that tone and don't have to fire people because people have a little bit more discipline and structure."
Hone your foreign policy doctrine: "The President has a disproportionate say in foreign policy...and I think there's a two steps forward one step back emergence of the Trump Doctrine, but it ought to be clearly stated and adhered to." Jeb says the president has a huge opportunity on his first foreign trip to lay out a clear doctrine to reassure friends that it can "stick with the United States and count on its leadership."
Other highlights from Jeb's talk:
He doesn't think Republicans will repeal and replace Obamacare this year.
He thinks "maybe" tax reform can be done this year — but he didn't sound confident.
He says diversity in hiring is important, not for political correctness, but to get the best quality decision. Jeb says when you have "ten overage white guys looking at something there's a better than 50/50 chance it's going to be a total screw-up."
Go deeper