James Comey updates and reactions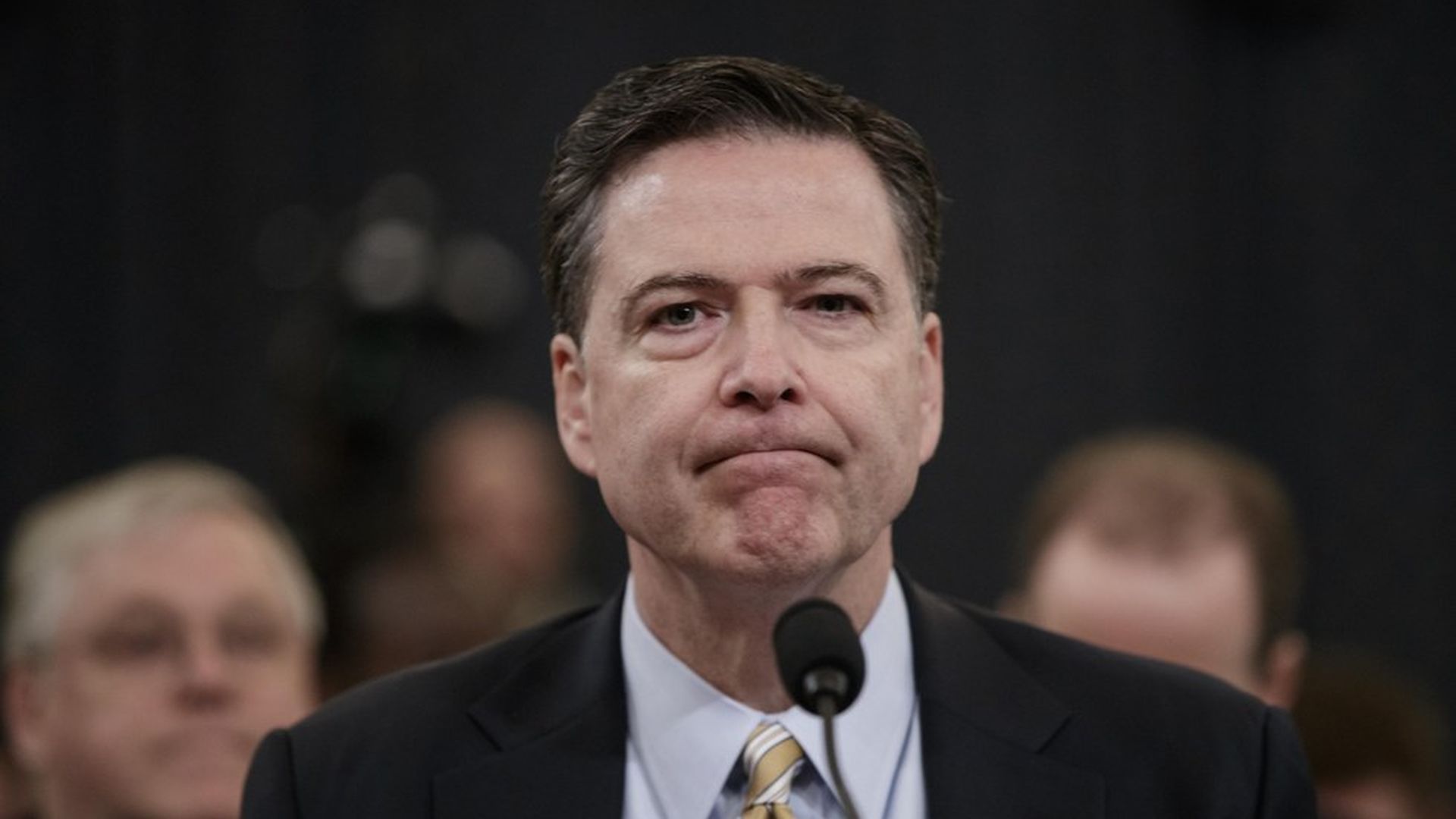 President Trump fired FBI Director James Comey yesterday, citing Comey's handling of Hillary Clinton's emails (even though Trump had praised him for his work in the past). A lot has happened in the last few hours, and it doesn't look like things are slowing down, so here are the latest updates and reactions:
Trump's morning tweets:
"The Democrats have said some of the worst things about James Comey, including the fact that he should be fired, but now they play so sad! James Comey will be replaced by someone who will do a far better job, bringing back the spirit and prestige of the FBI. Comey lost the confidence of almost everyone in Washington, Republican and Democrat alike. When things calm down, they will be thanking me!"
Mike Pence on Capitol Hill:
"The president made the right decision at the right time" on Comey.
Trump in the afternoon to WH reporters: "He was not doing a good job."
The timing: N.Y. Times' Michael Schmidt tweets: "WH and DOJ had been working on firing Comey since at least last week. Sessions had been working to come up with reasons."
The intrigue: NYT's Maggie Haberman tweets: "The White House fired Comey with no replacement set, with no clear messaging and no legal experts or surrogates lined up."
How Comey found out: NYT's Michael Schmidt (who broke the Hillary personal-email story back in March 2015): "Comey was addressing a group of F.B.I. employees in Los Angeles when a television in the background flashed the news that he had been fired."
Other NYT highlights:
"Comey laughed, saying he thought it was a fairly funny prank. Then his staff started scurrying around in the background and told Mr. Comey that he should step into a nearby office."
"Comey stopped addressing the group. He proceeded to shake hands with the employees he had been speaking to. Then he stepped into a side office, where he confirmed that he had been fired."
"At that point, he had not heard from the White House. Shortly thereafter, a letter from Mr. Trump was delivered to the F.B.I.'s headquarters, just seven blocks from the White House."
WashPost: "White House aide Keith Schiller, who has long served Trump as a bodyguard, visited FBI headquarters to hand-deliver Trump's dismissal letter to Comey's office, although the director wasn't there to receive it."
The backdrop: WashPost's Devlin Barrett, Adam Entous and Phil Rucker: "Several current and former officials said the relationship between the White House and the FBI had been strained for months, in part because administration officials were pressuring Comey to more aggressively pursue leak investigations over disclosures that embarrassed the White House and raised questions about ties with Russia."
"That pressure was described as conversational challenges to FBI leadership."
"Although the FBI is investigating disclosures of classified information, the bureau has resisted calls to prioritize leak investigations over the Russia matter, or probe matters that did not involve leaks of classified or otherwise sensitive information."
Trump vs. Russia: Politico's Josh Dawsey: "He had grown enraged by the Russia investigation, two advisers said, frustrated by his inability to control the mushrooming narrative around Russia. He repeatedly asked aides why the Russia investigation wouldn't disappear and demanded they speak out for him. He would sometimes scream at television clips about the probe, one adviser said."
"Federal prosecutors have issued grand jury subpoenas to associates of former National Security Advisor Michael Flynn seeking business records," per CNN's Evan Perez, Shimon Prokupecz and Pamela Brown:
"CNN learned of the subpoenas hours before President Donald Trump fired FBI director James Comey."
"The subpoenas represent the first sign of a significant escalation of activity in the FBI's broader investigation begun last July into possible ties between Trump campaign associates and Russia."
Former Attorney General Eric Holder seemed to encourage whistleblowers: "To the career men and women at DOJ/FBI: you know what the job entails and how to do it. Be strong and unafraid. Duty. Honor. Country."
Sen. Rob Portman (R-OH): "Regardless of his handling of the Clinton email matter during the presidential election last year...he has always done what he believed was in the best interest of the country.Given the timing and circumstances of the decision, I believe the White House should provide a fuller explanation regarding the president's rationale."
Comey is no longer testifying in front of the Senate tomorrow, as previously planned.
Go deeper