Intel officials won't publicly testify on private Trump talks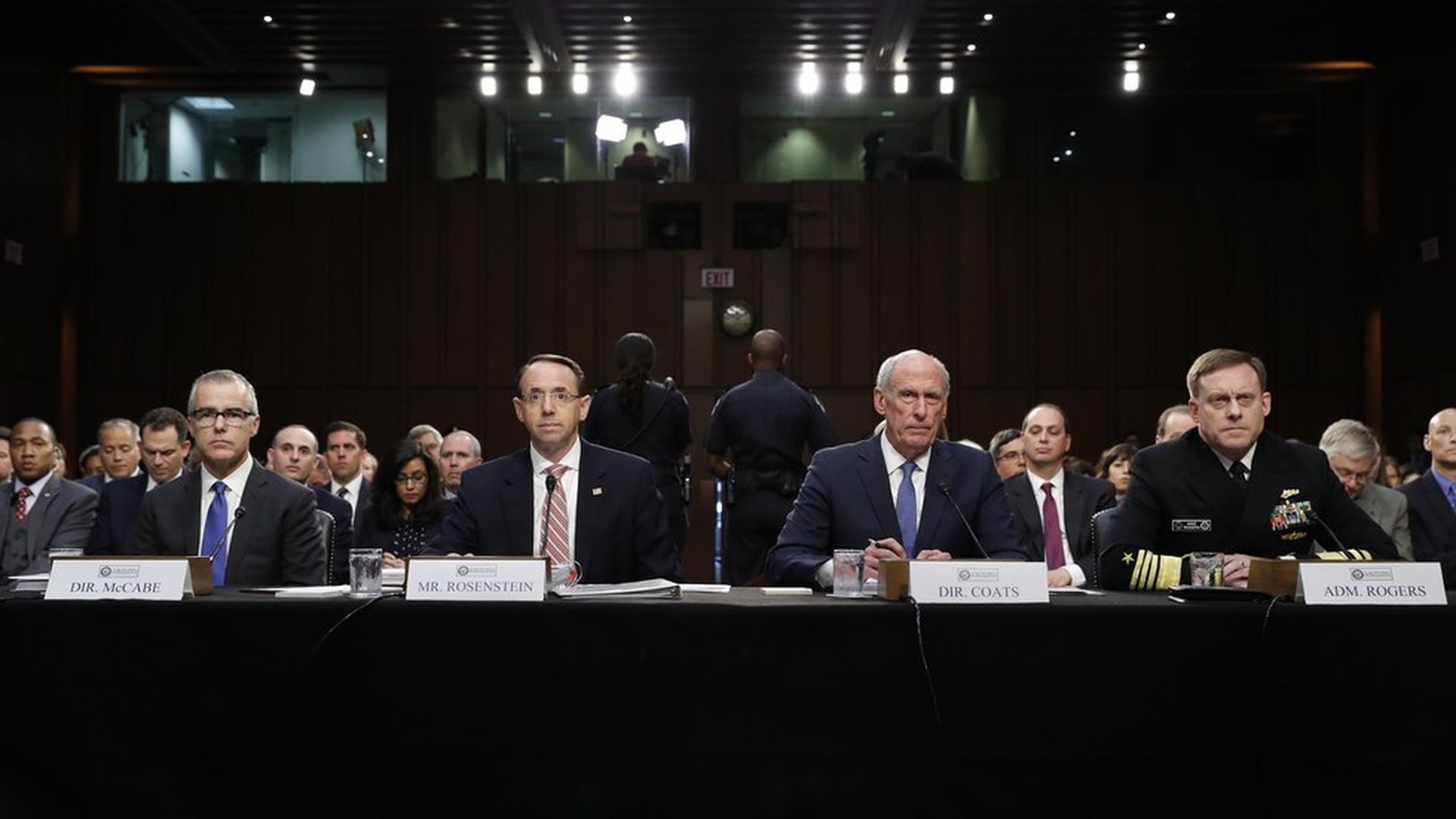 Director of National Intelligence Dan Coats and NSA Director Admiral Mike Rogers refused to answer questions from a Senate panel Wednesday on whether President Trump had ever asked them to downplay possible collusion between the Trump campaign and Russian officials during the November election.
Rogers would not comment on the specifics of the conversations he had with the president, and said he'd "never been directed to do anything I believe illegal, immoral, unethical or inappropriate."
Coats also declined to comment, noting that it would be "inappropriate" to share such information in a public session.
Did any of you write memos, take notes, or otherwise record their or anyone else's interactions with the president related to the Russia investigation, as former FBI Director James Comey had:
Deputy Attorney General Rod Rosenstein said "rarely"; Coats said "no"; Rogers and acting FBI director Andrew McCabe had no comment.
Has Comey shared any conversations with you about Trump pressuring him to downplay the Russia investigation?
McCabe said he will let Comey answer that question tomorrow, and Coats repeated his statement that it is inappropriate to discuss conversations had with the president.
Why are the intelligence directors refusing to answer the committee's questions today? Did the president invoke executive privilege over this hearing today?
Coats and Rogers continued to stonewall the committee, and stated they felt it was inappropriate to answer.
Coats conceded that "I am not sure I have a legal basis" to avoid questions on whether Trump asked him to back off on Russia investigation, but he will be more forthcoming in a classified venue.
Rosenstein notes their default position is to not comment on an ongoing investigation.
Can you confirm or deny the content of last night's Washington Post report?
"I've been here long enough to know that not everything published in the Post is accurate," said Coats. He added that he told the Post that he would not share information from conversations he had with the president, as most of them were private and classified.
"Just because it's published in the Washington Post doesn't mean it's unclassified," said Coats.
McCain: It is "more than disturbing" if the reports are true that Trump wanted Coats to urge Comey to back off the FBI probe, as it would be a clear obstruction of the investigation.
Rosenstein said "anyone who seeks to obstruct a federal investigation will be investigated" and added that the president is not above the law and that he will be investigated.
Richard Burr closes it out with a final, angry message for the intelligence directors who all failed to openly answer the Senate panel's questions:
"At no time should you be in a position where you come to Congress without an answer."
Go deeper