Inside Zuck's real political strategy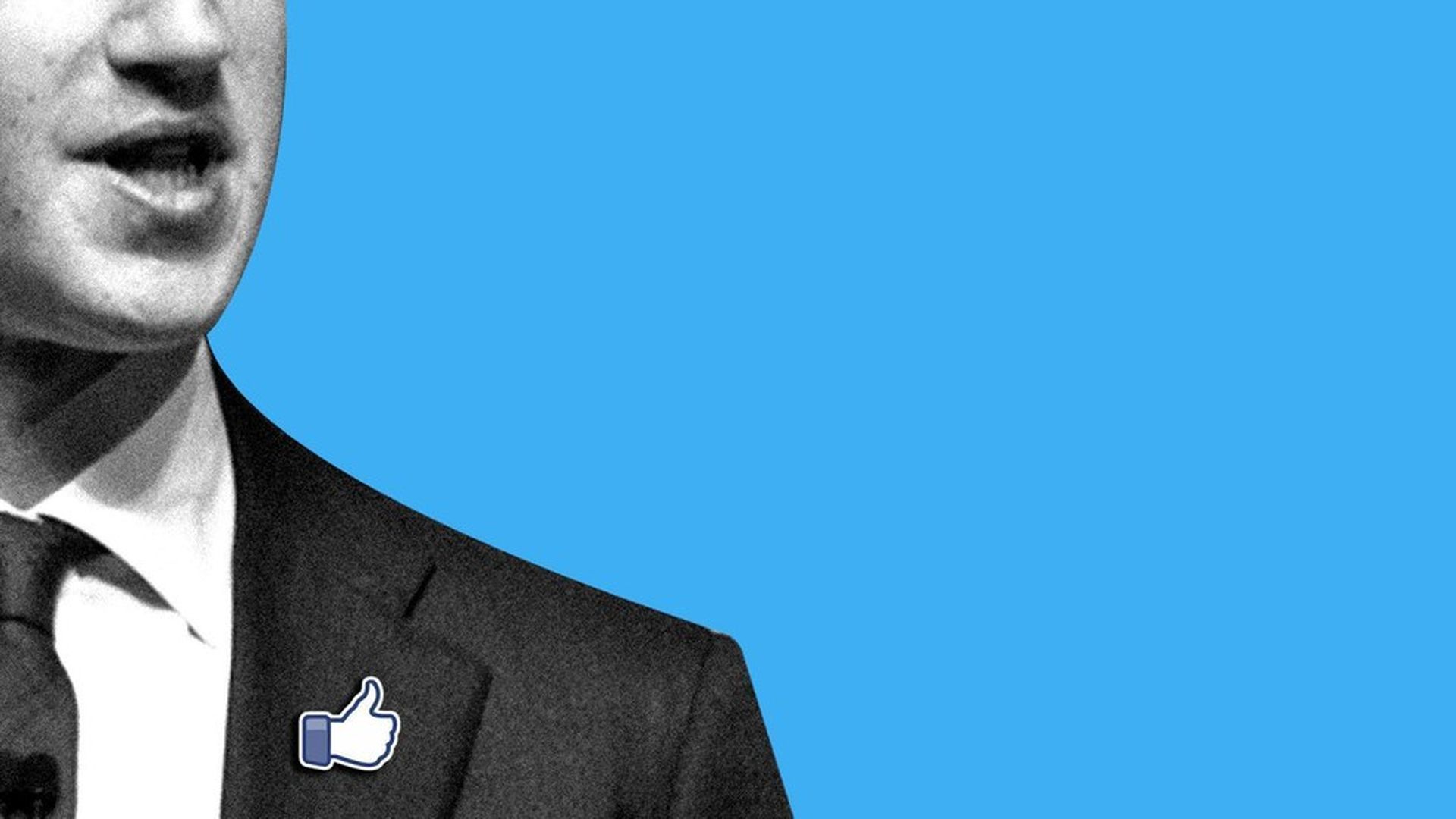 Mark Zuckerberg is on a nationwide tour that has people thinking about his political ambitions. But events on the trip are mostly private, which Facebook says encourages the people Zuckerberg is meeting with to be candid without the press watching.
Why that matters: The presidential election showed Zuckerberg that he doesn't understand a lot of Facebook's users, and this trip is a way to learn about a part of the world he's been isolated from since at least his Harvard days. He's already met with Facebook users who helped elect a president he's at odds with. And while the Zuckerberg-for-president story has been overhyped, his friends think he may run for something one day, so these appearances help him connect to all types of potential voters and give him chance to get better at these sorts of appearances without the blinding glare of constant press attention.
When it comes to public appearances, Zuckerberg has had some stumbles. In one of his first big public speaking gigs (an on-stage interview at the 2010 All Things Digital conference) he was so nervous the conference liveblog said he was "literally dissolving in a lake of his own sweat."
No such missteps on his recent, tightly controlled outings. The latest swing took him through the midwest for several made-for-the-media events without, well, the media.
Zuckerberg ate dinner with an unsuspecting Ohio family who didn't know Zuckerberg was their mystery guest until 15 minutes before he showed up. Business Insider reported that the CEO's staff set up catering for the dinner and told Zuckerberg's host that he wouldn't want to be seated at the head of the table.
He visited a farm where he fed a calf and drove a tractor for the first time.
He met with people affected by the opioid epidemic in private, even though such "listening tour" events are a classic way for politicians and executives to talk about an issue in front of the press.
Below the surface: Zuckerberg has devoted significant time over the last several years to improving as a public speaker. That includes a weekly question and answer session with Facebook employees that Recode reported in January is aimed, in part, at boosting Zuckerberg's confidence in front of a crowd.
Experienced political operatives say that Zuckerberg's sessions around the country could follow a similar pattern:
Tim Miller, who served as communications director for for Jeb Bush's presidential campaign, said that "whether you're an executive or politician and you're put in these awkward staged situations where you have to have a discussion with regular people — if you don't have a lot of practice doing that, the result is awkward."
It's not just executives who need the practice. Miller said that Bush got more comfortable on the trail over time with these types of interactions. And a former Democratic campaign staffer said that if "you were around for the first town hall meeting or diner visit for 85 percent of the candidates who run for president of the United States who are lifelong politicians it would be unbearably awkward."
Zuckerberg has undoubtedly become a stronger public speaker over the years, especially at industry or engineer-focused events. He's even given a talk in Chinese, a language he learned as a personal project.
But not every interaction goes smoothly. His recent visit to South Bend, Ind. was marked by a brusque interaction with a reporter, who asked him how his visit is going. Zuckerberg clammed up. "It's good, but we're not doing interviews," he said curtly, before offering just a little more on this trip.
It's the kind of impromptu, impossible-to-rehearse press interaction that's common not just for politicians but also executives and celebrities — one that, despite all the staged, behind-closed-doors practice, Zuckerberg hasn't yet mastered.
Go deeper